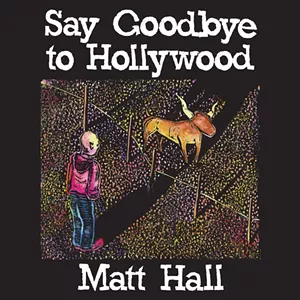 Matt Hall, Say Goodbye to Hollywood
(Third Eye Industries, digital)
Matt Hall doesn't rest. In the last few years, no other musician in the area has been more prolific. The Plattsburgh, N.Y.-based songwriter has released a fecund and often aggressive catalog. Between fronting punk outfit Marco Polio and drumming in synth-pop group the Mountain Carol, Hall is a busy dude — and that's not to mention the web series he produces, "TRASHburgh."
He also formed a band called BREN, which trended even more hardcore than his earlier solo work. Whereas Hall's debut solo EP Slave Task indulged his Dead Kennedys-loving ways, BREN centered on black metal and pop-punk influences. I'm using the past tense because BREN imploded just as they were entering the studio to record their debut record — which, frankly, is pretty punk rock. Not wanting to lose the songs he had written, Hall repurposed the collection into his own full-length, Say Goodbye to Hollywood.
Recorded in Plattsburgh with Jamse Ward, the producer behind the Mountain Carol's fabulous 2018 LP Starkiller and the Banshees, Say Goodbye to Hollywood is a rollicking, intense collection of 13 songs full of pounding drums and crushing guitars. From opening track "All In" to closer "Sirens," Hall screams and howls over a purposeful, focused kind of mayhem.
One of Hall's talents is putting forth tunes that might seem chaotically whimsical — perhaps a product of his distinctive, crazed-barfly vocal delivery. But upon closer listen, they open up into well-constructed and deeply introspective pieces.
In the album's press release, the songwriter reveals that he "wasn't really in the healthiest place when I wrote these songs." That's evident on "Summer Self," in which Hall, coming off the dissolution of a bad relationship, wonders what the cost of it all has been. "I don't dream anymore / Tell me why is that?" he demands. "And I can't even recognize my mind / Tell me why is that?"
One thing Hall retained from BREN is the ferocious lead-guitar playing of Nick Hall (no relation). "Breeze Song" is a crunchy, Rancid-like standout. But with a little less aggression, it could fit on Marco Polio's Syracuse Songs Pt. 2, which found the songwriter a little more morose and reflective. What brings the track into fist-pumping territory is Nick Hall's relentless shredding. He drops dimes all over the record, adding a blistering yet melodic style to every song he touches. The solo on "Parade" is particularly nasty.
Matt Hall describes Say Goodbye to Hollywood as a document of his journey out of toxic relationships and habits toward a healthier, more openhearted existence. Indeed, an air of triumph and joie de vivre takes hold as the record progresses. Sometimes all you need to shake off heartbreak is loud, cathartic rock and roll. It's cheaper than therapy, and you can scream at a bar without getting kicked out. What's not to love?
If you're into raw, power-punk rock, heart-on-sleeve lyrics and big guitars, Say Goodbye to Hollywood is the album for you. It comes out on Friday, August 30, and is available on most streaming services and at matt-hall.bandcamp.com.