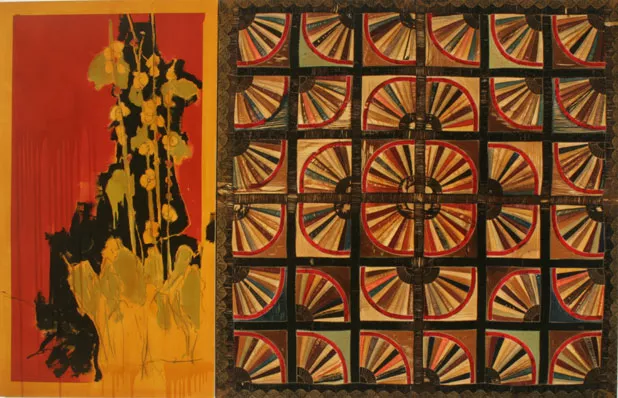 "Hollyhock and Skunk Cabbage" by Muffin Ray
Discarded and Salvage," the current exhibit at the Flynn Center's Amy E. Tarrant Gallery in Burlington, is an expressive collection of 11 large-scale "paintings" that are essentially textile assemblages. Peacham artist Muffin Ray transforms vintage quilt patches, found tapestries and other sumptuous yet cast-off textiles into broad fields of texture and color. She creates deep, mysterious surfaces soaked in resin, encaustic and oil-based media that preserve embroidered textures like primeval insects in amber. Then she juxtaposes areas of painting, frequently floral but sometimes wholly gestural, with the glazed and stained fabrics.
"All of the materials used in this work were salvaged from abandoned warehouses, dumpsters and basements," Ray explains in a curatorial statement. In her surreptitious quest for ingredients she discovered a wide range of swatches and bolts; some resemble Victorian tin ceilings, while others are fancy embroidery or strips of lace. Short lengths of fabric, cut into ribbons, were sewn onto the top half of the 56-by-40-inch "Untitled 2." The stitching runs vertically over the horizontally positioned ribbons. Earth tones dominate the piece — like everything else in the show. The bottom half of the work holds loosely painted buds and stems on a black background.
"K" is a 66-by-60-inch canvas alive with Ray's signature details. It's a crazy quilt of textiles: Triangles, rectangles and a few squares are appliquéd below a horizontal demarcation three-quarters of the way up the picture plane. Pale brown paint drips like icicles, running in long rivulets over the textures. Above the horizon is a bubbly, raw-umber field, almost gold toned, filled with orange flowers and stems arranged vertically. Like the patterns in the textiles, Ray's painted flowers and buds hark back to Victorian design. Her flowers are reminiscent of the most delicate still lifes of Odilon Redon (1840-1916), or classic art nouveau motifs.
Several canvasses from Ray's "Discard" series included in the show reveal painted or stenciled words, letters and geometric patterns buried in thickly layered glazes. "Discard 2" and "Discard 3" are both sandy hued, with rope-like cloth piping dividing the canvasses into three horizontal segments. The lowest segment of the 70-by-46-inch "Discard 2" is red oxide, while the middle and upper bands are paler. Ray seems to have splashed tan paint over the image, and the resulting drips unify the sections. Gray Greek keys — small concentric squares — are visible through the splashes on "Discard 3." That 68-by-42-inch piece is dominated by lighter tonalities; it's like decaying plaster, or a section of weathered wall removed from an excavated classical villa.
"Hollyhock and Skunk Cabbage," at 109 by 72 inches, is the largest and most intricate painting in the show. It's divided vertically between the floral section at left and the fabric designs composed within a grid of six-by-six squares at right. Ray placed fans of many hues, outlined in scarlet, inside the right-hand grid. Her complex design unveils patterns within patterns, and the entire grid area is bordered by stained antique lace.
The left section of the piece is a gestural display of flowers, resembling a Japanese screen. The background contains subtle drips of red on red, and Ray integrated drawing media into the painted side. Long stems are lines of negative space transversing wide patches of blackness. Pale turquoise passages are applied like stain painting to create a pleasingly balanced harmony of turquoise, red, black and a honeyed yellow.
Ray pushes technical boundaries to invent a hybrid art — part assemblage and part painting — that carries viewers down a meandering sensory stream. Her paint handling echoes the art-historical trends of the last hundred years, while her discarded, readapted textiles seem to bear the ghosts of the former lives they've touched.