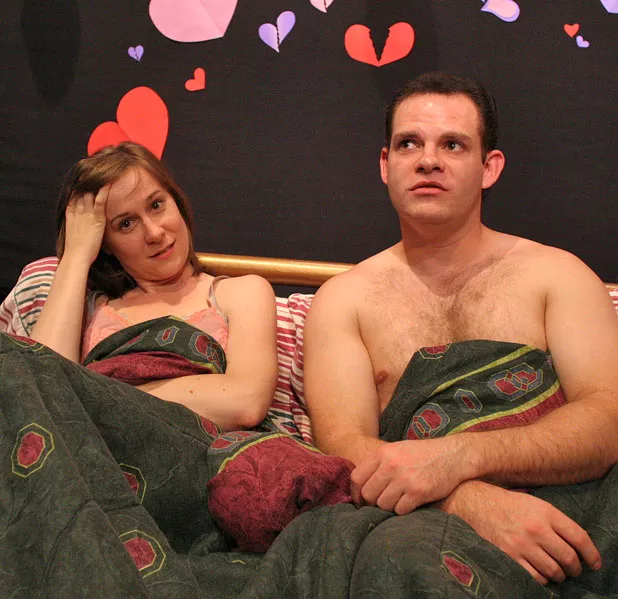 Natalie Miller and Michael Karraker
Americans on the dating scene in the mid-1990s must have reached a breaking point in their desperation. How else to explain the popularity of The Rules, Ellen Fein and Sherrie Schneider's best-selling compendium of Time-Tested Secrets for Capturing the Heart of Mr. Right, published in 1995? The next year saw the U.S. premiere of the comedy I Love You, You're Perfect, Now Change, a rollicking musical revue about the trials and tribulations of seeking a soul mate.
Of these two Clinton-era treatises on the hard-knock life of heterosexual romance — The Rules and I Love You — the comedy may be the more illuminating. It has certainly proved more durable. While some critics deemed The Rules outdated — even antifeminist — on its initial publication, I Love You, You're Perfect, Now Change ran for more than 5000 performances before closing in 2008, making it the second-longest-running Off-Broadway musical in history. (The Fantasticks holds the record.) To call the show a hit is like calling Facebook a popular website.
The current production of I Love You at Lost Nation Theater in Montpelier gives us a chance to see it in perspective. While the show may speak most clearly to the lovelorn, anyone who has endured the rigors of romantic companionship can appreciate the success of playwright/lyricist Joe DiPietro and composer Jimmy Roberts in turning heartache into humor. The play is as resonant today as it was when Mark Zuckerberg was still in junior high school.
That the LNT staging of I Love You avoids feeling, er, dated is a testament both to the play and the players. A revue with more than 30 sketches and musical numbers, it presents the quest for love in short riffs on a range of topics — from first dates to old flames; from tying the knot to the sex lives of married couples with children. Each vignette tackles a familiar obstacle on the road to love; together, they form a sequence that adheres only loosely to a story line. The first act culminates at the altar with "Wedding Vows." The second act explores the aftermath, with sketches on married life, parenthood, dating after divorce and even dating after a spouse's death. Because this boy-meets-girl story is not about a single boy and girl, the show achieves a certain degree of universality — in the North American context — inviting theatergoers to connect with the comedy wherever they can, if not with the work as a whole.
Under the direction of Tim Tavcar, the LNT actors play the dating/mating game with gusto. When dating is going very well, it's a giddy contact sport — a pillow fight with romantic destiny. When it's not going well, it can sow doubt, sorrow and bitterness — all at once. To shift these emotional gears rapidly is the challenge confronting any cast of I Love You, You're Perfect, Now Change, and it's made all the more difficult by the fact that only four actors play dozens of parts. The LNT cast is eminently up to this feat, demonstrating the single most important prerequisite: energy.
Talent appears uniformly spread among the troupe of two women, Taryn Noelle and Natalie Miller, and two men, Michael Karraker and Shawn Sturdevant. They're all solid, if not superb, singers, and their keen comic timing gives the show panache. The sketch "Men Who Talk and the Women Who Pretend They're Listening" stands out for its especially sharp skewering of male self-aggrandizement on dates. The bit segues nicely into two funny song variations on this theme — Noelle and Miller's "Single Man Drought" and their male counterparts' "Why? 'Cause I'm a Guy."
Tavcar's players quickly conjure a respectable measure of chemistry with each other, even as they speed through the revolving door of romantic encounters that defines the play.
As a lampoon of modern love, I Love You may not strive for great emotional depth, but it requires considerable acting range to embody characters all along the romantic spectrum, including children, parents and senior citizens. Noelle and Sturdevant demonstrate that in one of the show's few genuinely contemplative moments, which also happens to be its most original take on dating. In "Funerals Are for Dating," the two actors play funeral guests — a widow and widower, respectively — who seize on a mournful moment to make a little time. The sketch calls on the pair to downshift emotional gears from earlier numbers while still letting us see muted sparks fly between them.
Musical director Nancy Hartswick keeps the show moving as she works the keys of her solo piano and shifts musical moods from one beat to the next — from campy pop stylings to more operatic numbers to tango. On opening night, Hartswick and cast fell out of rhythm a few times, but her single instrument managed to buoy this revue aloft with aplomb.
The simple orchestration complements similarly minimalist approaches to set design and costumes. A few pieces of furniture and changes of clothes relocate the story from one place and time to another. Stagehands dressed like Charlie Chaplin clones emphasize the resetting of the stage by rolling new scene titles into place in a window above the proscenium arch.
While there are no sour notes per se in I Love You, You're Perfect, Now Change, a few sketches sound flat ones. "Satisfaction Guaranteed," an absurd piece about bringing litigation into the bedroom, and "Scared Straight," in which a lonely prison inmate (Sturdevant) warns two single souls (Miller and Karraker) against the evils of going it alone, are too zany to ring true.
Even at the show's weakest moments, the cast of I Love You never lets up. Their emotional circumstances become more complex in the second act, but enthusiasm remains high. These four players merit respect, like that lovelorn dater, for forging ahead through tricky terrain. Their backstage area could use a few towels, the better to mask their exertions from scene to scene. But flowers — for jobs well done — would not be out of place.
"I Love You, You're Perfect, Now Change," directed by Tim Tavcar, produced by Lost Nation Theater. June 14 through 24: Thursdays at 7 p.m.; Fridays and Saturdays at 8 p.m.; Sunday, June 17, at 7 p.m.; and Sunday, June 24, at 2 p.m. at Montpelier City Hall Auditorium. $25-30. Info, 229-0492. lostnationtheater.org