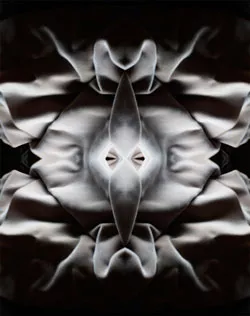 "Blanket 2" by Aimee Daniel
Red Square, on the Church Street Marketplace in Burlington, has been a popular bar and art venue since 1997. Its 2009 exhibition schedule kicks off with a selection of abstracted, digitally printed photos by Aimee Daniel entitled "Life Abstractions." Daniel manipulates natural elements to reveal new details in their makeup, creating dynamic, otherworldly forms in the remixing process.
Daniel's images are virtually all bifurcated, and then book-matched as she puts the pieces back together. However, the process may go through several divisions, until the original subject has been divided beyond all recognition. The 16-by-20-inch "Blanket 2" is a collection of hilly white shapes on a black background. Its title suggests that Daniel simply trained her lens on a wrinkled blanket, but the result is a convoluted form, like snow blanketing flower petals. She employed a strong light source, so the folds and creases of the original subject possess real weight.
Daniel also highlighted subtleties in the values: Shadows include vestiges of tenebrous gray, and the edges of shapes in lighter areas have smooth highlights. The overall composition reads like an iconic, abstract portrait of the elephant-headed Hindu deity Ganesh. His small eyes and trunk are centered in the picture plane, while horizontal, vertical and diagonal axes emanate from his beatific countenance. These pieces are like fine-art Rorschach tests. Repeating details invite comparisons among the wings and projections of the mirrored imagery, allowing viewers to free-associate their own meanings from the abstracted shapes and lines.
A group of eight 8-by-10-inch prints displays kaleidoscopic complexities, including bright colors and shallow backgrounds. In "Fisheye Mirror 1," the departure point appears to be a summer evening's scene, which has been quartered and flayed. The piece is built from a leafy tree, gray clouds heaped on a cerulean blue sky, and four sunsets glistening on dark water. Vertically vivisected landscapes look alien compared with horizontal vistas, as horizons are more familiar than lofty heights. Daniel's adept handling of color also focuses the work's abstract qualities. Her darks have either a blue or a greenish cast, and such fine variations compel viewers to seek connections.
A flaw of the show, though not the artist's fault, is that Red Square's lighting isn't really designed to pick up fine gradations or details. After all, it's a nightclub first and a gallery second.
What's specifically Italian about the piece called "Italia" isn't obvious, but the 8-by-10-inch photo sports vibrant hues in another vertically elongated landscape. Its shape resembles a stretched-out diamond, or mandala, or even vaginal form. Blue skies range from deeper sapphire at the picture's edges to pale turquoise near the central land masses, providing a brilliant contrast to the black spaces Daniel generally employs in backgrounds. Pyramids of cumulous cloud form in the sky while layers of earthy browns demarcate the land. A thin strip of green grass outlines the interior of the turned-inside-out countryside.
Daniel is not yet a mature artist, but venues such as Red Square contribute to Burlington's dynamic art scene by enabling younger creators like her to showcase their aesthetic notions and experiments. Emerging artists can build valuable exhibition experience in the process.
Two figurative black-and-white pieces on display reveal that Daniel still needs a bit of self-editing. The untitled 16-by-20-inch shots basically depict a guy in a T-shirt hamming it up with some sort of funny mask. These images don't fit the rest of the show and are easily dismissed as an artistic hiccup.
As Red Square moves into another year, its quirky curation is certain to yield more visual epiphanies. Check out the art early in the evening, as the place always fills up later on — and the lights get even dimmer.