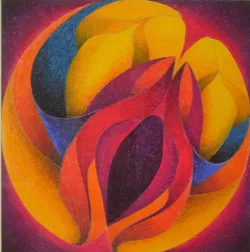 "The GITF Piece: The Men's Group: Piece II"
In his new book, Seeing, Bill Ramage writes that the second-century Greek skeptic Sextus Empiricus "argued that we can't know anything, and to pursue trying to know would only cause discontentment and unhappiness." In Ramage's current exhibition at Brandon's Gallery in-the-Field, the philosopher figures prominently in large-scale abstract drawings from two series titled "Sextus Empiricus, Suite I and II." But a pair of monumental photographic installations dominate this show, which is called "A Centripetal Photo Project: An Installation." The optical effects created in Ramage's installations perfectly embody the meaning of centripetal — moving toward a central axis.
To Sextus, even perception based on observation was malleable. As if to prove the point, Ramage uses carefully calibrated optical distortions to create illusory spaces in his two enormous installations, which together make up "The GITF Piece: The Men's Group." Simply called "Piece I" and "Piece II," both murals are based on the interior of Gallery in-the-Field (GITF). Figures from the men's group Ramage has attended for 18 years populate the scene, as do self-portraits — the artist is the only one looking directly at the viewer. Architectural details of the elegant gallery are carefully positioned in the photographs to heighten a sense of depth. The paintings on the gallery walls, and as seen in the photo installations, are from Ramage's "Sextus" suites.
"Piece I" consists of two adjacent panels that meet to make a corner; the exterior dimension is roughly 12 by 16 feet. Ramage superimposed a grid on the large-scale photo. Minute bends and variations in the measurement of the grid's squares cause the image to flatten, when seen from a distance, and look like an actual wall. A life-size cutout of the artist stands facing the scene, essentially bringing the picture plane into the physical space of the gallery.
"Piece II" is an even larger installation at approximately 12 by 20 feet. This one is curved and also has a cutout of the artist facing the work; he's in perfect proportion to the illusion created within the curve. Ramage carefully adjusts curves and lines to manufacture perfect dimensionality where it doesn't exist. His approach seems more complex than that of traditional linear perspective, as if he's creating a more expansive and exalted spatial reality.
There are four large color drawings, up to 7 by 7 feet, and two equally large black-and-white drawings in the "Sextus Empiricus" series. "Suite II, drawing 3" is a colored oil-crayon drawing of organic shapes located in a square overlapping a circle, situated within another square. The organization is reminiscent of a Hindu yantra — a diagram that represents the universe — and the drawings seem like mystical representations of specific ideas.
"Sextus Empiricus, Suite I, drawing 8" is another colored work. The hues are purple, reds and yellow-orange, with a ribbon of blue intertwining the warmer shades. Among the black-and-white pieces, the organic forms of "Suite II, drawing 11" resemble floral anatomy, unfolding within a square. Abstracted "petals" break from the left and upper edges. Ramage has a keen eye for detail, and his mark making is rhythmic and decisive. His shading gradually modulates across the drawings, with delicate shifts in value that impart depth and light.
Also at the gallery is a video titled "Sextus Empiricus, Suite I: A Prayer of Surrender," a meditative series of Ramage's images with a transcendental soundtrack: a J.S. Bach piece arranged for chorus.
Ramage writes, "Linear perspective, as the primary means of synthesizing a perception, objectifies and consequently oversimplifies what is seen." His own subtle visual distortions riff on the rigidity of linear perspective to create a perfect visual harmony. If Sextus was right, it would only cause "discontentment and unhappiness" to try to figure out how it works.