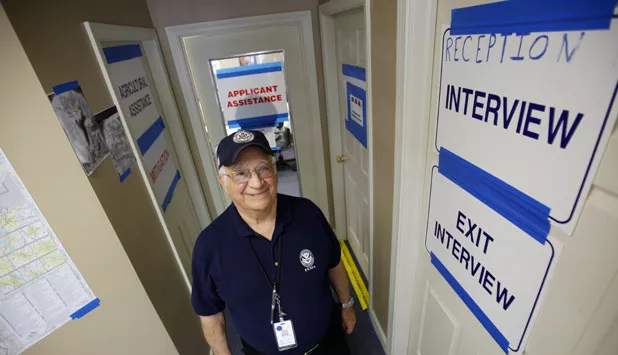 At 83, Angelo Cedrone could be forgiven for choosing to spend his retirement playing bocce and bragging to friends about his grandchildren. Instead he devotes 12 hours a day, seven days a week, to helping victims of hurricanes, tornadoes, wildfires and floods get back on their feet.
Cedrone manages the Disaster Recovery Center in Malletts Bay, one of three DRCs that FEMA opened in Vermont last month to assist flood victims. Technically, Cedrone isn't a full-time FEMA worker but one of 8000 disaster-assistance employees nationwide who get deployed as needed. This year, that's been often. FEMA currently has workers on the ground in eight states.
Cedrone's temporary setup, in the Colchester fire station, has eight employees who've seen 137 Vermonters in two weeks. That's small by FEMA standards. In 2004, Cedrone worked five Florida hurricanes in one year in a DRC with more than 100 employees.
When Cedrone isn't on the road for FEMA, he calls East Brunswick, N.J., home. Short, stocky and built like a fire hydrant, he has a hearty handshake and baritone voice that quickly reveals his upbringing in a traditional Italian neighborhood of New York City.
Cedrone's first taste of utter devastation came during World War II. In 1945, his army unit was en route to the Philippines when the U.S. dropped the atomic bombs. Cedrone was immediately diverted to Japan, where he spent 31 months with the occupying forces.
With FEMA, Cedrone has worked many different disasters, including 11 months in New Orleans helping Katrina victims. But Mother Nature wasn't behind the worst destruction he ever saw. After 9/11, Cedrone spent two years at Ground Zero.
Cedrone, who will be in Vermont until October, doesn't get out much. His schedule kept him away from Fourth of July fireworks and parades. "That's the job," he says, "to be here for the people when they need us."
SEVEN DAYS: What have you seen in Vermont?
ANGELO CEDRONE: Today, an elderly gentleman comes in. In his home there's no electricity, his appliances are all gone, there's mold all over the house and he says, "I don't want to leave." So, we're ... going to get him moved out and give him two months' rent. We said, "Wherever you are, whether a hotel or whatever, keep the receipts and use that money strictly for paying rent. Come back in two months, we'll give you two more." That'll keep going for a 19-month period until we get these people squared away somewhere that's safe, secure and sanitary.
SD: Anything unique about Vermonters?
AC: My gal, when she finished talking with this guy today, she had tears in her eyes. She said, "I can't believe people are reluctant to come in." It must be a thing with New Englanders. They want to do things on their own. They're not looking for help.
SD: How do people treat you as a FEMA employee?
AC: People generally are really nice. They look to you for help. Then, after the [disaster] period is over, all is forgotten. For example, like in New York, 9/11, you walk down the street wearing a FEMA jacket, and they ran over and hugged you. You walk into a restaurant, and they would accept no money. There was lots of freebies. We rode the subways for free, all kinds of things like that. Six months later, if you had a FEMA jacket, somebody is gonna throw a rock at you! But it's been a good experience. It's a nice feeling to be able to help people.
SD: The hardest part of your job?
AC: When people are not in that [declared disaster] period, and we can't help them and really want to. The period of this incident was from April 23 to May 9. But after that, people are still having problems, with seepage and everything, and they're not covered. So, that makes it a problem... I'm hoping it [gets extended], because you have people coming in saying, "What, you're not going to help me?"
SD: Ever seen people try to bilk the system?
AC: In 9/11, we had a woman come into the building screaming, "My mother was working in the towers; she just got the job. I don't know where she is! She's probably dead and I don't know what to do!" Our investigation? Her mother died eight years ago... Again, greedy people. One man actually lost his wife on one of the airplanes. So, we helped him as much as we could. Then he says, "Yeah, but when she left, she took all her jewelry with her." So I says, "And?" FEMA don't pay for jewelry.
SD: Seen anything like that in Vermont?
AC: No, we don't see any of that here. People here seem to be honorable, a little reluctant to come in ... Very proud people.
SD: What's the best part of your job?
AC: The best part? Going home [laughs]. I've been married 60 years this August. Same woman ... It's always nice to come home to a home-cooked meal. Because you people don't know how to cook Italian!