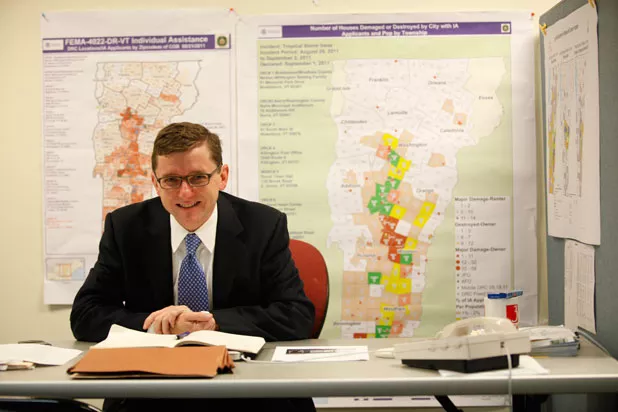 Neale Lunderville hasn't had a lot of time to spare lately. Since Gov. Peter Shumlin appointed him Vermont's Irene Recovery Officer, his days have been chock-a-block with meetings, briefings, interviews and tours of flood-affected regions around the state. Most mornings, Lunderville is up at five and is lucky to get to bed before midnight. Even eating has had to take a backseat. To stave off hunger, Lunderville carries around a bag of apples in his Volvo, crunching on one as he dashes from one obligation to another.
Being the state's flood czar is time consuming. But the Vermont native's appointment lasts only until the end of 2011. Then he'll return to his role as "enterprise innovation leader" at Green Mountain Power, the nebulous-sounding job from which he is currently on leave. Lunderville draws no salary or benefits from GMP during his absence, but the state is paying him $55.29 an hour, according to the governor's office. Given the amount of time Lunderville puts in, that's a lot of cash. But then, his responsibility is mammoth.
Lunderville, who served as secretary of both transportation and administration for Republican governor Jim Douglas, is tasked with setting the state on a course for recovery from the ravages of Tropical Storm Irene. The estimated costs of that recovery are north of a billion dollars. But Lunderville thinks he's up to the job.
Between briefings, Lunderville spoke with Seven Days about how he thinks Vermont will get back on her feet.
SEVEN DAYS: How did it happen that you became the state's Irene Recovery Officer? Was it because of your experience with the Agency of Transportation?
NEALE LUNDERVILLE: After I was secretary of transportation, I was secretary of administration during some very challenging years when the recession hit. State revenues dropped; we had to go through some very difficult adjustments at the state level. So, my familiarity with both the roads-and-bridges piece of it, which is an essential component of our recovery, but also the state finances, and having to come up with some creative solutions in challenging times — maybe it was that package of experience.
SD: When the governor asked you to take this job, what was he asking you to do?
NL: The job is to make sure our initial recovery pieces are working well, and to put the state on the right trajectory for a full recovery. The goal is to make the state even stronger than before Irene. Mirror recovery [returning to the preflood status quo] is not enough.
SD: You didn't have a lot of time to prepare for this. How did you bring yourself up to speed on all these issues?
NL: People always ask, "Where do you start with something like this?" because it's massive. But the first thing is [to] recognize what's been done. That's the most incredible story: how Vermonters came together to work hard to bring things back, on timelines that are shocking. When I came in, two weeks after the flood, so much had been done already. So it's a matter of continuing to harness that work, then looking at an area-by-area analysis — housing, donations, volunteers, etc. — and seeing how we're planning ahead to make sure we're hitting the next thing.
SD: How do you begin to manage all the different flood stakeholders?
NL: In my mind, the single most important piece is that all recovery is local. It will be locally directed, locally driven, and it will be state supported. That's something the governor has made clear. The state and our federal partners are here to support the towns and communities.
SD: What does a typical day look like?
NL: I'd say it's a composite of briefings, troubleshooting problems, outreach, working with various state agencies, working with FEMA, talking with our congressional delegation. Yesterday I spent time trying to sketch out plans for the future of the recovery. During the weekdays I'm generally office bound. But during the weekends, I spend time in the field, and I think that's an important piece. If you don't do that, you really miss the whole picture. I'll tell you, if I feel at all tired from a long day, I spend a minute in a community talking to the folks there about (1) what they've been through, but (2) the energy and the passion that they bring to the future and the recovery. It energizes me.
SD: Are you enjoying yourself?
NL: Folks have asked me if I'm having fun, and I think "fun" is kind of the wrong word for it. I feel that it's rewarding and satisfying.
SD: OK, it's not fun, but what about the job makes it worth it for you?
NL: That's probably a better question to ask me in four months. But in the moment, every day the goal is to make progress, bigger steps rather than smaller steps. And to be able to solve problems, big and small, and to see Vermonters recovering. That's the measure of success.