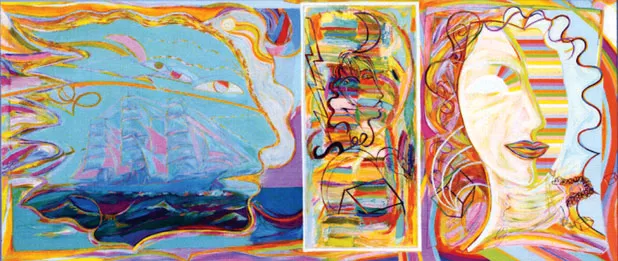 "Bal Masqué," acrylic on panel
This month, "New Direction," an intriguing solo exhibition by Middlebury College professor emeritus of art David Bumbeck, appears at Select Design, a brand-development company in Burlington. Bumbeck is best known as a master printmaker, and nine of his black-and-white intaglio prints appear here. But so do about 30 recent acrylic paintings on panels. The latter are fanciful figurative works, brightly colored almost to the point of gaudiness. Bumbeck's spaces are flat and intricate. Circuses, carnivals and other festivities are recurring themes in these works.
An ornate frame surrounds the abstract face of a partier in "Bal Masqué." All of Bumbeck's abstractions are loaded with curls, patches of various hot hues, such as orange and yellow, and wild cools including turquoise and chartreuse. There are no dark shadows deepening the picture plane, or moments of rest for the eye. The face in "Bal Masqué" is a lyrical one composed of blue lines. But there is a face within the face, as if Bumbeck is experimenting with a soft-edged version of synthetic cubism, or making a direct reference to a mask. A profile emerges from the line of the left brow and nose. The background includes squares of lavender, pink and cerulean blue.
"Voyage" is the largest piece, but even that isn't very large. The horizontal composition, roughly 12 by 36 inches, is divided into three sections. One presents a schooner within a face composed of wavy elements; next, a vertical section of figures, a house form and a crescent moon; and then another face. Again, this face contains a second profile.
Given Bumbeck's references to the Renaissance, it's likely that the composition of "Voyage" is an exercise in the Golden Mean. The artist's spirals and curves may also be rooted in classical geometry, such as the Fibonacci sequence describing a swirl.
"Violin" is an earlier painting, dating from 2003. The mixed-media work has a small, white violin affixed to it and incorporates the collaged faces of two Victorian-era girls. Victorian images are used so often in collages that yet another example is not particularly interesting. But Bumbeck redeems "Violin" by integrating paint with the collage elements to focus the composition and enliven the subject. Waves of white and purple create an off-centered square within a square.
In "Cirque II," at least five faces are woven in and out of waves of bright purple accented with slivers of light green. A harlequin figure is the smallest one, near the center of the piece. Spinning ribbons of color are everywhere, and a pair of legs, like those of a doll, is painted at lower right.
While references to art history pop up in many of the paintings, they are more common in the exhibit's black-and-white prints. A battery of intaglio techniques appears, including etching and photo transfers. "Rhapsody," from 1994, features an unknown, Renaissance-era woman with a long neck in the style of Botticelli. She is at a keyboard on the left of the image. At the right, another girl nimbly dances on a brick plaza. The bricks make a circular pattern that relate to other circles in the composition.
The print "Lineage" also draws on Renaissance portraiture, with a female face on each side of the bifurcated composition. A swallow glides over a landscape in the background. Bumbeck's prints have more depth than do the paintings, and contrasting darks and lights often divide the works into sections.
To call Bumbeck "retired" might be somewhat inaccurate, considering how prolific he remains as an artist. He is not only making a lot of paintings, but making marvelous colors in the process.