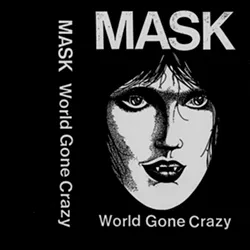 (Self-released, cassette, digital download)
Wallingford's Mask have released what has got to be one of the shortest local EPs in recent memory, World Gone Crazy. The five blisteringly paced songs, the longest of which is little more than two minutes, altogether take up seven minutes and 27 seconds. There's something to be said for brevity, particularly in heavy music. But, man, don't blink or you'll miss it.
World Gone Crazy starts with the ominous "You're Next," which sets the tone immediately. A Deftones-like guitar riff comes piercing out of the speaker, and Mask lunge into their punk-metal stomp. It's a roadmap for the rest of the ridiculously brief demo, which is a mosh-ready collection of songs with pounding drums, driving guitars and vocals that try to scream above the cacophony.
"Neighborhood Watch" and "Evil Eye" pretty much blend right into the opener, and there's little thematic movement until you hit the title track. A vicious, punishing song, "World Gone Crazy" displays some attributes Mask might focus on more: They control dynamics and navigate hairpin turns and jagged stops. The uptick in arrangements, albeit slight, help "World Gone Crazy" and closer "Convince Me (You Don't Gotta)" stand out from what is otherwise a pretty gray statement of a demo.
With music such as Mask make, there can often be something lost when listening on a laptop or one's stereo as opposed to seeing them live. The shared experience of being in a hot, sweaty club with a band raging in front of swarming kids is difficult to replicate on a record — particularly in the DIY scenario. World Gone Crazy feels like a preview for a big summer action flick. You can see all the explosions and get a few quips — maybe an oh-so-quick hint of a bigger plot — but it's just a primer.
A larger sample and cleaner production would go miles for the band. Will Killingsworth recorded the band at Dead Air Studios in Massachusetts, and the basic tracks sound pretty damn good — particularly the drums. But Mask opted to record vocals in a basement, and you can tell. A little reverb here, some compression there and, instead of an unintelligible squall squaring off against the band's fury, we could actually hear the vocals. I'm just saying, that never hurts, dudes.
Still, if you're in the mood for a quick hit of noise, Mask's World Gone Crazy will scratch that itch — especially if you have somewhere to be in 10 minutes. It's available for download at maskvt.bandcamp.com, or you can purchase the cassette at mentalhygiene.bigcartel.com.