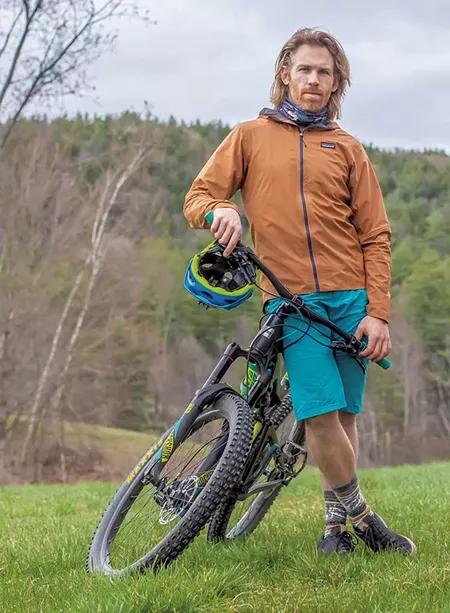 Luke Awtry
Nick Bennette, executive director of the nonprofit Vermont Mountain Bike Association
T
here are a
lot
more people mountain biking in Vermont today than there were a decade ago. Advances in trail building and bike design have attracted more entry-level riders and families; ski resorts have embraced mountain biking as an off-season revenue stream; riding in the woods solo or in small groups turned out to be an ideal pandemic pastime.
Nick Bennette, executive director of the nonprofit
Vermont Mountain Bike Association
, describes this as a "golden age" for the sport. Membership in VMBA — aka "Vimba" — hit 7,600 in 2020, up 176 percent since 2015. Over the past eight years, membership has quadrupled. The organization has helped establish more than 1,400 miles of trails.
VMBA plays an essential role in Vermont's mountain biking ecosystem; it provides administrative services, insurance and event support to 27 different local Chapters. If VMBA is the hub, the Chapters are the spokes. They're the ones getting their hands dirty building and maintaining trails.
And not all Chapters are the same. "There's a huge diversity in size," Bennette says. The smaller groups have a couple dozen volunteers. Others, like Chittenden County-based Fellowship of the Wheel, maintain multiple trail networks and employ paid staff.
VMBA deals with a wide range of dollar amounts, too: it distributes funds to each Chapter through government grants, donations from foundations and membership contributions. Transaction amounts can range from $10 to $13,000.
"There's a ton of money moving around on the back end," explains Bennette. Tracking and managing it can be time-consuming for VMBA's three-person central office staff.
Switching to
Mascoma Bank
's cash management system last summer made it much easier, says VMBA operations manager Krysy Steckler. "It was actually perfect for us," she says. "It's all done in a very straightforward fashion."
Mascoma's system is able to handle the complexity of VMBA's expanding enterprise, and it's more efficient than the one it replaced. If Steckler has any issues, she contacts Mascoma's staff. "Working with them continues to be amazing," she says. "If I need anything, I send them an email and they get back to me within the hour."
Bennette notes that environmental stewardship is a big part of VMBA's mission. He appreciates the opportunity to bank with a Certified B Corporation. "It's good to know that we're banking with a partner who is also community-focused and trying to improve Vermont," he says.
This article was commissioned and paid for by Mascoma Bank.
Member FDIC. Equal Housing Lender.
* All credit requests subject to commercial underwriting standards established by Mascoma Bank.