Courtesy
David Blittersdorf, Founder and CEO of AllEarth Renewables
Vermont is getting serious about fighting climate change. The state has set an ambitious goal of cutting greenhouse gas emissions by 40 percent in the next decade.
Helping Vermonters power their homes and businesses with renewable energy is a crucial part of the plan, and Williston-based AllEarth Renewables offers solar energy solutions that can help.
AllEarth's solar trackers reposition themselves as the sun moves throughout the day, allowing them to capture 40 percent more energy than traditional rooftop solar panels. Founder and CEO David Blittersdorf came up with the design; he drew it on the back of a napkin in 2008.
Since then, his company has installed more than 7,000 of its solar trackers across the country. Half of them are in Vermont.
Blittersdorf's latest innovation? Packaging solar trackers with energy-efficient cold-climate heat pumps, which heat and cool indoor spaces without using oil or natural gas. Bundling these two products together can cut greenhouse gas emissions — and energy costs — even further. They're good for the consumer, and for the environment.
But installing them requires a big up-front investment. Though many buyers qualify for tax credit incentives, they need help financing the initial purchase.
Blittersdorf wanted to create a standard package that would include both solar trackers and heat pumps in one loan, so he went looking for a financial partner. He floated the idea to various lenders, but none saw value in it — until he approached Mascoma Bank.
"Mascoma jumped at it," he said.
Through Mascoma, AllEarth customers can now finance up to $60,000 of the cost of trackers and heat pumps over 10 or 20 years. Mascoma was also willing to create a payment schedule that took the tax credits into account, rather than leaving it to the borrower to navigate. Said Blittersdorf: "They've made it really easy."
As a Certified B Corporation, Mascoma considers the environmental impact of its business decisions. "Mascoma has figured out that this is the future, and they want to be on the green side, the carbon reduction side," Blittersdorf said.
Blittersdorf also appreciates that Mascoma is a local bank. "When I can get to know my lenders on a personal basis, and they know me, they're instantly there," he said. That was a huge help when the pandemic hit, and the Paycheck Protection Program loans became available. "We were in on Day One," he noted.
Reducing Vermont's carbon footprint is only possible if we all work together. "That all matters," he said.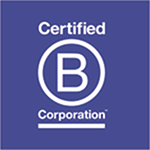 This article was commissioned and paid for by Mascoma Bank.
Member FDIC. Equal Housing Lender.
* All credit requests subject to commercial underwriting standards established by Mascoma Bank.