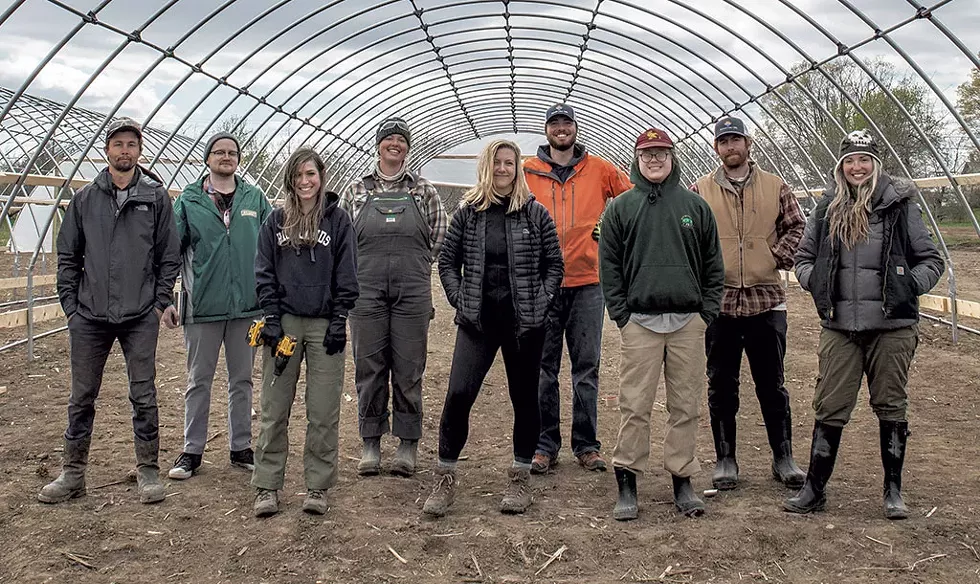 Luke Awtry
The Sunset Lake CBD crew
Looking for the next generation of Vermont farmers? You'll find some of them at Sunset Lake CBD. Launched from a Grand Isle County dairy farm in 2018, this ag startup grows and sells pesticide-free, artisan hemp products: Think CBD tinctures, gummies, coffee, salve and dog treats. "And we ship them right to your door," explains Cy Kupersmith, director of sales and sustainability.
The CBD, or cannabidiol, is derived from hemp plants the Sunset Lake crew now grows on 32 acres of leased land in South Hero.
It all started when the U.S. Farm Bill legalized hemp farming in 2018. Sunset Lake founder and executive director Sam Bellavance grew a hemp grain crop on his dad's dairy farm in Alburgh as an experiment in revenue diversification. He quickly discovered there wasn't much capacity in Vermont to dry hemp and sell it. And the guy who was supposed to harvest it bailed at the last minute.
Sensing an opportunity, Bellavance teamed up with Alex Frei, a recent transplant from northern California with experience cultivating medical cannabis on the West Coast, and Kupersmith, who grew up next door to Bellavance in South Burlington and was finishing up University of Vermont's Sustainable Innovation MBA program.
The trio decided to grow resinous hemp for CBD, and developed a direct-to-consumer business model that proved perfectly suited to the pandemic.
To make it work, they needed a reliable financial institution, a bank that "wouldn't rip the rug out from under us," says Kupersmith.
They struggled at first to find the right fit. Then they connected with values-driven Mascoma Bank.
Through Mascoma, Sunset Lake CBD set up a business checking account, with a competitive interest rate, that integrated with Square and Quickbooks — modern financial tools that are "so, so essential" to their business, notes Kupersmith.
Working with a trusted banking partner enabled Sunset Lake to grow from four full-time employees in early 2020 to nine full-time and additional part time employees by the end of the year. Kupersmith expects Sunset Lake to double its 2020 revenue this year. "We have more plans for hiring and expansion in 2021 and 2022," he says.
That growth will help make farming in Vermont more sustainable, which is part Sunset Lake's social mission. Kupersmith points out that Mascoma, a Certified B Corporation, supports that, too.
"We wouldn't bank with anyone else," he says.
This article was commissioned and paid for by Mascoma Bank.
Member FDIC. Equal Housing Lender.
* All credit requests subject to commercial underwriting standards established by Mascoma Bank.