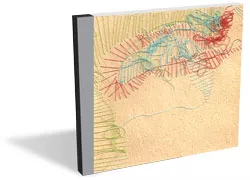 (Self-released, CD)
To the best of my recollection, I have never met Maryse Smith. Sure, I've seen her on stages around town a time or two — and have generally come away impressed. Otherwise, our paths have never crossed. Hell, I don't think we're even Facebook friends. But after immersing myself in her cozy debut solo album, Is Becomes Was, I can't help but feel as though I know her as I would an old friend.
"Loose Thread" opens the album and introduces the sonic manifestation of the homespun aesthetic inferred by the disc's cover art. Just as brightly colored strings are pictured haphazardly stitched about the cover, Smith's voice flits and dances in sprightly, carefree fashion. Aided by a casually plucked acoustic guitar, her dulcet tones soothe like the warm comfort of a patchwork quilt. Yet the threads gracing her work's cover are not sewn into something so infirm as cloth. Rather, they appear rooted in a more substantial, permanent material — some form of plaster or wood, perhaps? Similarly, while Smith's vocal style and laid-back instrumental work impart intrigue and surface appeal, the true strength of her work lies in its hardened foundation.
Smith's vocal charm is outstripped only by her clever wordplay, particularly on sly tracks such as "The Fear" and "Fast One." An uncommonly gifted songwriter, she wields both assets with such seamless fluidity, they appear inextricable from one another. Much like Leslie Feist or Zooey Deschanel — Smith's timbre bears a strong resemblance to that of the latter singer — at times you could believe that certain phrases exist only so that she could sing them. It's a rare symbiosis.
Likewise, Smith's backing band, as well as her own performance on guitar, reflects the songwriter's character with fitting nonchalance — though that slackerly zeal sometimes results in clams and timing discrepancies. Still, even those occasional blemishes ultimately become part of the material as a whole. As she does with the subjects in her songs, Smith embraces her album's flaws — how else to explain recording it on an old cassette tape four-track? On repeated listens, they become identifiable, familiar traits. The result is a record that feels distinctly human. Or, put another way, an album that feels like an old friend each time you come back to it.
Catch Maryse Smith at The Skinny Pancake in Burlington this Saturday with In Memory of Pluto front man Seth Gallant.