Brent Harrewyn
Mary's Restaurant
When Baldwin Creek cuts under Route 116 in Bristol, it flows by a 1797 farmhouse. Today it's the Inn at Baldwin Creek, but the property still retains an agricultural focus. In the front yard, which is akin to a small farm, an enormous garden has fueled the inn's kitchen for more than three decades.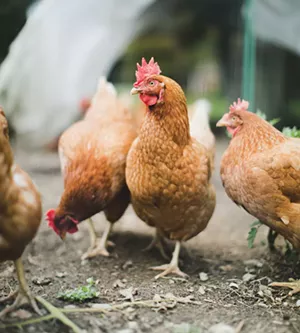 Brent Harrewyn
Chickens
Mary's Restaurant was farm-to-table long before that ethos had a name. Chef-owner Doug Mack opened it in 1983 with seasonal menus based on local ingredients. Fittingly, he later became a founding member and the first president of the Vermont Fresh Network, a coalition of chefs, farmers, artisans and consumers highlighting the use of local products.
The whole family is involved in his Addison County restaurant. Chef Doug cooks while his wife, Linda Harmon, helms front-of-house services. Daughters Laura and Martha manage the bar's craft cocktails as well as a sister spot called Lu•lu, which specializes in small-batch artisan ice cream.
"I'm sending you some extra broccoli fritters," Laura announced one night to a family celebrating a birthday. After straining a pale green cocktail into a coupe glass, she whipped into the kitchen and emerged with the promised plate. "I suggest smothering those with our chipotle aioli," she said, winking to the group.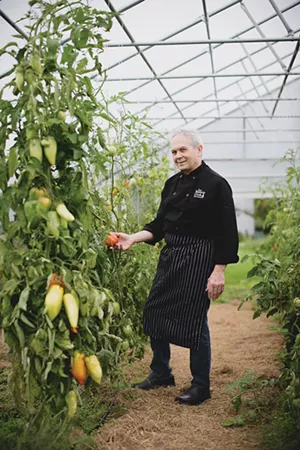 Brent Harrewyn
Doug Mack in the garden
At the cozy wraparound bar, a couple played cards and dug into house-cut fries. Besides a diverse selection of wines, spirits and local brews, the bar has an ample stash of games, including Jenga and Bananagrams. The cocktail list, which had a superhero theme that night, reflects Mary's overall taste: playful yet refined.
The food menu ventures from crispy-skinned halibut with roasted root veggies to beef tenderloin with rosemary-brandy demi-glace. Smoky poblano peppers are stuffed with confit rabbit and served over green rice; avocado-beet tartar comes with housemade dinner rolls. Vegetarian fare includes sweet and spicy eggplant with ginger rice and griddled miso-nori chickpea fritters over sweet potatoes and slaw.
There are just two menu staples: a local beef burger and a cream-of-garlic soup that's famous for good reason.