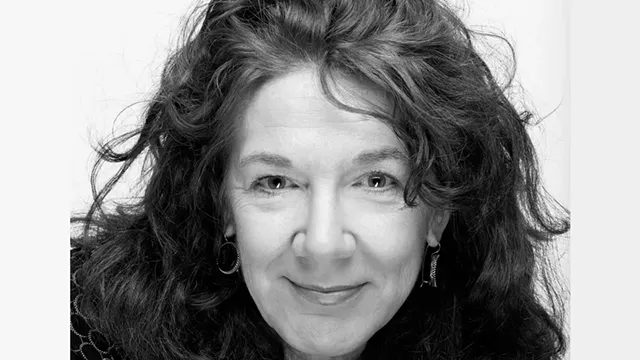 Courtesy Of Matt Valentine
Mary Ruefle
If you've received an unsolicited bit of verse in the mail within the past few months, consider yourself cosmically lucky. When Mary Ruefle became Vermont's ninth poet laureate last fall, she decided to select 1,000 Vermonters at random from county phone books and send them a poem. In early spring, she began mailing poems from her home in Bennington. To date, more than 150 people in all 14 counties have received a poem, either photocopied from a book or typed by someone else; Ruefle, a technology ascetic, does not own a computer.
Ruefle picks her recipients using a proprietary dowsing method, a private game of conscious association and instinct. "I can't quite explain it," she said. "A name will just hit me. I do use my eyes. I do not use my finger. I do not just point at a spot on the page."
She chooses people who remind her of someone she knows — her sister is Cathy, so a Cathy might leap out at her from the sea of names — or who strike her, for any number of ineffable reasons, as needing that particular poem at that particular moment. To a single person, she might send a poem about loneliness; to a couple, a poem about marriage. In the spring, she mailed quarantine-appropriate verses by the Japanese poet Issa. (Example: "Napped half the day; / no one / punished me!")
This summer, when the police killing of George Floyd sparked a nationwide reckoning with racism, Ruefle sent "The Idea of Ancestry," by Etheridge Knight, to a handful of people who share the surname Knight. In August, she mailed several copies of "Vespers (End of August)" by Louise Glück, Vermont's poet laureate from 1994 to 1998.
Sometimes, Ruefle sends poems to a few people who live on the same street. ("Who knows," she said in a recent interview with the Vermont Arts Council. "Maybe they know each other. Maybe they socialize.")
Given that Ruefle's recipient pool consists entirely of listed landline users, her audience almost certainly skews older. "I don't think I'm hitting anyone under the age of 40," she said with a sigh. "Oh, well."
She doesn't include a return address, because striking up a correspondence is not the point; her goal, Ruefle explained, is to bestow a moment of weird providence. "I know some of these are going to people who don't give a shit, and they'll end up in the trash. Out of 150 people, I believe that two or three might have gotten the right poem at the right time."
But every game has its rules. "People will beg me to send them a poem, and I tell them no," she said. Serendipity does not, under any circumstances, take requests.