The building that houses South Burlington's city hall, public library and senior center is scarcely 2 years old, and many area residents may not have been inside it yet. But that's not the reason a visitor could get lost in the first-floor hallways. No, it's the trippy artwork lining the walls.
Charlotte artist Marvin Fishman recently hung 35 paintings and several shaped-wood pieces in the spacious walkway that doubles as the library's art gallery. A few of the works might be considered charmingly decorative. But his abstractions, whether in vivid color or black on white, resemble explosions. Using the alla prima, aka wet-on-wet, technique, Fishman layers colors of still-fluid acrylic and then pushes the paint around to achieve his desired effect.
That effect is fiery, tempestuous, energetic, as if the paint were stopped in its tracks only for a moment and might keep moving when you're not looking. The metaphor of a film still is apt: Fishman is a former filmmaker who cofounded both the Third World Film Group and Newsreel, a political activist crew, in his native New York City in the late 1960s. In his artist statement, Fishman notes that he liked "editing in the camera" — that is, "shooting in the proper order only those shots that told the story." That quick decision making and action "came to inform how I paint," he adds.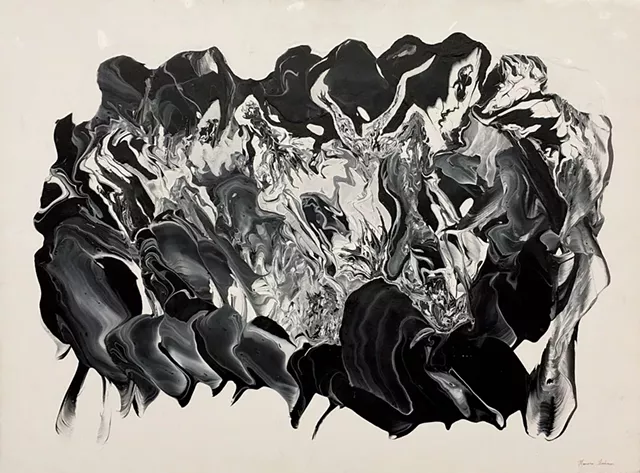 In painting, though, Fishman's subjects are "imaginary," he writes. Any forms detected or meanings ascribed are in the eye of the beholder. Some works might suggest a dance, others utter chaos; a black-and-white painting might resemble rock compressed over eons or a confounding, M.C. Escher-like maze. But it's more fun to try letting go of objective reality, if only during a stroll down the hall.
After moving to Vermont in the 1970s, Fishman directed media production and facilities at the University of Vermont. He also took up the relatively equipment-free medium of painting. In his statement, he claims that he likes all kinds of art, all mediums, and surfaces both traditional and unconventional, such as dead tree roots. In the South Burlington retrospective, Fishman presents just acrylic on canvas or board and a few painted wood pieces. But collectively, they form a visual undertow, conspiring to pull you in.
Fishman's exhibit is on view through March 14.