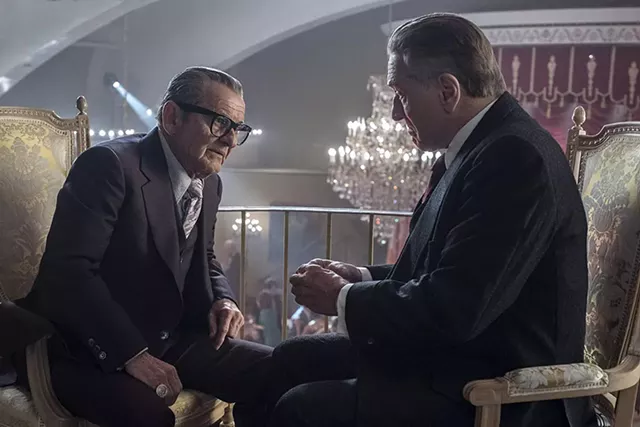 MOB RULE Pesci and De Niro return to their good fellowship in Scorsese's crime epic about the rise and fall of a loyal enforcer.
Steerforth Press, a small publisher in New Hampshire's Upper Valley, scored a big hit in 2004 with former prosecutor Charles Brandt's I Heard You Paint Houses. The best-selling true crime book is the fruit of Brandt's interviews with the late Frank Sheeran, a longtime Teamsters official and mobster who claimed to know what really happened to union boss Jimmy Hoffa. Now that book comes to theaters and Netflix as The Irishman, Martin Scorsese's three-and-a-half-hour crime epic, which is already dominating the awards conversation.
In a long piece published in Slate in August, journalist Bill Tonelli claimed that Sheeran's tale of his hit man exploits is, in fact, one big lie. Steerforth's publisher fired back a defense of Brandt's fact-checking. Both sides are fiercely argued and essential reading for any viewer of The Irishman, which takes Sheeran's story pretty much at face value.
Played by Robert De Niro from youthful vigor to old age, thanks to the magic of CGI, Sheeran serves as the narrator of this exhaustive, occasionally exhausting story of crime and its recompense. It starts when the elderly Sheeran flashes back to a seemingly insignificant road trip he took in 1975, and then further back to his first meeting with mob boss Russell Bufalino (Joe Pesci). Memories accumulate as the story moves toward a fateful choice.
For anyone hoping to see Scorsese return to the glory days of Goodfellas, The Irishman delivers. From languid tracking shots to explosive vintage needle drops, his epic style is on display. As a procedural, too, detailing the mighty role that unions and their mobster bedfellows played in midcentury America, the film could inspire viewers to track down all sorts of historical footnotes.
Early on, though, The Irishman suffers from a certain void at its center. De Niro plays Sheeran impeccably as a solid building block in the mob organization, performing violent acts with a grim efficiency that he acquired during his service in the Second World War. Because he isn't especially dynamic or conflicted, the first hour moves slowly, livened mainly by Pesci's turn as a courtly criminal.
Things pick up after Sheeran falls in with Hoffa, played by Al Pacino as a controlling, theatrical narcissist. It's a borderline-hammy performance that the movie needs. Watching Hoffa throw a hissy fit when a mobster shows up for a meeting late and improperly attired is entertaining, even if we can't avoid the sense that we've seen all these tricks from Scorsese and others before. The pettiness of the powerful isn't as amusing as it used to be.
Not until its last hour, when Sheeran finally reaches his road trip's destination, does The Irishman transcend its mob-movie tropes and crowd-pleasing set pieces to become something stark and new. The careful tracing of the bonds between Sheeran and his two patrons, Hoffa and Bufalino, pays off in a masterfully depicted sequence that leaves us feeling pity and terror for a killer whose consummate professionalism both made him and broke him. While the use of Frank's daughter (a nearly silent Anna Paquin) as his conscience feels heavy-handed, his devastation is palpable.
Winding and anecdotal as The Irishman sometimes is, that last hour is up there with the best work Scorsese has done. Did it all really happen, or have we watched only "The Lies of the Irishman," to quote the headline of Tonelli's piece? Either way, there's no Jordan Belfort-style boasting or cockiness in Scorsese's rendition of this hit man's tale — only the bitter recognition of a misspent life.