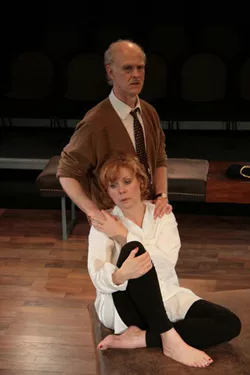 Charlie Hensley and Alison Edwards
A warring couple can horribly invert Elizabeth Barrett Browning's poetic enumeration of love's abundant joys: How do I hate thee? Let me count the ways. And bitter spouses know just where to land their poison-tipped darts of insult.
The 50 percent divorce rate suggests that American society is well conditioned to the battle of the exes - witness two decades of TV talk shows filled with erstwhile partners hurling accusations and expletives at each other. But in 1962, playwright Edward Albee shocked pearl-wearing, post-Eisenhower Broadway audiences with Who's Afraid of Virginia Woolf?, in which a middle-aged married couple metaphorically disembowels each other in an orgy of verbal violence. The portrait of connubial carnage disturbed theater cognoscenti as well. Albee, then a 34-year-old upstart, received the Tony Award for Best Play, but the Pulitzer committee split over the work's "vulgarity" and awarded no prize for drama that year.
Today, profanity registers faintly on the cultural Richter scale, and Albee's three-hour marital skirmish contains fewer F-bombs than rapper 50 Cent tosses off in an average rhyme. Virginia Woolf retains its contemporary power because it shows how intimates inflict the deepest wounds. Vermont Stage Company closes its season with a bracing revival. Stephan Golux, directing an outstanding cast, gleefully embraced the dark, comedic underbelly of the dramatic war of words.
The action takes place in an alcohol-fueled haze. George and Martha arrive home after a faculty party at a small New England college. Even though it's already 2 a.m., they've asked another couple - young biology professor Nick and his wife Honey - to join them for more drinks. The middle-aged couple's living room becomes the scene of an all-night series of mind games, as George and Martha dissect each other and pick apart the younger pair's seemingly happy façade.
George presides over the well-stocked living room bar, but Martha constantly reminds him that he controls little else. Once heir apparent to Martha's father as college president, George now languishes as an associate professor in the history department. Both Martha and "Daddy" have deemed George unworthy, as a husband and a successor to his virile, driven father-in-law. Nick's bright prospects underscore George's frustration and emasculation. George dispenses snarky tips to the new prof about getting ahead, such as drinking competitively and "plowing pertinent wives" of key faculty colleagues. Including, perhaps, his own.
As the night wears on, the games become less fun: Humiliate the Host; Hump the Hostess; Get the Guests. Why don't Nick and Honey just leave? Nick's ambition plays a part, as does Honey's brandy-induced barfing, which keeps her tied to the bathroom. But, much like the audience members, they have also become voyeurs, transfixed and repelled by the intimate view of a gruesome train wreck. And as George mercilessly excavates the not-so-pretty secrets behind the young couple's own marriage, Nick and Honey worry: Are they witnessing a forecast of things to come?
George is the complex ringmaster of the surrealist circus, a wielder of the whip who has taken quite a beating himself. Charlie Hensley carried off the role brilliantly. He brought a subtle joy to George's jaded outlook, coloring his character's rainbow of flippant remarks with shades of sarcasm, from saucy to sardonic. He gave George a growly, knowing laugh and loose, flexible body language. Hensley never let the prematurely aged George become an object of pity, despite sloped shoulders and a balding pate. At times his forehead furrowed with anger or his eyebrows hung low with sorrow, but still his eyes flashed with life.
Although Martha is older than George, her voluptuous vitality - gone a bit blowzy with the booze - contrasts sharply with her husband's lack of physical and career prowess. Alison Edwards played Martha like a curvy Queen Cleopatra, outwardly confident and in control of her realm. As Martha expertly manipulates her courtiers, however, Edwards showed how she also secretly needed them, especially as the games grow ugly. Her dirty, desperate dance with Nick - well choreographed by Gregory Ramos - cleverly demonstrated both Martha's power (to seduce) and her lack of command (over her unfulfilled sexual desire).
Hensley and Edwards made a convincing and intriguing pair - two people who have marinated so long in their bitterness that the juices pickling them may have also preserved them. As Nick and Honey, Alex Pierce and Kate Downing also performed strongly as a couple - and matched their characters' physical types as closely as Hensley and Edwards did. Big kudos to director Golux and VSC artistic director Mark Nash for the wonderful casting.
Where George and Martha have the seasoned rudeness of veteran marrieds, Nick and Honey practice newlywed politeness. But when Nick gets frisky with Martha and Honey gets to the bottom of the brandy bottle, their youthful attention to propriety rapidly disintegrates.
The most telling marker of the young couple's moral slide was Downing's progressive dishevelment over the play's three acts. Her hairdo - a tight chignon - came undone as Honey did. Downing smartly played the dumb bunny, always a step behind. While the others traded sharp barbs, Downing kept her delicate features composed and slightly vacant, registering Honey's placid demeanor as most everything flies over her hazy head. She was a comedic delight in several inappropriate outbursts: an interpretive dance to a solemn Beethoven passage, and raucous cheerleading atop the living room's ottoman.
Nick remains a bit of a cipher for much of the play - a vessel for George's ire and for Martha's desire, more than a character expressing his own needs. Pierce embodied Nick's physical presence well: the square-shouldered ex-athlete, slightly ill at ease on an unfamiliar playing field. And he captured Nick's initial earnestness, and eagerness to please and learn from his elders.
Pierce's affect stayed somewhat flat for most the play, however, and his physical movements remained slightly stiff. It was difficult to tell if this was a deliberate choice. But it worked well when George stalks Nick, making plain the irony that the older hunter is more agile than his young prey.
Director Golux staged this production "in the round," with the audience seated on all four sides of Jeff Modereger's elegant living-room set. A large square of modernist benches lined the stage's outer edge. Distressed leather upholstery alternated with inset wood tables - the characters need plenty of places to set down their highballs. Attached at opposite corners were two elaborate pieces of furniture: a beadboard cabinet enclosing a record player; and the well-stocked bar, with pro-style pouring spouts on the liquor bottles.
Golux generally moved his characters well around the set, except for Honey, who had her back to one side of the audience until Act III. The field of play was large enough so that circumscribing the set - keeping the actors inside the visually defined boundary of the benches - didn't overly confine the action.
Rachel Kurland's beautifully executed costume design matched the set's elegance and emphasized important character details. George's oversized, camel-brown cardigan stressed his shoulders' slump, a physical marker of his psychological defeat. Honey's fitted turquoise shift hung loosely on her trim frame, showing the effects of booze-induced bulimia. John Paul Devlin lit the large playing area warmly, and dimmed it disturbingly for the final act's painful, predawn revelations.
For all that Albee reveals, he leaves open some final questions about George and Martha. Is the play an autopsy of a dead relationship, or just a twisted, invasive examination of a very unhealthy one? The couple's bitterness, which seems so shocking, may turn out to be an ironically refreshing tonic - an essential mixer in the mad cocktail that is George and Martha's marriage. And if we succumb to the urge to judge them harshly, we may be forced - as are Nick and Honey - to look in the mirror at an uncomfortable reflection.