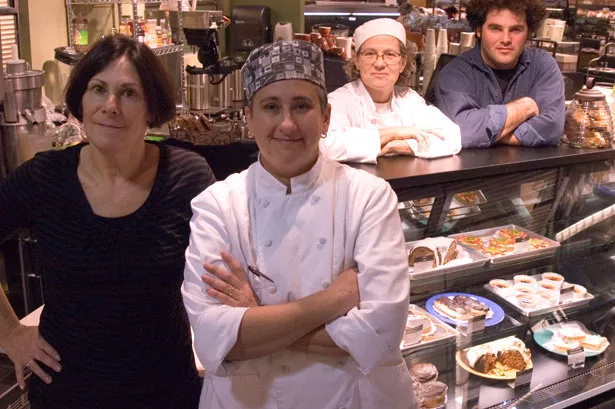 Matthew Thorsen
Katy Lesser, Jamie & Paula Eisenberg, Eli Lesser-Goldsmith of Healthy Living
Vermont's dynamic localvore movement is helping to power a proliferation of natural-food stores in the Burlington area. Almost every suburban town in Chittenden County now boasts a grocery aimed specifically at shoppers whose purchasing decisions are driven mainly by concerns about their health and the environment. And these same consumers are likely to regard local products as consistent with their preferences, says Clem Nilan, general manager of City Market in Burlington.
"Vermonters seem to get excited by local foods," Nilan observes. "And they make a real connection between natural foods and local foods."
So far, the homegrown marts haven't faced competition from national mega-chains offering similar fare. They're building a strong base of loyal customers - in large part, by sourcing stuff in-state.
Young families, who constitute the largest share of customers at Vermont Green Grocer in Richmond, are "very aware of where their food is coming from," says Kristen Miceli, owner of the 2-and-a-half-year-old store. "They want to know how far it's traveled. That's part of understanding the true cost of food - its carbon footprint, for instance. So our emphasis is local."
Some Vermonters are drawn to vegetables and animal products of Vermont origin because "they have firsthand experience of the working landscape," adds Ellen Fox, co-owner of Sweet Clover Market in Essex, which has been in business for a little more than a year. "They see how food is raised here and can compare that to what's available in big stores. The meat we sell is very different from the beef-out-of-a-tube you get in supermarkets."
It helps that the natural-food stores themselves have a down-home flavor. The newly expanded Healthy Living in South Burlington has been owned by Vermonter Katy Lesser for all of its 22 years. Natural Provisions was opened two months ago in Williston by Mark Grenier, who has owned a store of the same name in St. Johnsbury for the past five years.
Entrepreneurs who have invested in natural-food stores in Burlington's 'burbs are also counting on convenience as a selling point. Grenier says market research he commissioned prior to opening Natural Provisions showed that Williston residents who buy organic produce and other such foods would rather shop for them close to home than in Burlington or South Burlington. "It was clear that City Market and Healthy Living wouldn't interfere with us, and we wouldn't interfere with them," Grenier explains.
This intense focus on localism could enable Chittenden County's natural-food stores to survive competitive threats from supermarket chains, such as Hannaford and Shaw's, that are stocking more and more organic goods, often at lower-than-mom-and-pop prices. Despite their vast selling space and purchasing power, mega-markets "won't have the ability to carry as many local products as we do," says Miceli. Vermont Green Grocer measures only 800 square feet, "but you'd be surprised how much we have here," Miceli adds, noting that her store sells only locally raised meat and includes a deli as well as an ethnic foods section.
A store the size of Vermont Green Grocer needs that kind of edge, because it can't compete on price with some items. "Our prices are sometimes higher because we don't have the buying power" of Hannaford or Shaw's, Miceli acknowledges. But owners of a few other independent natural-food stores in the area say their merchandise costs no more than what the supermarkets are charging, and sometimes may even be cheaper.
Grenier, for example, says he discounts the vast selection of vitamins available at Natural Provisions by as much as 25 percent. His store also aims to compete with the nearby Hannaford by offering senior shoppers 10 percent savings every day. "We do a lot of sales here," Grenier adds. "Organic food does cost more. We have to offer deals so more people can afford it."
But it is their localvore identity more than anything else that gives the Burlington-area stores a strong chance of survival should glitzy health-food and specialty purveyors such as Trader Joe's and Whole Foods make their way to these parts.
California-based Trader Joe's has seeded 280 stores around the country; the closest to Burlington is located more than 150 miles away in Hadley, Massachusetts. The same city hosts the nearest Whole Foods Market, owned by a company that operates a similar number of stores from its headquarters in Texas. Both chains are expanding aggressively, each seeking to add 20 or so links per year.
Their rapid growth reflects the expansion of the national market segment keyed to organic and natural foods. With more and more shoppers favoring such products, "everybody is jumping on the bandwagon," says Lesser of Healthy Living.
Representatives of Trader Joe's did not respond to inquiries about the company's plans in Vermont, while Whole Foods spokesman Fred Shank says his firm does not comment on prospective sites for its stores. City Market's Nilan suggests, however, that it's just a matter of time before one of the national chains debuts on the Burlington-area natural-foods scene.
Trader Joe's and Whole Foods may not be able to match the local emphasis of greater Burlington's existing natural-food stores. But the region's legions of health-conscious shoppers have other characteristics and predilections that do appear to mesh closely with what Whole Foods, in particular, is selling.
"We're very purposeful in the way we live in Vermont," Lesser says. "We're more conscious in general about what we eat."
Sweet Clover Market showcases food preparation and cooking techniques because, co-owner Fox says, "our customers tend to view food as a resource, not just as a commodity." Patrons of her store can be divided into two types, Fox adds: those who shop every three or four days because they enjoy fresh food, and those whose specific health needs or gourmet yearnings can't be satisfied at the local Hannaford.
Exacting, informed consumers who want to keep it fresh are precisely the people Whole Foods plays to in its own marketing pitch. But Vermont's natural-food fans may be put off by the hype and "excess" that Lesser says she sees in some Whole Foods stores.
"I've traveled all over the country doing my homework for this expansion," Lesser says, referring to Healthy Living's recent relocation from a 7000-square-foot space to a 30,000-square-foot emporium on Dorset Street. "I don't think we want the sort of frills I've seen at stores in Boston and New York."
Lesser cites a 25-foot-long display case of pricey chocolates and pastries at a Whole Foods store in Boston. "I'm not sure people in the Burlington area would be impressed by that," she says. "If I had that sort of stuff here, I'd be afraid it would all just rot."