Melissa Pasanen ©️ Seven Days
A Richmond Farmers Market attendee preparing to enter
I'm an unabashed farmers market fan. I love them in the summer and the winter. I love them in the sun and in the rain. I love them big, and I love them small.
And, yes, I love them even in an unprecedented, pandemic-altered season.
A few Saturdays ago, I attended the Burlington market on Pine Street and was pleasantly surprised by how relatively normal it felt.
The market is in its second year in the mostly asphalt lot behind the old Greyhound station. While decidedly less attractive than its previous City Hall Park home, the new, spacious location makes social distancing easy.
Between several preorders I had placed, along with spontaneous purchases, I came away loaded with bounty, including flowers, mushrooms, sausages, radicchio, gooseberry-honey jam and farm-made gelato. (Not to mention the coolest earrings with tiny local mushrooms preserved in Lucite.)
Pluses this year included easier parking and, somewhat surprisingly, more time and space to chat with farmers and other vendors because fewer people are crowding each booth.
From a shopping perspective, I'm not sure there were really any minuses. The encouragement to preorder makes me more efficient and focused, and I find the less-congested market more pleasant and easier to navigate.
Honestly, during a normal year on beautiful Saturdays, the Burlington market can be a little overwhelming; I sometimes skip it in favor of smaller markets a little farther away.
Last Friday afternoon, I headed to one of those in Richmond.
Usually located up on the hill of Volunteers Green just off Bridge Street, the market this year has moved down to a larger, flatter area of the park to accommodate the spacing required between vendor booths per guidance from the Vermont Agency of Agriculture, Food and Markets.
The updated June 19 combination of rules and suggestions from the state allows booths to be set up closer together than previously required: six feet apart rather than 12.
Theoretically, this could allow for more vendors — which some markets will pursue, while others will stick with their initial roster, according to Jennie Porter, market development manager with the Northeast Organic Farming Association of Vermont.
Porter highlighted a couple other key changes that customers might notice. Markets are now allowed to set up an on-site dining area for consumption of takeout food purchased at the market. They are also permitted to host "nonparticipatory entertainment" following social-distancing rules.
The Burlington market has not changed its protocols based on the new guidelines, market director Mieko Ozeki wrote in an email. It will not adjust the space between vendor booths or add new ones. Although Burlington's market has about half its normal number of vendors this year, "We have an adequate market size for the moment," Ozeki explained.
Fewer vendors does mean lower revenue for the markets, which depend on funding from vendor fees. Ozeki noted that the tightened market budget cut money that would have paid musicians, and it cannot fund extra staff to monitor a dining area to ensure that it meets sanitation and social-distancing rules.
Ozeki added that she's concerned the revised guidelines are inconsistent with the original instruction to markets to eliminate activities that encourage people to congregate.
Porter of NOFA-VT said that some markets will choose to offer music, suggesting that it "makes the shopping experience more relaxed."
Although no music accompanied my Richmond visit, the market has brought it back most weeks. Market manager Ariana Matthews-Salzman said that, so far, she has seen customers doing a good job of social distancing while enjoying the entertainment.
Matthews-Salzman is in her first season as manager. "It's been an interesting first year," she observed. The 25-year-old Richmond native knows what the market feels like normally: "I've been going to the farmers market my whole life," she said.
Matthews-Salzman said her hometown market has struggled in recent years to retain vendors.
Though the market was small, I was perfectly content with the mix of offerings on my recent visit with friends. And I knew full well that the time I spent sweating under my required mask was nothing compared with what vendors had to contend with in the meltingly hot temperatures.
I had put in a couple of preorders for vegetables, berries and eggs. I also planned to buy an evening meal from Aromaticah, a Latin American prepared foods vendor, for myself and two companions.
Working my way in the prescribed direction through two rows of vendors, I procured smoked salmon caught in Alaska by a Vermonter; raspberries and fat, fresh bulbs of garlic; new potatoes; a container of still-rooted sprouts; thick sheep's milk yogurt (almost cream cheese); and a crunchy seed, nut and honey bar.
Melissa Pasanen ©️ Seven Days
Brent Klecka of Green Mountain Microgreens
I could also have bought bread, beef, plump zucchini and apple cider, among other things. And I could have paid for my sprouts with cryptocurrency, according to a sign at Green Mountain Microgreens, although owner Brent Klecka said that no customer had yet done so.
To go with our dinner, my friends and I bought honey-sweetened lemonade from Pedro Salas of Starksboro-based Bee Happy Vermont. Asked how he was finding the market this year, Salas commented cheerfully, "It's another line in the tiger." (Later he was spotted dancing — in the heat! — to the music wafting over from Stone's Throw Pizza's outdoor beer garden. They do say honey is the original energy food.)
We enjoyed our lemonade and Nicaraguan-style tamales and empanada at a picnic table overlooking the Winooski River, and then dangled our feet in the water, where tiny fish nibbled my toes. (Next time, I will a bring a swimsuit and stop for a quaff at the beer garden.)
Aromaticah chef-owner Chepe Cuadra was born in California but raised in Nicaragua, he told me later. He owned restaurants in Colombia and Nicaragua before moving to Vermont and working for many years in Burlington restaurant kitchens. Cuadra launched his own business in 2014. "I started producing the food I was missing," he said.
For his nacatamales, he makes his own masa, which is wrapped in banana leaves and steamed with different fillings. The rich pork version I had was deliciously tangy with sour orange, briny with capers and olives, and just-right spicy. My friends found their chicken empanada and vegan mushroom-and-chickpea tamale quite satisfying.
We did regret not trying the mango ceviche dressed with red onion, lime juice, cilantro, hot chile pepper and salt. Another time.
Cuadra misses some of his busier summer venues, such as the Shelburne Farmers Market, which has taken the year off. He said sales are about 50 percent what they were last year, but he appreciates the Richmond market: "It is beautiful, and it energizes me."
Maria Steyaart of Honeywilya Fish in Duxbury and Perry Bland of Home and Away Farm in Westford both said that, while foot traffic is down, sales are good. "We're selling more stuff even though there are less people," Bland said.
"The people who are showing up are the people who want to buy," Steyaart observed.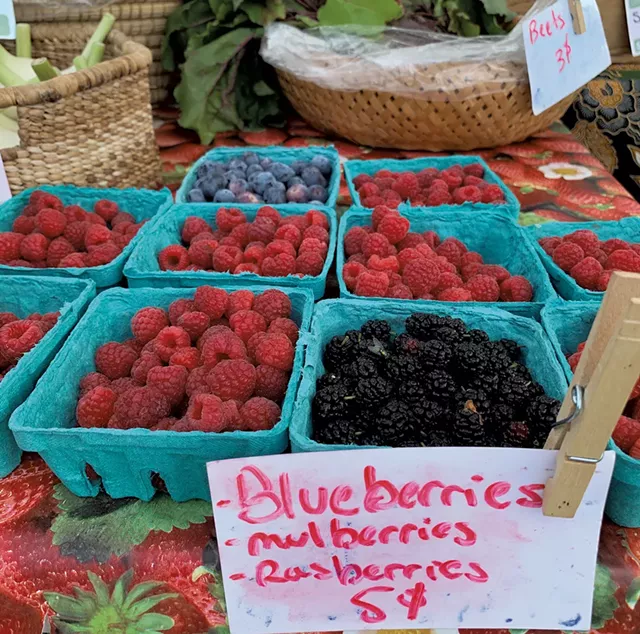 Melissa Pasanen ©️ Seven Days
Last Resort Farm's booth at the Richmond Farmers Market
Eugenie Doyle of Last Resort Farm in Monkton was a founding vendor-member of the Richmond market close to 30 years ago and staffs her family stand every other week.
"This year is very challenging, and it's really not quite as much fun," she said.
Despite safety precautions, Doyle feels vulnerable and misses many regular customers. "On the other hand," she added, "there are people who come who are so happy to have a little normality."
The extra work of preorders, Doyle said, is balanced by the guarantee of some sales even when the weather is not ideal. With almost no tourists, "We are really dependent on local people who cook," she said.
Supporting farmers markets even with their pandemic restrictions is "an investment in the local food system," Doyle pointed out. "I've always wanted people to realize that markets are community-supported agriculture, too."