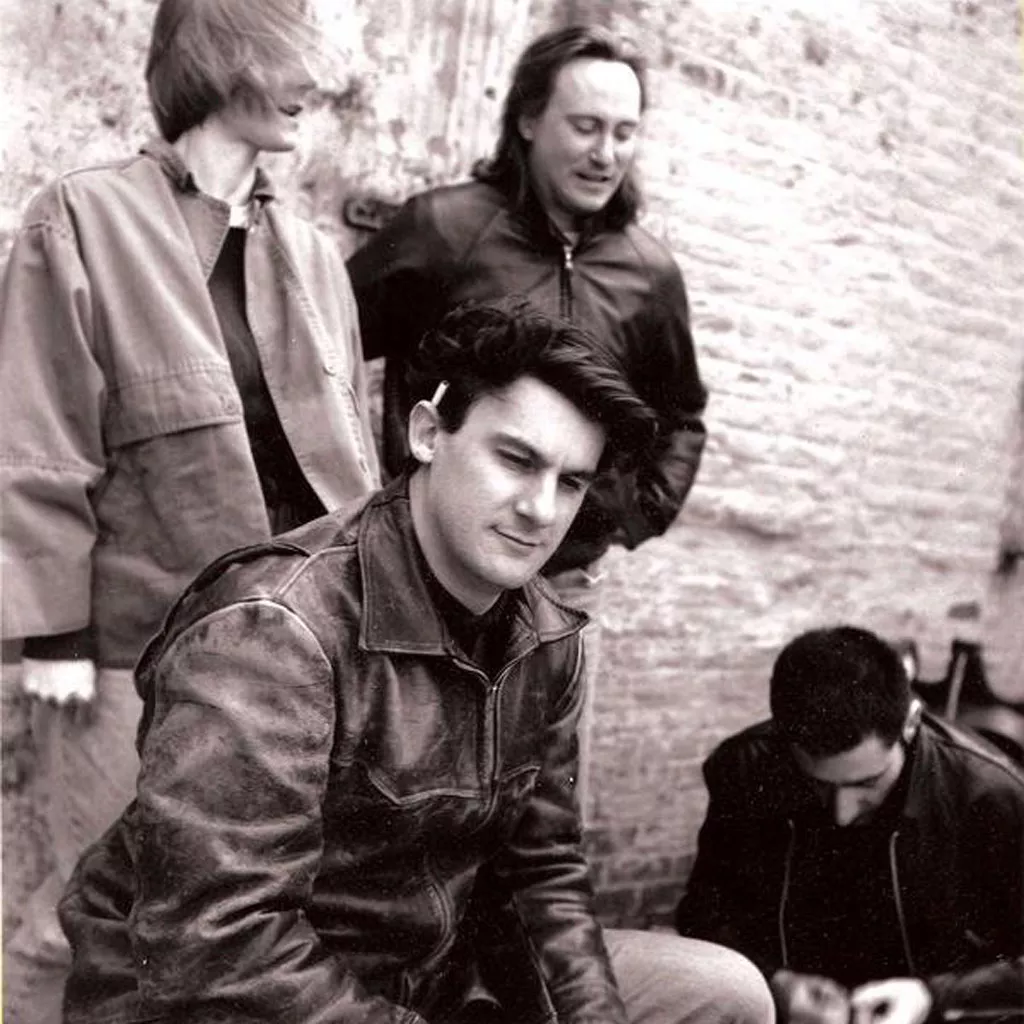 Mark Spencer is going to be busy this Halloween. At the Higher Ground Showcase Lounge in South Burlington on Friday, October 31, the acclaimed Son Volt guitarist will perform with each of the three groups on the bill. That includes Burlington-based bands Waylon Speed and Anders Parker & Cloud Badge, as well as Blood Oranges.
That last band is an influential, if overlooked, Boston-based act that was primarily active in the late 1980s and early 1990s — though various iterations of the group date back to the early '80s. The band has strong Burlington ties in Spencer and drummer Ron Ward (both of 1980s Burlington new-wave/punk band Pinhead), and in band cofounder Jimmy Ryan, a member of seminal Queen City bands Pine Island and the Decentz.
Blood Oranges were nominally alt-country artists who counted among their contemporaries Uncle Tupelo, Whiskeytown and Bloodshot Records label mates the Bottle Rockets. But Blood Oranges were misfits, even in that nascent era of alt-country: more bluegrass than Uncle Tupelo, less punk than the Bottle Rockets. Blood Oranges were a musical idiom unto themselves, which may be why they were less appreciated in their time than they should have been.
Seven Days spoke with Spencer by phone recently to talk about Blood Oranges, his work on Waylon Speed's latest record, Kin, his admiration for Anders Parker, and why you can't believe everything you read at allmusic.com.
SEVEN DAYS: There is a mystique around Blood Oranges. They're one of those bands that people who really dig alt-country seem to know and revere, but that maybe never got their full due.
MARK SPENCER: The easy thing to say would be that we were ahead of our time. We were really only together for about four years. I think bands like that usually only stick around for a few years, and I think we were something like 1989 to '93. Does that sound right?
SD: I think that's what allmusic.com says...
MS: AllMusic doesn't always get everything right, but sometimes they do. I've been having conversations with AllMusic to separate me from the other Mark Spencers who also play music. And they did bust some of my stuff out from the other Mark Spencers. But if you look me up, you'll see they have me doing all this stuff I didn't do. One of the other Mark Spencers works on beach music in North Carolina, I think. And it's like, I'm pretty sure that's not me. But then, I still look at that site every week and get information.
SD: Well, they have Blood Oranges filed under alt-country, which is kind of right, but maybe a little misleading. How would you describe the band?
MS: I just describe it as bluegrass-rock. It's kind of like Creedence [Clearwater Revival], but it's also kind of like bluegrass. Nowadays, people would call it Americana or alt-country. Back when we first started playing, they hadn't made up enough names for alt-country yet. So they were calling it punkabilly and No Depression. For a while, any act that was mentioned in that magazine, No Depression, it was like, "Oh, it's that No Depression music!" People didn't really have a handle on it back then. They knew about Gram Parsons, of course, and Jason and the Scorchers. But otherwise, I don't think a lot of people knew what to make of it.
SD: What was the early reaction to the band?
MS: We went on tour with the Sundays the first time they came to the United States, and people were like, "What?" They were expecting this ethereal, twee pop, which I also love. But that's certainly not what we were. It seems like, these days, people are a little more open to different styles merging within alt music. But back then it was more factionalized. They just weren't ready for it. They weren't educated enough to love us.
But there were plenty of folks who did like the band. We did some touring. The first time we played with them, Uncle Tupelo was opening for us. But the next time, of course, we were opening for them. But that's how I met all those guys, Jeff Tweedy and Jay Farrar.
SD: You produced Waylon Speed's latest record, Kin, which is phenomenal. What were you hoping to get out of the band on the record?
MS: The first time I saw them live, I had the same reaction everybody else does: Wow. It's pretty intense. And in a way, I think I like them because of the Blood Oranges. There's more than one songwriter, more than one lead singer. And they have an approach that is a hybrid of different kinds of rock, different kinds of country and American music, all rolled into one. One minute there's a country vibe, then there's a Skynyrd vibe. Then they go into technical metal. And it all makes sense the way they do it. Which blows me away.
But mostly they're responsible for all of it on that record. And the engineers kicked ass, too. But the guys came in super-psyched and super-prepared. They had everything already worked out. They're always rehearsing and writing new songs. So really, it's just how they do things.
SD: Let's complete the Halloween-night hat trick. You've collaborated with Anders Parker for years. What do you appreciate most about his music?
MS: There's just something about who he is personally and his music, his style. It's the chords he uses, his lyrics. Again, I don't know if it's a hybrid thing or his knowledge of so many different kinds of music. But there's something about his music that touches me in a way a lot of other people's music doesn't. But I think that happens to a lot of people who listen to his music. There's something about what he does that really gets inside. He's got a special thing, and I've only played with a few people who have it.
INFO
Waylon Speed, Blood Oranges and Anders Parker & Cloud Badge, Friday, October 31, 9 p.m., at Higher Ground Showcase Lounge in South Burlington. $10/12. AA.
The original print version of this article was headlined "Blast From the Past"