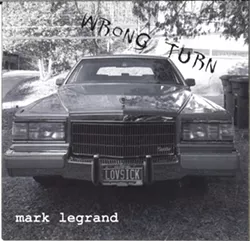 (Self-released, CD)
Mark LeGrand has been sober for close to 30 years. But, even decades later, those bleary nights seem to linger around him. In fact, they might be the Montpelier songwriter's most seductive muse. Over several locally acclaimed albums — most recently including Tigers Above and Tigers Below, a 2016 duo project with his wife, Sarah Munro — LeGrand has turned to the shadows of his past for inspiration. That a country singer would view the world through the distorted lens of an empty bottle is hardly revelatory. But given the benefit of distance and perspective, LeGrand cuts his tales of damnation with a chaser of compassion. It's a heady cocktail, equal parts sweet and bitter, stirred to perfection on his latest EP, Wrong Turn.
Particularly in his later years, LeGrand has become a storytelling craftsman. He stitches the EP's scant five songs together with frayed threads of perdition and redemption, coupling simple, efficient language with an equally plainspoken delivery. His gentle, slightly nasal rasp is soothing, evoking the easy charms of Willie Nelson or John Denver. It's a familiar tone that almost masks the turbulence in his writing.
The title track opens the record, setting up the thematic narrative of bad decisions against a backdrop of bright, 1970s-style country. It's replete with punchy fiddle, ringing guitar and loping drums. LeGrand paints a lively, lustful scene. But he knows better than most that dire actions have dire consequences. "And soon there will be hell to pay," he warns.
While LeGrand is often brutally honest, it's rarely clear how much of his writing is autobiographical. "Everytime I'm Getting Over You" seems to come closest. "There's the whiskey and there's the glass / There's the pipe, waiting for the match," he sings, though whether longingly or ruefully is uncertain. Then, "And there's the cocaine, telling me what to do / Every time I'm getting over you."
"The Cops Took My Sweetheart Last Night" is a tragic, northern gothic tale of drug-addled desperation whose lyrics almost read like a police report: "There's a hole in our screen door / from her .44."
"Four Walls, a Door and a Window" follows like a postscript, seemingly told from the perspective of the aforementioned jailed sweetheart. Producer Colin McCaffrey's steel guitar imparts an icy air of desolation, mirroring LeGrand's tortured prose.
Wrong Turn closes on "I Don't Sing in Barrooms Anymore," a classically styled cut that could pass for a Waylon Jennings outtake. Here, LeGrand adopts the persona of a singer who sees the world passing him by and doesn't much seem to mind. LeGrand does still sing in barrooms, of course. But the tune has a sage, lived-in quality that only comes with real experience. We're fortunate LeGrand shares his, wrong turns and all.
Mark LeGrand plays Sweet Melissa's in Montpelier every Friday. Wrong Turn is available a few doors down Langdon Street at Buch Spieler Records.