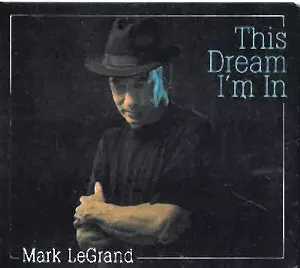 Mark LeGrand, This Dream I'm In
(Laughing Eagle Music, CD, digital)
Mark LeGrand has long been a voice for the voiceless in Vermont. Over the course of seven albums, the Montpelier songwriter has cast a keen and compassionate eye on humanity in all its faults and glories. LeGrand has made a career of probing the depths of the choices we make and why we make them.
On his last record, Wrong Turn (2017), he explored how poverty and addiction can lead good people down dark and desperate paths, conditions he knows well through his past struggles with alcohol — LeGrand has now been sober for more than 30 years. On his recently released This Dream I'm In, LeGrand again points an unsparing lens on the personal and political factors that conspire to keep us down. But unlike the bleak Wrong Turn, which made no pretense about having solutions to dire problems, This Dream subtly offers something novel: hope.
That difference in emotional tone is evident in the new album's production and in LeGrand's shift away from straight-ahead country into new stylistic terrain. Where the Colin McCaffrey-produced Wrong Turn favored a cool, unfussy aesthetic that suited LeGrand's gothic country material, This Dream, produced by Eric Sigsbey, is warmer, almost joyful at times. Despite its dour title, album opener "Lonely Boy" struts and strolls like a Randy Newman tune as LeGrand sings wistfully of the promise of youth over Ray Paczkowki's chipper piano.
Fueled by Jason Jack Merrihew's stinging lead guitar and Russ Lawton's unrelenting backbeat, the following cut, "Duct Tape County," is a dusty blues-rock tune in the vein of It's Only Rock & Roll-era Waylon Jennings. Here, LeGrand riffs on the lighter side of low-class living, singing, "Duct Tape County, Saturday night / Anything that's open's got a neon light."
On the next several songs, including the title track, LeGrand sort of speak-sings the lyrics with uneven success. The tactic adds a nifty disorienting element to "Somebody Else's Crazy," a slinky number about losing your mind in another's drama. But the spoken-word approach stumbles on "Homeless." Here LeGrand presents a detailed, thoughtful and affecting tale about a soldier returning from Afghanistan. How much more compelling might the song be if LeGrand gave the verses a melody, as he does at the chorus?
That's a minor gripe, especially given the sheer excellence found throughout the album's latter half. In particular, "I'm Leavin' Again" and "When You Don't Want Me" stand as some of LeGrand's best writing, by turns funny, touching and biting. Ditto "Mary Jane's Waltz," a cheeky pseudo-ode to marijuana in which LeGrand's eerie vocal similarity to Willie Nelson adds an extra layer of irony. The piano ballad "True North" closes This Dream on a sweet, hopeful and lovestruck note, leaving little doubt as to which way LeGrand's musical compass is pointing.
This Dream I'm In is available on Spotify. LeGrand plays a release show on Friday, November 8, at Sugarhouse Soundworks in Waitsfield. You can also catch him most Fridays hosting Honky-Tonk Happy Hour at Sweet Melissa's in Montpelier.