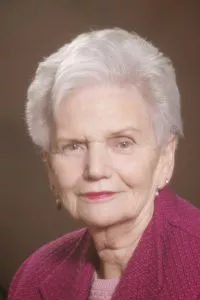 Marion Carson Milne, 79, died peacefully at her home in Washington, Vt., on August 11, 2014.
The daughter of William and Augusta Carson, Marion was born the eleventh of 12 children in Brooklyn, N.Y., on January 2, 1935. Only seven of the twelve children lived beyond childhood. She married Donald Milne on March 15, 1957. She is survived by her husband Don, the Clerk of the Vermont House of Representatives; her three children Scott Milne of Pomfret, Vt., Chris Milne and his wife Marjorie of Dover, Mass., Cathy Frey and her husband Scott Frey of Barre, Vt., and daughter-in-law Deborah Milne of White River Junction, Vt. A son Keith Milne predeceased her in 1971. She had eight grandchildren: Keith Milne, Elise Milne, Jane Milne, Claire Milne, Lee Milne, George Milne, Nicole Frey and Alex Frey.
She leaves a sister-in-law and brother-in-law, Mary Jean and Gus Mastro; brother-in-law John Milne; and sister-in-law Kay Milne. Her sisters Agnes, Irene and Jean survive her, and she is predeceased by her brothers William, Harry, Charles, Billy, and John and sisters Marion (she was named for), Julie and Pauline. She also leaves many nieces and nephews.
She left school at 16 to go to work in a travel agency near Rockefeller Center, and then earned her Graduate Equivalency Degree (GED) in her thirties. Marion became a graduate of Goddard College, where she earned her BA in political science at the age of 40. In 1975, Marion founded Milne Travel as a one-person, woman-owned business and worked hard to see it become one of New England's largest and most successful travel agencies.
Marion served in the Vermont House of Representatives from 1994 to 2000, representing the Town of Washington and other towns in her district. Her support for legislation authorizing civil unions was critical to the passage of the act in the House. She was co-chair of the Women's Caucus in the Vermont Legislature and recipient of their Legislator of the Year award in 2000. She was also an elected Justice of the Peace in her beloved Town of Washington, a trustee and former chair of the Calef Board of Library Trustees, and she was the first woman president of the Central Vermont Chamber of Commerce. She was also secretary of Washington Electric Co-op and a member of the board.
She was a member of the Vermont Commission on Women, and served on the Judicial Nominating Board, Professional Responsibility Board, Salvation Army Advisory Board, Green Mountain United Way, Vermont State Chamber of Commerce, Mother's March of Dimes, Central Vermont Community Action, Green Mountain United Way, Commission on Healthy Living, the U.S. Civil Rights Commission and the Community of Vermont Elders, holding the position of president or chair for many of these organizations. In 2010, the Central Vermont Chamber of Commerce named her Citizen of the Year. The town of Washington named her and her husband as its Citizens of Year in 2010.
On the day she died, Marion had an appointment to have her hair done and planned to work at her desk in the travel agency and attend a board meeting for the U.S. Civil Rights Commission.
No one was more courageous, caring or giving than Marion.
Funeral arrangements will be handled by Hookers Funeral Home in Barre, with a wake Thursday evening and funeral Friday at the Presbyterian Church in Barre. Flowers from a local florist, or a donation to the Calef Memorial Library, Washington Vermont, 05675 are most welcome in Marion's honor.