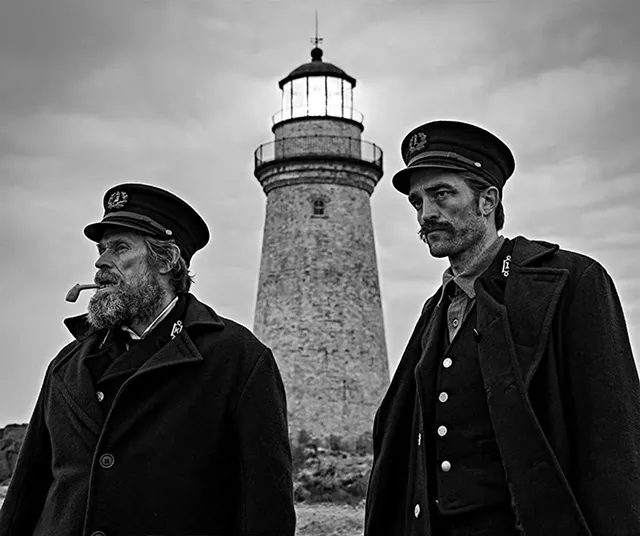 Willem Dafoe (left) and Robert Pattinson in The Lighthouse
Hey, remember this time last year when I ranted about how the way in which Americans view movies was about to undergo a seismic change because a gazillion new Netflix clones were coming? Imagine my surprise when I opened up the New York Times the other day and happened on an almost identical piece announcing that the tectonic plates of entertainment are rearranging as we speak. Everywhere I look, in fact, it seems like somebody's just published a piece auguring deathly dark days ahead for movie theaters.
I have a different take on the future of the traditional exhibition model. First, I'd like to touch on another piece that caught a lot of eyes and raised a bunch of eyebrows this year: Martin Scorsese's infamous New York Times op-ed.
The filmmaker drew the ire of Marvel (and DC Comics) fans by asserting that superhero movies are not cinema but "worldwide audiovisual entertainment." As if that weren't incendiary enough, he suggested that Disney's long-range master plan for endless interlocking Marvel tentpoles imperils the industry itself. There are only so many movie screens, Scorsese points out, and, with so many super-sequels glutting the globe's multiplexes, fewer and fewer independent and medium-budget studio films will be able to squeeze their way into theaters. Hence, fewer and fewer will be made.
Dire, unless you happen to work for Disney. But, in my book, it's one of the most profoundly stirring artistic statements The Irishman director has ever made. Best of all, it didn't take three and a half hours to read!
— R.K.
Al Pacino in The Irishman
However you and Scorsese feel about it, superhero movies have become major American events. Figures such as Wonder Woman and Nazi-punching Captain America bring viewers to tears; they offer hope and continuity and community spirit to many, many people. I am not one of those people, but I've witnessed this phenomenon enough to have a certain respect for it, because these movies do indeed dominate theaters, and somebody has to review them.
That said, Scorsese has a point about the danger that franchises and preexisting properties pose to originality in the movie theater. Studios are ever more eager to bet on a sequel, prequel, remake, reboot or movie-ization of something viewers have misty memories of (Playmobil: The Movie, anyone?) than on an original stand-alone story. Even in the art-house realm, what brings in the money? Downton Abbey or the latest nostalgia trip about a boomer-beloved musical talent.
There's nothing inherently wrong with any of these movies. The danger is that we might start to lose movies that don't come with a built-in fan base — for instance, Parasite, Knives Out or The Lighthouse. Unless they manage to build major buzz, as those three movies did, we may not even know they exist.
— M.H.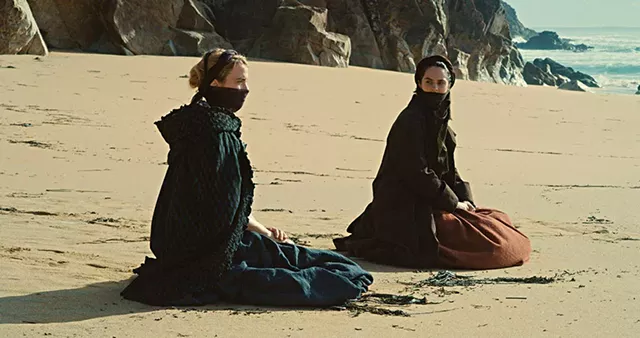 Adèle Haenel (left) and Noémie Merlant in Portrait of a Lady on Fire
RK: So, before we move on to our annual year-in-review extravaganza, allow me to share my prediction for the fate that awaits moviegoing. On the one hand, there's zero doubt that a generational shift is behind 2019's drop in ticket sales. Younger people tend to stream these days. There's a whole generation out there for whom the notion of getting dressed, leaving home, driving to a theater and blowing serious dough on Milk Duds and Mountain Dew is as alien as nude hot-air ballooning. On the other hand, Scorsese is, of course, absolutely right: Superhero product has a stranglehold on the world's supply of screens. Disney runs things, and there's nothing anyone can do about it.
Well, there is one thing. We can wait. I'm actually optimistic about how this will sugar out, and here's why: first, all those Netflix clones. Younger people who grew up on cable couldn't unbundle fast enough when they moved away from home. Forget "channels" and "networks." A smart screen, an app or two, and they were good.
The thing is, now there'll be too many apps to get, too many subscriptions to buy. All the conglomerates behind all the new streaming services have poached all the good TV shows and movies. Instead of all the desirable stuff being available through one or two services, it's now getting split up among 10 or 20. By the time the dust settles, securing access to a halfway-decent content stash will cost you more than cable ever did. Cue consumer dissatisfaction.
And second, even die-hard superhero fans aren't going to watch this crap indefinitely. The time will come when the public's had its fill of spandex antics and yearns for movies the way they used to make 'em. The pendulum always swings.
And guess what — the one truly super and heroic thing Disney will have done is keep America's theaters in business for when that time inevitably arrives. Each generation rejects the tastes of the one before it. About the time Thor wears out his welcome, a new crop of film lovers may be curious enough to check out the movie-house experience.
As Martin Luther King Jr. said, "I may not get there with you." It could take a while. But I believe the day will come. You could say I have a dream. Hey, it could happen.
MH: While young people — and many older people I know — may prefer the comfort of their couch, that doesn't mean they visit theaters exclusively for superheroes. One of my best theatrical experiences this year was seeing Midsommar on a steamy day in (duh) midsummer. The whole room was rapt, and not just by the AC. Another: Watching The Lighthouse with a college-age crowd at a theater where it's normally rare to see anyone younger than 50. Granted, both those movies could be categorized as horror, or at least "disturbing," and original horror flicks do still reliably bring young viewers to theaters.
As far as I'm concerned, the old quality distinction between movies and "TV" is gone, gone, gone (scare quotes because streaming complicates the whole definition of TV). Some movies do just fine on our no-longer-so-small home screens, and some series are worth watching in a theater. Prestige TV proves there is an audience for originality, but that audience has to be willing to do more than hit "play" on a remote. Let's keep going to film festivals to make new discoveries, and let's not abandon theaters, especially when their owners take risks on something small or arty that might not draw a crowd.
Most Stellar Performance
Rooney Mara in Mary Magdalene
RK: Joaquin Phoenix. Not for his overblown work in Joker but for his otherworldly performance as Jesus. Mary Magdalene was among the year's most underappreciated films, in my book. Rooney Mara, in the title role, wasn't too shabby either. Honorable mentions: Brad Pitt, Once Upon a Time ... in Hollywood; Adam Sandler, Uncut Gems; Peter Sarsgaard, The Sound of Silence; Saoirse Ronan, Little Women; Christian Bale, Ford v Ferrari; and, obviously, Tom Hanks, A Beautiful Day in the Neighborhood.
MH: Some actors show their genius by staying exquisitely restrained where others would ham it up, such as Awkwafina in The Farewell and Antonio Banderas in Pain and Glory. Others show it by going deliciously over the top, such as Florence Pugh in Midsommar and Little Women and Willem Dafoe in The Lighthouse. I like both types, and those are some of my favorite performances of the year.
But possibly even more amazing in their sheer intensity are Noémie Merlant and Adèle Haenel in Portrait of a Lady on Fire (still in limited release).
Most Annoying Performance
RK: I adore Renée Zellweger, but I have to say her Judy Garland did precisely zero for me, other than remind me what a textbook Oscar grab looks like. Way too much with the tics and pouty grimaces. Dishonorable mentions: Everybody in Stuber, Luce, Yesterday and Alita: Battle Angel. That last one, in fact, was probably the most annoying thing to happen to movies this year.
MH: Nicholas Hoult is a perfectly good actor, but his performance as Nikola Tesla in The Current War: Director's Cut made me think of Borat and Balki on "Perfect Strangers." Was it intentional comic relief or an unsuccessful attempt to channel a historical figure who's been so mythologized that he might as well be a superhero? We'll never know.
Best Comedy
RK: Riley Stearns' The Art of Self-Defense was bewilderingly overlooked. Jesse Eisenberg did some of his finest comic work to date. Ditto Booksmart, sans Eisenberg. Harmony Korine's The Beach Bum featured Matthew McConaughey as maybe the least tortured artist in movie history and was nonstop fun. It was great to see Eddie Murphy in top form again in Dolemite Is My Name. But the funniest business in cinemas over the past 12 months has to be Taika Waititi's Jojo Rabbit. If you can make Adolph amusing, you can do just about anything. He did.
MH: Is Booksmart trying a little too hard to be "Superbad with girls"? Are parts too absurd? Was it directed by Olivia Wilde, who helped besmirch a deceased journalist with her role in Clint Eastwood's Richard Jewell, and whom I'm still struggling to forgive for her participation in last year's epically awful Life Itself? All those things are true, yet it's still the funniest movie I saw this year, tied with Knives Out for the best smart, rapid-fire dialogue. Direct more movies, Olivia!
Worst Comedy
RK: Long Shot, The Family and Good Boys all could have been much, much better. On the other hand, I'm not sure Stuber could possibly have been any worse.
MH: The jokes in Zombieland: Double Tap were so tired. The Hustle did not amuse me. But for some reason (why?) I watched Falling Inn Love on Netflix, so that wins.
Biggest Letdown
RK: Well, as a card-carrying anti-Marvel/DC Comics man, it's not as though I was expecting great things from Joker. In my wildest dreams, however, I never imagined Todd Phillips' first foray into comic-book land would approach the level of nihilistic repugnance and self-indulgent plagiarism the movie attained. What are worldwide audiences applauding? I haven't a clue. But, sociologically, it's probably not a good thing. Runner-up: Parasite.
MH: A film version of Maria Semple's bittersweet comic novel Where'd You Go, Bernadette, directed by Richard Linklater and starring Cate Blanchett, sounds like a slam dunk. Turns out, it can be excruciatingly difficult to capture on film the elements that make a book work for millions of readers. The makers of The Goldfinch had the same unpleasant revelation this year.
Biggest Surprise
Christian Bale in Ford v Ferrari
RK: I was surprised that someone made a mind-blowing space odyssey (Aniara) adapted from a 1956 epic poem by Swedish Nobel laureate Harry Martinson. And I was surprised by all the best actor noms that critics' groups sent Sandler's way. He's fabulous in Uncut Gems and deserves every one. I'm just surprised he got them.
But the biggest surprise of the year for me had to be Ford v Ferrari. I never expected a movie about dudes racing cars to prove so winning on so many levels. Runners-up: Gwen, 1917.
MH: There are people hiding in the subterranean depths of our world, waiting for their turn in the sunlight. Or maybe they're done waiting, and they're coming for us with knives out. I was surprised to see this classic "underground man" motif (see Fyodor Dostoyevsky and Ralph Ellison) pop up in two popular movies this year: Parasite and Us. And I was pleasantly surprised to see that those movies seem to resonate with audiences. The upshot: Filmmakers are finding non-preachy ways to put class consciousness on screen, even to make it entertaining.
Film So Forgettable I Didn't Remember Seeing It Until Compiling This Year-End Review
RK: Michael Winterbottom is one of my favorite filmmakers. His three The Trip installments featuring Steve Coogan and Rob Brydon rank with my all-time favorites of comic cinema. So maybe I repressed all recollection of his dreadful March misfire, The Wedding Guest. Dev Patel was for some reason enlisted to make like Daniel Craig in the most generic, thrill-free espionage thriller imaginable. I can't wait to forget it all over again.
MH: Reviewing my 2019 reviews, I thought, Wait, has this one been mistitled? I didn't review Hustlers! Then I remembered that, months before the thoroughly enjoyable con-woman movie Hustlers came out, there was another con-woman movie called The Hustle that was not so thoroughly enjoyable. Something about Anne Hathaway and Rebel Wilson on a beach.
Movie That Deserves More Notice
RK: There were so many this year: Aniara, Arctic, Brightburn, Gwen, Teen Spirit and The Sound of Silence among them. I can think of best picture winners from the past decade that generated substantially less magic.
MH: David Robert Mitchell's Under the Silver Lake had some of the same good points and bad points as Once Upon a Time ... in Hollywood, but it never even played in Burlington. If LA noir is your bag, see it streaming.
The Last Black Man in San Francisco is very worth your time. And the ravishing French period piece Portrait of a Lady on Fire should have been this year's Call Me by Your Name.
Most Inexplicable Hit
RK: There were so many this year: Good Boys, Joker, Parasite, Rocketman, Us and Yesterday among them. You know, they weren't necessarily rubbish or anything. They just didn't remotely merit the love they got. OK, Yesterday was rubbish.
MH: Us was certainly a weird movie to score at the box office, given how utterly bizarre its last third is, but I'm all for profitable bizarreness. Joker, on the other hand... I know some people find it very powerful. But for me it mashed up the Batman universe with the Taxi Driver universe while missing the point of the latter.
Most Inexplicable Flop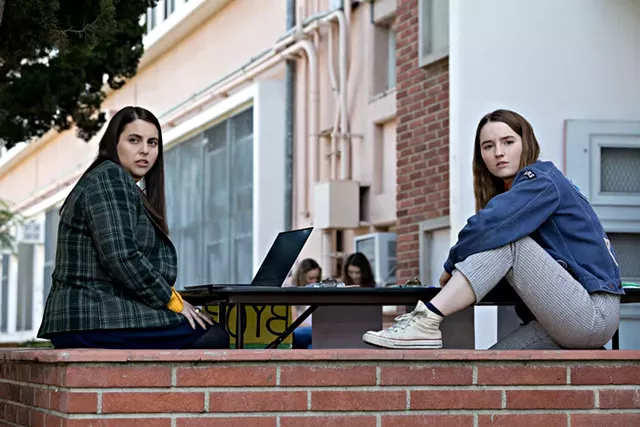 Beanie Feldstein (left) and Kaitlyn Dever in Booksmart
RK: Booksmart. Maybe the one thing all Americans can agree on in 2019.
MH: If more Americans agreed on that, it wouldn't have been a flop. But agreed.
Most Overrated Likely Award Magnet
RK: Marriage Story. Nothing from the past 12 months comes close. I'm thoroughly baffled by the prestige-season buzz Noah Baumbach's latest has garnered. In addition to relying on themes and obsessions recycled from his previous work, it's super treacly and narratively been there, done that — Kramer vs Kramer with smartphones. A more fitting title: Same Old Story.
MH: I'm so conflicted about saying this, because they certainly aren't bad movies and I mostly enjoyed them, but I don't really get the intense universal acclaim for The Irishman and Once Upon a Time ... in Hollywood. Both are rambling, nostalgic odysseys with moments of brilliance balanced by moments of self-indulgence. I can't escape the sense that both Scorsese and Quentin Tarantino are obsessed with recreating and semi-mythologizing the "glory days," and I wish they'd ask themselves why.
Worst Picture
RK: Did it get worse than Stuber? I don't think so. Kumail Nanjiani followed up his Oscar-nominated rom-com The Big Sick (which he cowrote) with what proved perhaps the most imbecilic and reviled film of the year. The comedy inexplicably teamed one of the smartest and funniest performers on the planet with the guy who plays Drax in Guardians of the Galaxy (Dave Bautista). I don't think I've ever seen anyone go from promising auteur to hack-for-hire as fast. I hope the money was good. Nothing else about it was.
MH: I trust you on Stuber, but just for the record, Bautista is hilarious in those Guardians of the Galaxy movies in all the right ways.
Hilarious in all the wrong ways is Serenity, an overheated noir pastiche in which McConaughey and Hathaway try to channel Ernest Hemingway and Kathleen Turner ... or something. It's merely classic-Cinemax bad before a would-be mind-bending twist sends it off the rails into bad-movie heaven.
Best Picture
Aisling Franciosi in The Nightingale
RK: I really loved Apollo 11. The past year saw an embarrassment of riches when it came to documentaries: American Factory, Echo in the Canyon, Linda Ronstadt: The Sound of My Voice, The Cave. And I really admired Ford v Ferrari, Gwen, Little Women, The Beach Bum and The Report. They were all brilliant in their own way. But, if I'm honest, they were all the Dave Clark Five or Paul Revere & the Raiders next to Tarantino's cinematic Fab Four equivalent, Once Upon a Time ... in Hollywood. I've watched it half a dozen times, and I can't wait to watch it again. It's like listening to Rubber Soul or Revolver. There's just so much that's magical there. It's never going to get old.
MH: In Once Upon a Time... in Hollywood, Tarantino again advances his pet thesis that the wrongs of history can be somehow mitigated by being reshaped into revenge fantasies in the best B-movie tradition. My best picture was a movie dedicated to demonstrating the opposite: that revenge makes everything worse.
Jennifer Kent's The Nightingale is a movie I can't recommend to most people in good conscience. This tale of a deeply wronged young woman on a revenge quest in 19th-century Tasmania is a movie with major triggers and baggage that could provoke hours of debate. The heroine is not an icon of innocence (like Margot Robbie in Once Upon a Time ... in Hollywood) or the personification of a man's conscience (like Anna Paquin in The Irishman) or a blameless victim of society (like Phoenix in Joker). She's a messed-up person who does and says messed-up things — victim, oppressor and survivor in one. But over the course of a journey through a gorgeously filmed hellscape, she learns some things, too. Watching her story changed me — and yes, that's chief among my best picture criteria.