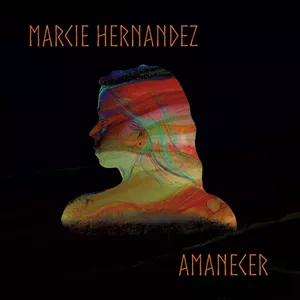 Courtesy
Marcie Hernandez, Amanecer
(Self-released, digital, vinyl)
It's such a welcome surprise when a debut kicks you directly in the head — figuratively, of course. Such is the case with Amanecer, the first LP from Marcie Hernandez. The local singer-songwriter and certified music therapist has spent years building a network of collaborators and fans in Burlington. That includes three years working on her first full-length album, which is all the better for it
Despite a modest seven-song track list, this project covers a lot of ground and straddles myriad genres. Yet Amanecer could hardly be called eclectic. This is a cohesive record whose polished songs make for a formidable journey. Along the way, Hernandez grapples with both personal and political turmoil, reflected through the lens of her Puerto Rican heritage.
Amanecer is a heavy album for heavy times. But as its title suggests — amanecer is Spanish for "sunrise" — it is also a deeply optimistic one. The record leads off with the title track, a lovely, low-key folk guitar number that comes off like a bilingual Nick Drake song, slowly building to a big finish.
From there, the album kicks into a different gear. "Winter" is a timeless, straightforward rock song, catchy and lushly produced. Hernandez is a talented writer, cutting crisp phrases that evoke rich feelings. There's also a chorus that's far too funny to spoil here.
The album's middle act sounds like an extended suite, upon repeated listens. "Quiet" is a calming piece built around piano and shuffling percussion that leaves room for Hernandez to stretch out on vocals. Back-to-back Spanish cuts follow: Sparse, almost classical guitar movements guide "Mi Canción," while "Tiempo" is a salsa shuffle with a smoking session band.
Amanecer closes with two exquisite standouts. "Evolution" is a flat-out beautiful ballad that's almost entirely piano and vocals. "We were Brooklyn rooftops, innocent smiles," Hernandez sings. "We were hallelujahs running wild."
Then there's "Light a Torch," which is the lead single, and for good reason. A killer funk pocket grabs you from the jump, and then switches into a tight guajeo break for the chorus. The song is a bittersweet meditation on the American dream, drawing from the famous Emma Lazarus poem "The New Colossus." Hernandez knows all too well that poetry is not policy. To seal the deal, the song wraps up with a bravura trumpet solo from local jazz and salsa giant Ray Vega.
Engineer and coproducer Dan Davine recorded the songs to tape, adding lushness to Hernandez's already warm, dynamic material. (Fittingly, the album is also available on a limited-edition vinyl run.) The instrumentation and arrangements are excellent throughout — never crowded, always adventurous.
Amanecer is a mature and impressive debut, the official arrival of a serious talent. There are no rookie mistakes here, no kinks to work out on future releases. Hernandez is capable and comfortable in a variety of styles and makes them all her own. This lean, remarkable album is strongly recommended for fans of music, period.
Amanecer by Marcie Hernandez is available at marciehernandez.bandcamp.com.