Courtesy Of Maple Soul
Maple Soul's pulled-pork sandwich with fries
Chef Jim Huntington, who recently opened the Rochester restaurant Maple Soul with his wife, Jennifer, knows something about the farming aspect of farm-to-table. When Tropical Storm Irene rained down on Rochester seven years ago, the Huntingtons were stranded in their house on Route 100, cut off from town (and beyond) in what became known locally as the "island" of Rochester.
Huntington, who described himself as "not one to sit around," walked to Liberty Hill Farm to ask how he could help. Thus began a three-year working relationship with the farm, Huntington said, in which he milked cows and did other chores.
"Working on that farm was an education as a chef," he said.
Huntington will bring that learning — and a larger mission to "represent farms the best we possibly can when we do our food" — to Maple Soul, located at 13 School Street, former site of School Street Bistro.
Maple Soul focuses on "good old Vermont comfort food with some southern flair," Huntington said. The dinner menu changes daily with the availability of local farm fare. Featured items include fried chicken with collard greens grown in the Huntingtons' garden, baby back ribs that are slow-roasted and finished on a grill, and half-pound burgers made from black Angus beef raised at Riverbend Farm in Rochester, topped with cheddar and served on maple brioches baked in-house. To drink, Maple Soul offers wine and a selection of local beers.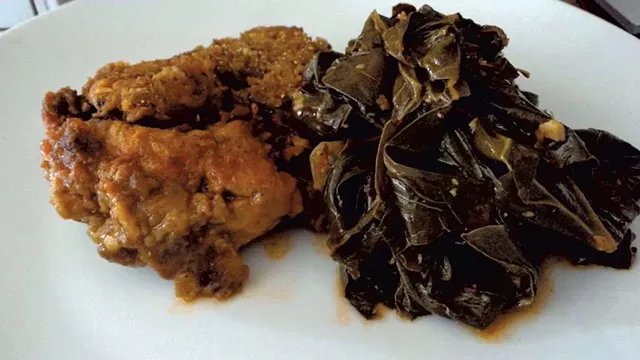 Courtesy Of Maple Soul
Maple Soul's chicken with collard greens
Maple Soul is the first restaurant to be owned by Huntington and his wife, who manages the front of the house. Before starting his business, Huntington was an executive chef at the Huntington House Inn in Rochester (no relation) and a chef at Vermont Technical College in Randolph.
A few days after the restaurant's September 27 opening, as Huntington worked in the kitchen, he "went into the zone," he recalled. As his focus broke for a moment, making him aware of the sounds around him, he had a realization. "The clamor and the laughter and the talking, and that was the moment," Huntington said. "This is us; this is real. People are really enjoying us. There was a quick little tear, and then back to work. It was absolutely energizing."
Maple Soul seats 30 people inside with additional seating for 10 on the porch. It is open Tuesday through Thursday from 5 to 9 p.m., Friday and Saturday from 5 to 10 p.m.