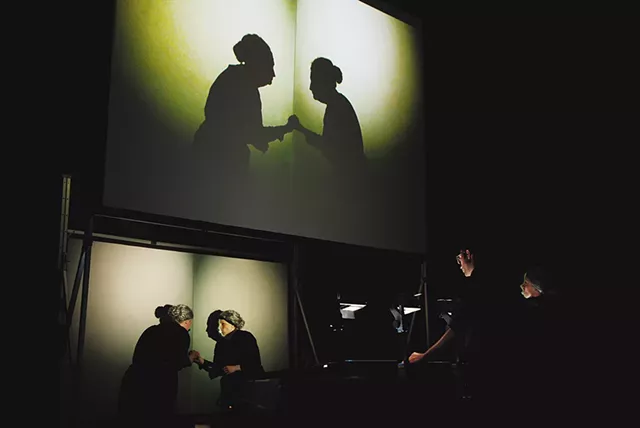 Overhead projectors may not be used much in schools anymore, but that doesn't mean they're obsolete. In the hands of Chicago performance company Manual Cinema, the humble light-and-mirror box becomes a tool for elaborate and emotional storytelling. On Wednesday, February 21, the company's multimodal narrative prowess will be on full display in "Ada/Ava" at Burlington's Flynn Center for the Performing Arts.
"Ada/Ava" is not a puppet show, and it's not a movie; it's an inventive hybrid of both and much more. With four overhead projectors, five puppeteers, live actors, a live score and some 400 shadow puppets and slides, the company enlists the raw building blocks of cinema to tell the story of Ada, a septuagenarian grieving the loss of her twin sister, Ava.
"It's made to look like animation or a film, but it's all created live in front of you," explained Manual Cinema co-artistic director Drew Dir. "What you're seeing as an audience is a finished product, but you're also seeing how we're making it."
Lauded as "an unclassifiable story of spectral beauty" by the New York Times, "Ada/Ava" won Best in Festival at the 2013 National Festival of Puppeteers of America in Swarthmore, Penn., and has traveled to Iran, Scotland, China, Germany, France and Mexico.
The show's origins are humble. The version being performed at the Flynn premiered in New York in 2015, but, Dir noted, "The story and the concept is actually a lot older." One of Manual Cinema's very first works, he said, "Ada/Ava" "started out as a little 10-minute puppet show that we performed in my apartment window."
On Halloween night in 2010, Dir and co-artistic director Sarah Fornace hung a sheet in the window of their first-floor apartment and put speakers on the sidewalk outside to broadcast accompanying music. Friends and passing trick-or-treaters gathered for the spectacle.
"We've remade it, almost like a film is remade, about three times since then," Dir said of "Ada/Ava." "It's kind of the show that we cut our teeth on; it got more complex as we learned more tricks and storytelling techniques in the medium."
One thing has remained constant: The piece has almost no dialogue or text.
The storyline had several seeds: "We were interested in telling a story about identical twins, and we wanted it to be in the style of a Hitchcock thriller," Dir recalled. When he first conceived "Ada/Ava," his grandmother had just passed away, and he became absorbed in observing how his grandfather went about reconfiguring his life. "I was struck and really moved by how grief manifests itself in really small, routine ways," Dir said.
The result? A Hitchcockian New England gothic — Ada lives alone in a windswept lighthouse — that's rich with emotional nuance.
On the day of the show, the Flynn will offer rare pay-what-you-can tickets for "Ada/Ava." After every performance, Manual Cinema invites the audience onstage to observe the tools of its craft and see precisely how the magic is made.