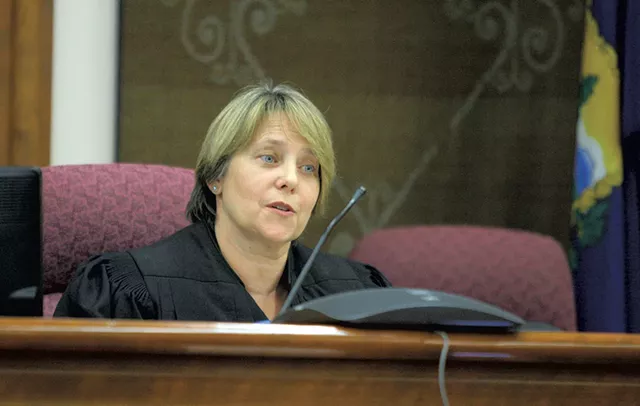 Robert C. Jenks
Judge Elizabeth Mann
Robert Rohaley was in Caledonia Superior Court on March 6 because he'd been arrested on a warrant for missing prior court dates. Such a case wouldn't normally attract a lot of attention — even though Rohaley, 21, allegedly bit the cop who took him into custody. During a brief court hearing, Judge Elizabeth Mann rejected a prosecutor's request to hold Rohaley on $1,500 bail. Instead, she released him on "conditions": that he live under partial house arrest and check in with police.
As he walked from the courtroom, a grinning Rohaley told a Caledonian Record reporter, "I can't believe they let me get away with that. I didn't think they were gonna let me go."
The remark made the story. It also summed up how some local law-enforcement officials feel about Mann, who has been on the bench for just eight months. Editorial writers at the Caledonian Record have elaborated, repeatedly accusing the new judge of being soft on crime.
Essex County State's Attorney Vince Illuzzi, a Republican, bluntly criticized Mann, who currently presides in both Caledonia and Essex counties. "Some of her rulings have been beyond disappointing and almost shocking based on the applicable law and the evidence," Illuzzi told Seven Days.
Illuzzi said he has been alarmed by several cases in which defendants were released with low or no bail, or given sentences that he believes are too light. "There are cases where even the defendants and their attorneys are surprised at the outcome," said Illuzzi, a former state senator who was first elected state's attorney in 1998. "It almost happens every day."
Essex County Sheriff Trevor Colby, too, has concerns about how criminal cases are being handled in Essex County.
"The townspeople become frustrated when I arrest somebody and yet they're put out on bail, and they're an addict, and they are out trying to feed the habit," Colby said in an interview. "I feel like some of her decisions fly in the face of resolving the opiate epidemic."
Others believe Mann is interpreting the law correctly. In Vermont, where reducing the prison population and offering treatment instead of punishment have become favored policies, Defender General Matt Valerio says the new judge has been fair.
"She is a very smart, balanced person who clearly, in my view, doesn't have a predisposition to the state or defense," Valerio said. "She seems to be very particular about the law. She is intent on following the rules."
Caledonia County State's Attorney Lisa Warren — the primary prosecuting attorney in Mann's court — did not respond to messages seeking comment.
It's not unusual for prosecutors, cops and defense attorneys to grumble privately about judges. But public criticism is rare, especially from individuals who work in the same court system. Colby and Illuzzi have cases before Mann, who is scheduled to move on to her next post in Windsor County family court on September 1. Illuzzi said he briefly considered asking the sheriff to issue criminal summonses to defendants for court dates after Mann leaves but decided against it. Vermont's system of rotating judges to a different location every 12 months is meant to ensure justice is uniform throughout the state.
For the time she's ruled in the conservative-leaning Northeast Kingdom, Mann has given the Caledonian Record plenty to write about. The largest paper in the region devoted three editorials in the past four months to bashing Mann. In one, the editor accused her of doling out "get out of jail free cards." Another, "Judge Owes Apology to Kids, Community," took her to task after once-released Rohaley was re-arrested in downtown St. Johnsbury. He had allegedly assaulted a bunch of teenagers and popped balloons that were part of an anti-cancer campaign.
A Caldonian Record story headlined "Release. Violate. Repeat: Judge Releases Stimpson Again" documented a similar story, about Ryan Stimpson, who was charged with aggravated assault in January, when Mann had been on the bench for just a month. According to a Vermont State Police press release, Stimpson, a 29-year-old Danville resident, used a baseball bat on a man who stole several rifles from him. In June, Stimpson was back in court again, this time for domestic assault; he allegedly slammed his girlfriend's head in a car door. Mann let Stimpson go on the condition that he not contact or visit the girlfriend. But he allegedly showed up at her workplace a half hour later and threatened to burn the building down. Mann then released Stimpson again — without imposing bail.
Mann declined to be interviewed for this story. Instead, a spokeswoman at the Offce of the State Court Administrator forwarded Seven Days a 2016 op-ed authored by newly appointed Vermont Supreme Court Associate Justice Karen Carroll. Presumably, the written argument was meant to provide an explanation for Mann's actions.
Carroll was still a criminal court judge when she wrote that the law requires judges in most cases to release defendants without imposing bail. "Because of the presumption of innocence, great consideration must be undertaken before requiring a person charged with a crime to post bail before being released or before holding a person in jail without the opportunity to post bail at all," Carroll explained.
Mann's résumé suggests she knows her way around a courtroom. The 1987 Dartmouth College and 1990 Vermont Law School graduate worked for more than a decade as a federal public defender, and served as a president of the Vermont Association of Criminal Defense Lawyers. She was a partner at the private Rutland law firm of Tepper Dardeck Levins & Mann, handling civil and criminal cases, when she got a call last year from then-governor Peter Shumlin.
In nominating her to be a judge, the Democrat noted that Mann understood how "justice must go hand in hand with compassion and understanding." Vermont judges take the bench immediately, and legislative confirmation happens later. Mann, a Hartford resident and mother of two children, started work in St. Johnsbury in December. In May, the state Senate approved her appointment, 26-0.
Prior to the vote, Illuzzi was concerned enough about Mann's performance to tell Senate Judiciary Committee chair Dick Sears (D-Bennington) about it.
Sears subsequently spoke to Mann but said he did not learn anything that would prompt him to vote against her. The legislature reappoints judges every six years, and Sears said he would wait until then to pass judgment.
"I've always been of the opinion that you should look at their record over a six-year period," Sears said. "When you have a judge up for confirmation, typically they haven't done much, so it's hard to look at their record."
Why the strong reaction to rookie Mann? Valerio suggested that she may be irritating law enforcement officials because she is accurately interpreting bail laws.
Defense attorneys in Vermont have long argued that judges are too quick to impose bail. Putting up cash in exchange for a defendant's freedom is generally meant to ensure that he or she appears in court, though it can be denied to violent offenders in order to protect the public.
In the past couple of years, defense attorneys have scored a series of wins at the Vermont Supreme Court by arguing that trial court judges unlawfully imposed bail on their clients, Valerio said. In a place like the Northeast Kingdom, coming up with $500 or $1,000 may impoverish a low-income family; the prospect of having a working mom or dad in jail is even worse.
"This is actually refreshing in a way, because the vast majority of judges don't follow the law when it comes to bail," Valerio said. If the issue with Mann is that people are getting out on relatively low or no bail, he said, "they should be."
Mann's decisions are more nuanced than her critics appreciate, according to St. Johnsbury attorney David Sleigh.
For example, Mann has been tougher than her predecessors on first-time drunk-driving defendants. Traditionally, Sleigh explained, judges in Caledonia and Essex Counties accepted plea deals that barred court staff from notifying the Vermont Department of Motor Vehicles of the crime; the arrangement allowed defendants to keep their driver's licenses. But Mann, without any prompting from prosecutors, declared that she was uncomfortable with the practice and has started notifying the DMV.
"That certainly wasn't a defense-friendly move," Sleigh said.
Retired Vermont criminal judge Ed Cashman, who presided in the Northeast Kingdom and in Chittenden County in the 1980s and '90s, said he is sympathetic to Mann. Cashman's career ended soon after he gave a seemingly light sentence to a child molester in 2006, and the national media picked up the story. "You may be looking at the worst judge in the USA" is how Bill O'Reilly portrayed him on Fox News.
Cashman said it is foolish to form an opinion of a judge based on a handful of decisions.
"A judge over a career creates a mosaic. And the pieces of glass that go into it are different colors, different sizes, and go in at different times," Cashman said. "You really can't judge a contribution a judge is making to the system from just one piece of glass, or even a half dozen. That takes time to develop."
Cashman said late judge Edward Costello, for whom the courthouse in downtown Burlington is named, once gave him valuable advice: "If people really think you're great, you're probably not doing your job — especially if it's a prosecutor."
"Judges aren't supposed to be popular, and your decisions aren't supposed to be popular," Cashman said. "So it sounds like she is doing her job."