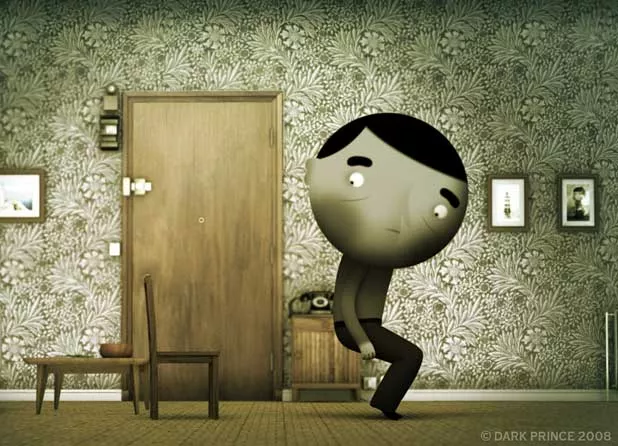 Short films seldom hit theaters, which means many movie-goers don't give them a thought till they hear the nominees in that category read at the Oscars. Even then, we may assume they're just glorified film-school assignments. But the animated flick 9 got its start as an acclaimed short ... so, for that matter, did the recent sci-fi hit District 9. (Click on the titles to see the short versions of both on YouTube.)
Not all the 10 finalists in the Manhattan Short Film Festival, which starts at Merrill's Roxy this Friday, would benefit from a longer running time or a bigger budget. But the competitive festival, which screens simultaneously in 173 cities on five continents, is a great way to get a sense of how much a skilled filmmaker can convey in a quarter hour.
With entrants from 36 nations (428 entries in all) and finalists from nine, the 12th annual MSFF is pretty damn diverse, and that's a good thing. A few of the films are more well-intentioned essays than great works of cinema — take the American entry, Julius Onah's "The Boundary," in which a family of Middle Eastern descent falls victim to racial profiling during a border crossing. Despite a fine performance by Alexander Siddig (of "Deep Space Nine" and Syriana), it's more predictable than it needs to be.
A more involving — if sometimes overwrought — think piece is Spanish director Isabel de Ocampo's "Miente," whose main character is a Bulgarian girl forced into prostitution in Madrid. "Mozambique," shot and directed by a 16-year-old AIDS orphan living in that country (with help from American professionals) is a simple, affecting documentary.
But perhaps the most powerful social commentary in the fest is the most minimalist. "Lashabiya" reenacts the confrontations in Gaza allegorically, as a potentially lethal spin on the children's "Red Light/Green Light" game. Directed by Israeli Yehezkel Lazarov, who calls himself "not a political guy," it makes its point in six minutes with no speechifying.
Just as powerful, if more fanciful, is the French animation "Skhizein", the Kafkaesque story of a man whose encounter with a meteorite alienates him from himself ... literally. It plays like The Triplets of Belleville crossed with a Charlie Kaufman film.
This year's MSFF is about evenly split between earnest realism and playful surrealism, and the alternation keeps viewers from getting bored. In the inspired Australian short "Plastic," a blend of live action and computer animation from Sandy Widyanata, a woman dressing for a date suddenly acquires the ability to mold her own body as if it were Silly Putty. Jorge Molina's film "Parking," set entirely in a garage, portrays a modern businessman suffering from the effects of, shall we say, chronic stress. In press material, the director claims the lead actor got so paranoid during shooting he had to be rugby-tackled, and it's not hard to see why.
On a gentler note, the last three films explore the world through the eyes of children. Sweden's "Love Child" focuses on an expressive 5-year-old who finds herself neglected when her parents get a new bundle of love (not the kind you'd think). "Hammerhead," from the UK, tells a well-worn divorce story enlivened by a ferociously scowling, determinedly uncute little boy with a shark fixation.
Finally, there's one film that's pure joy to look at: Martina Amati's "A'Mare," which the Italian director shot on and often in the Mediterranean. The simple tale of two preteen fishermen who take their boat out too far and make an unexpected discovery, it transports audiences to the volcanic Aeolian Islands off Sicily, where Michelangelo Antonioni shot L'Avventura. The two actors — island natives — are natural, but the film is really about light, water and the semi-hypnotic states induced by life on the open sea.
It's not easy to pick your favorite from such a diverse slate of films, but that's what MSFF audiences are asked to do — everyone who buys a ticket, from Beijing to Belgrade to Burlington, gets a ballot to turn in after the show. Last year, the winning film — "New Boy" from the UK — ended up with an Oscar nomination.
That was also the fest's first year in Burlington. "The areas where this seems to be thriving are college towns," New York-based fest founder Nicholas Mason told Seven Days last year, explaining why he brought the MSFF north (Brattleboro was its first Vermont location). For his part, Roxy owner Merrill Jarvis III was happy to have it back: "It did so well last year at the Roxy that I wanted to play it for a second week," he says.