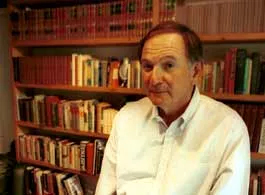 When he was 3, Frank Manchel and his little sister spent virtually all day, every day, in a Brooklyn movie theater. During the late 1930s their hard-working parents could not afford babysitters, but they knew the kids would be safe and entertained with cinematic childcare. "At that age, many times we didn't know what we were watching," he recalls. "But we loved it all."
This kindergarten of the imagination launched Manchel's lifelong devotion to the art form and eventually allowed him to inspire generations of cineastes at the University of Vermont, where he was a professor for more than three decades. One of those students, Rutland native David Franzioni, went on to win an Oscar last year for his Gladiator script. A poster for the Russell Crowe epic hangs in Manchel's St. George home. The screenwriter has inscribed it: "Without you, I wouldn't even be in this arena."
Since retiring in 2000, Manchel, now 66, has found a new way to help young people learn about motion pictures. Earlier this year, he provided UVM with about 3000 still photographs from movies and almost 60 cartons of his notes, lectures and clippings. Two weeks ago Manchel donated almost 6000 books on cinema to Burlington College. The special collection also includes complete — and rare — runs of scholarly journals such as Film Quarterly and Sight and Sound dating back to the 1960s.
"My idea was that it would be nice to make this city a center for serious film study with a library that would be available to the entire community," Manchel explains. "It's a library I built over 40 years."
Barbara Cate Scheuer, who chairs the Burlington College board of trustees, is thrilled. "Large universities get gifts like this routinely. For us, it's astonishing."
It took 10 people an entire morning at Manchel's house in the woods to pack and carry 210 boxes down three flights of stairs. The books had lined the walls of his study and occupied two large walk-in closets. The effort itself helped soften the emotional repercussions of giving away cherished tomes.
"It was not an easy day for me," acknowledges Manchel, a tall man with a ruddy comlexion and gregarious manner. "But everyone started talking about their favorite movies. There was a genuine excitement in the room. It was just lovely."
Barry Snyder, who heads cinema studies and film production at the North Avenue college, was there, along with a few of his students and the college's librarian, Maureen Dwyer Hirten. "We'd also hired professional movers to do the job right," he reports. "One of them spotted books on John Wayne and said, 'Hey, it's the Duke!' And they got into an exchange with Frank, reciting lines from some of the old films. He was regaling them with stories. That's Frank. He's a real New York mensch, a real jokester, always the life of the party."
That role has been challenging in recent years for Manchel, who was diagnosed with an intermediate stage of non-Hodgkin's lymphoma in 1995. "The doctor told me to get my house in order," he remembers. "At one point, I was given only three weeks to live."
Despite the dire prediction, Manchel began taking the experimental drug Retuxin and, on the golf course one day, got a call from his physician informing him the cancer was no longer visible. Although the disease has since reappeared a few times, monthly chemotherapy sessions continue to keep it at bay.
Wait a second: With three weeks supposedly left, he was playing golf? "I never wanted anybody feeling sorry for me," Manchel says. "I try to maintain a positive attitude."
As a spirited but somewhat rebellious teen-ager, Manchel attended Brook-lyn's Midwood High School. Future filmmaker Woody Allen and author Erich Segal, who wrote Love Story, were among his classmates. "I had a very rich childhood," Manchel points out. "I cut school all the time, but I was bright enough to still gets Bs and As. I read voraciously, just not the books that were assigned."
But one teacher made a difference by giving him an absorbing W. Somerset Maugham novel, Of Human Bondage. Years later Manchel's wife Sheila — they met when she was not quite 16 and he was 21 — bound that original careworn copy in leather for his 55th birthday.
"The book changed my life when I was a kid," he notes. "I decided to become an English teacher."
After 10 years of teaching high school and college English, Manchel came to the University of Vermont in the late 1960s. His promotion to full professor in 1971 allowed him to begin offering film history and theory in the communication department, which otherwise only had movie production, speech and theater classes.
A decade later UVM decided to dismantle the department — which he then chaired — because "it never had academic respectability," Manchel says. "I was always at loggerheads with instructors who did not assign papers and only gave oral exams. I believe in the kind of tough, rigorous work you would have in other educational areas. The university's decision created a lot of ill will. I was burned in effigy. Petitions circulated to have me fired. The Free Press ran articles criticizing me."
He weathered the storm and the controversy subsided, but not without an emotional cost. "For me, it was a lonely time," Manchel concedes.
He concentrated on film studies while serving as associate dean for the College of Arts and Sciences from 1977 to 1988. "Since I was the only person doing it," Manchel says, "I could teach whatever I wanted." This academic freedom allowed him to explore topics such as the cinematic depiction of African-Americans, women, Jews or the Vietnam War.
Throughout the 1980s, Manchel appeared on local television stations as a critic-at-large. He has also published 16 of his own film books, as well as magazine articles, reviews and chapters for anthologies. Film Study, his 1973 resource guide to the discipline, evolved into a four-volume analytical bibliography with the same title in 1990.
"Frank is one of the leading experts on film study as a field unto itself," Barry Snyder observes, adding that Manchel has worked to give it the respect accorded traditional subjects.
Manchel takes this praise in stride. "It's such a blessing that I was able to be a pioneer," he muses.
His legacy as a scholar is rivaled only by the kind of intensive pedagogy that Manchel practiced. "Even though Frank was tough as a teacher and demanded a lot," Snyder says, "he can count so many of his former students as fans."
David Franzioni is certainly one of Manchel's minions. Now based in California, the screenwriter was at UVM from 1965 to 1972. "Frank turned me on to foreign films," he recalls during a phone interview from his Malibu home. "He provided me with a window to another world."
Manchel was also a mentor for Jon Kilik, an independent film producer in Manhattan who graduated from UVM in 1978. "In terms of movies, I was inspired by Frank's ability to combine a heightening of the mystique with a demystification of the process," he says. "That brought me a whole other level of enjoyment."
Kilik, who produced Dead Man Walking and almost every picture shot by Spike Lee, is impressed by Manchel's donation to Burlington College. "I'm looking forward to visiting and sitting in that library and seeing the receiving end of Frank's beautiful gift," Kilik says. "I know what he put into assembling that collection."
When it came to finding an appropriate home for his books and periodicals, Manchel was considering either St. Michael's or Middlebury as the destination. He settled on Burlington College after board of trustees chair Scheuer made a heart-felt pitch.
"I told him that our learners were hands-on, non-traditional students who design their own educational experiences," Scheuer explains. "His collection, the work of a lifetime, could have a huge impact on the college in a very practical way. We are trying to turn a fledgling effort into one of the finest film programs of its kind on the East Coast."
That fervent plea — along with Manchel's high regard for Snyder — did the trick. "Dr. Manchel said, 'You've persuaded me. I don't have to think about it another minute.' I was in shock," Scheuer says.
The collection, which Manchel had meticulously categorized by genre, is significant. "We had it evaluated for insurance purposes," Scheuer says. "It's worth almost $175,000."
A separate $50,000 donation will enable the school to create "the appropriate kind of space in which to house all these wonderful books," Scheuer adds. "Our goal is to make cinema studies and film production our flagship program, but a door needed to open. Dr. Manchel opened a big door for this little place.