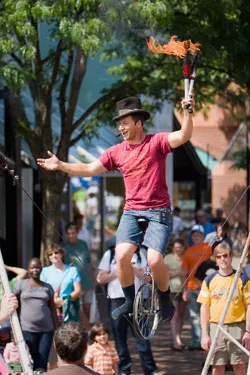 I crouched near a light post beside a woman with her young daughter and took out my pen and paper. A man, presumably The Act, was circling two pyramidal metal structures with a wire stretched between them. No one in the gathering crowd spoke as he started pouring a clear stream of liquid from a white bottle onto the bricks at his feet. After a few laps, he finally spoke into the microphone mounted beside his face: "I make a quick boundary line," he said. "Some use rope; I use lighter fluid."
He added after a moment, "This is in honor of the late Johnny Cash." Right. The ring of fire. The sky was turning a thick purple as the man amended, "This is the line of liability." The crowd chuckled uneasily.
Thus opened the juggling, tightrope-walking show of Sam Johnson, a.k.a. "Slackwire Sam," on Burlington's Church Street. Johnson has held visitors to the Marketplace in thrall all summer with his daredevilry. This display was no different. I thought I'd pay him a visit before he ended his season.
After emptying his bottle, Sam started juggling. He managed a few slick maneuvers but messed up once, dropping a flaming torch while tossing a few behind his back. He concluded what he called the "pre-show" with the "Russian Dance," in which he threw flaming torches between his legs while hopping up and down in rhythm. The crowd was pleased.
"You know," Sam told them, "shows like this are all about crowd control. And this is how I do it," he continued, bending and touching his lighter to the still-wet ring on the bricks.
Nothing happened. "It's just water!" he yelled, laughing. The crowd whooped in excitement. It was a masterful deception, a demonstration of humans' tendency to believe what is put before them.
The real act started with some nimble moves. Sam was of moderate height — and cut. Curiously, he wore Wrangler jeans, a black T-shirt extolling some foreign vodka, and a North Carolina Tar Heels cap. Sam did some handstands on top of the structure, teasing the crowd a bit. He borrowed a few children to use as assistants in his gymnastic act. His first victim was a little blond boy with an incomplete smile.
"I'm just going to ride a unicycle on this wire and juggle fire at the same time. Are you OK with me using him to assist me?" Sam asked the kid's mother. She consented, but skittishly, and Sam picked up on her mood. "Are you sure? You don't even know what I'm going to make him do," he said, grabbing three large, shiny metal knives and clinking them together. "He's going to die!" a small boy to my left declared, looking up at his father.
Ignoring this, Sam got on his unicycle and balanced carefully on the tightrope. He instructed the boy to toss him the still-unlit torches. The kid threw the first one gracefully, on target, but misaimed the second, and the torch fell to the ground directly under the wire. The boy ran to retrieve it. "Whoa! No! If I fall on you, your mom will sue me! But all she'll get is all this crap," Sam joked. When he finally got all three torches in hand, he threw the youngster a crumpled dollar bill for a job well done.
"OK, now go stand next to that girl in the pink shirt," he said. The boy obeyed. "OK, now give her the $1 bill," Sam instructed, still balancing carefully. The boy forked it over, and Sam cried out, "Get used to it, man!" The crowd roared.
Sam announced his grand finale was on its way, his hardest stunt of all. He clambered to the top of his structure — at least 15 feet high — and braced himself for a handstand. On one hand. Stiffening his body, he lifted his feet up toward the night sky, achieving a perfectly balanced pose.
Afterward, Sam thanked the crowd for enjoying his act, entertaining them with quips as they tipped him. "I've never gotten a 20 before — think about that," he said, and "If you don't tip, your mother doesn't love you!" The crowd dispersed slowly. A few spectators walked up and shook Sam's hand or slapped his back, smiling widely. I made my way over to offer a nice firm handshake.
"You must be fresh out of college," Sam surmised.
"I'm actually a senior at Champlain," I replied.
"Wow. You must be a busy motherfucker, man. And don't ask me how many women I've been with," he added, smiling, "because I'm married now."
"You make that yourself?" I asked, nodding at the slackwire-suspension structure.
"I did."
"Do you weld?" I asked.
"I do weld. It was the only class in high school I ever got an A in."
Sam told me he actually makes a bit of money from this talent, at P.G. Adams Welding in South Burlington. He also welded a second rig — two 80-foot towers — that he took on tour the past two summers.
Sam has performed at fairs in Maine, North Dakota, Virginia and Lyndonville, Vermont — the Caledonia County Fair. He's a one-man show, but usually travels with a troupe of aerial-stunt professionals from around the country.
"I learned to juggle when I was 11," Sam recalled. "It started from a New Year's Eve festival . . . Then I met a guy named Zachary Field from Bangor, Maine. He gave me some books and showed me all kinds of tricks. Then, at age 14," he continued, "I joined Circus Smirkus. It was like a snowball rolling down a hill, with all these Russian coaches. In Russia, the circus is like the ballet; it is really respected. So these guys had a lot of self-respect; they were entertainers. Whereas here, people associate the circus with, like, carnies, you know what I mean?"
"Yeah, it's kind of trashy, almost."
"Yeah, exactly," Sam agreed. "These Russians, they got me into wire-walking and handstands, and understanding rigging . . . Circus Smirkus was a huge turning point for me."
Turns out, Circus Smirkus founder Rob Mermin is getting the Governor's Award on October 17 in Montpelier, and Sam will be making a short speech. He said he took classes with the troupe for six summers.
After that, he apprenticed with "an old Swedish guy" in Florida, where Sam learned how to perform his own aerial show.
"The way I looked at it was: I wasn't college material, and I knew it," he said, "but I had to do something. It was either this shit or the Army. And I really didn't want to join the Army. But I always felt I knew I wanted to have a family, too, so, whatever I chose to do, I had to take it seriously . . . I want to be able to support my family off of this aerial show." Sam leaned in toward my voice recorder and looked me straight in the face. "Nothing focused me like getting a wife and a son," he said.
Though his shows get a "great response" all over the country, Sam told me, the most critical factor in his success is actually weather. "If it rains, your crowd will scatter. You can't make crap. But this is the thing about Church Street: It is very good to me," he noted. "There are a lot of great places to perform in the country, but nowhere is as nice as Burlington."
We sat in silence for a second.
"I talk so much," Sam resumed, "you're going to have a hard time writing this."
I glanced down at the timer on my recorder. Twenty-eight and a half minutes. "Let's punch it, then," I said.
"Let's punch it," Sam agreed.