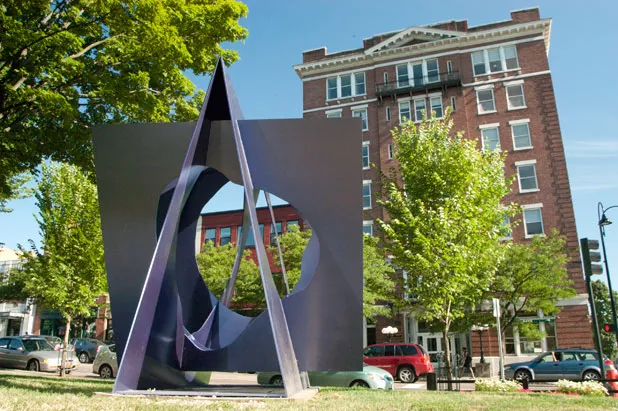 Matthew Thorsen
"Plate Rock"
Just outside the BCA Center's Church Street entrance, a hulking steel sculpture 12 feet wide transforms the street into an art site — a place where the speed of passersby intersects with the slower time of elemental materials and artistic process. The sculpture, "Facetted Rock" by David Stromeyer, is based on a small stone the artist found on his Enosburg Falls property and admired for "its geometry and outward surface, but also its being — its spirit," he explains. "Facetted Rock" seems to approximate both qualities, even as it is something the original was not: a monolith.
At 65, Stromeyer is tall and trim, with piercing eyes set deeply under wiry eyebrows. Soft-spoken, yet possessing a certain gravity, the sculptor exudes an understated confidence as he describes his artistic process as a dialogue between himself and his chosen material, steel. Though he doesn't hold an engineering degree, Stromeyer's decades of experience have taught him to "read" steel, and to engineer sculptures that maximize the malleability of the medium while preserving its tremendous strength. Some of the results of those years are on view at Stromeyer's 42-year retrospective at the BCA Center, and at the "Exposed" exhibition at the Helen Day Art Center in Stowe this summer.
Stromeyer's deep understanding of the materiality of steel and his intuitive feel for blending form, color and shape produce works that, at their best, sing. "I've made something like 408 sculptures," he says. "Probably roughly 50 percent of those are large scale. Even though I have that depth of experience, I know that when I start the 409th piece, it won't necessarily be better than the 408th, or even better than the 300th one."
Stromeyer works steel "cold," meaning that the metal is unheated when he shapes it using a massive, 150-ton press. He begins his works with small-scale models, or maquettes, that he later scales to monumental size in steel. Yet for all the calculations, the outcomes don't always satisfy him. "You get a notion that you think is good enough to go exercise on a larger scale," the artist explains, "and it doesn't always work out. It doesn't always sing. It's very hard to predict beforehand."
Stromeyer's process is exacting. "Pasa Doble," a recent work sited near the center of Burlington City Hall Park, is built of four gently curving planes of steel painted in shades of blue. The work arose from experiments in Plexiglas and adhesive that Stromeyer undertook in his Austin, Texas, studio over the winter. "I wanted to twist steel," he says, "but all you have to do with plastic is warm it up, and everything's easy."
Naturally, twisting steel is more of a challenge. In the summer, at his studio in northern Vermont, the artist spends up to 11 hours a day turning his models into full-scale steel sculptures. "That's where my 40 years of experience comes in," Stromeyer explains with a smile. "I've done some things in steel that even the most sophisticated steel fabricators would be scratching their heads trying to figure out how to do."
His studio is a corrugated structure perched near the crest of a hill on a panoramic, 200-acre property that Stromeyer owns with his wife, Sarah. Across the expansive property, enormous painted-steel sculptures punctuate the emerald hills. Inside the studio, lifting equipment and a metal press divide the spacious interior. This massive machinery indicates the force required to shape a seemingly intractable material into sculptures that seem light enough to dance over the fields. Stromeyer says that, despite the challenge of creating these works, he hopes they appear "effortless" when completed.
Early in his career, Stromeyer says, he clung doggedly to the manufactured forms of machined steel — industry-standard beams and sheets — but in recent years, his work has taken a more playful, fluid form. "As time went on, I wanted to push the material," he says. "I wanted to explore its plastic quality. Steel has a great deal of ability to be manipulated … I want to push it more and see what it can do."
In an era when art can be increasingly ephemeral (think digital and video installation), Stromeyer's sculptures are unabashedly material. They are colorful and large, made to engage with viewers, who can walk around and often through them. The approachability of much of Stromeyer's work may reflect a quality he values in his own life: "As I get older, I have to be more and more vigilant to keep a sense of play … and I mean play as like a kid plays … being open to their environment and whatever stimuli come along." This is vital, he insists, to staying fresh as an artist.
As he considers his retrospective exhibition in Burlington, Stromeyer resists assigning a single "arc" to his career so far. Instead, he emphasizes the importance of staying open to ideas and inspiration. Fittingly, Stromeyer's works invite viewers to engage his forms with curiosity, and perhaps with a joyful awe at the transformation of material into marvel.
"David Stromeyer: Equilibrium: Career Retrospective," BCA Center, Burlington. Through September 8. burlingtoncityarts.org
Stromeyer's work is also included in the "Exposed" exhibition at the Helen Day Art Center in Stowe, July 13 through October 12. helenday.com, davidstromeyer.com