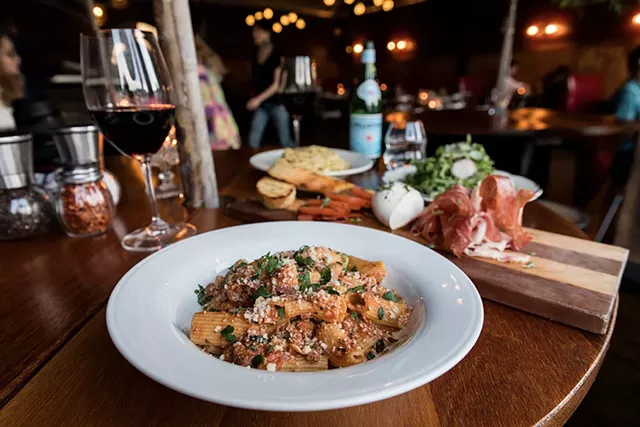 Tom McNeill
Mama's Hand Made Italian
In 2005, Rogan Lechthaler landed on Outside magazine's short list of people who "make a living, chase their dreams and leave the world a better place." At the time, he was sous chef at Warren's luxurious Pitcher Inn, where his schedule allowed for morning powder runs and hosting charity pig roasts.
Today, Rogan and his wife, Abby, feed a different mountain community. In 2010, the couple opened the Downtown Grocery, the Okemo area's first farm-to-table, fine-dining destination. In 2017, they expanded their locavore ethos to Mama's Hand Made Italian.
Rogan, a Weston native, started cooking to support his passion for skiing. He worked up to intense jobs at culinary landmarks in Boston, Tennessee and Mississippi. But he and Abby eventually settled back in Vermont, seeking better work-life balance. "What's the point of busting your ass if you can't do what you love?" he reflects.
Tom McNeill
Mama's Hand Made Italian
Mama's is a true labor of love for the Lechthalers. "Family dinner is so important to us, and pasta night is their favorite," Abby says of the couple's two children, ages 5 and 3. Mama's carries on that tradition and others: The historic building long ago housed Valente's, an old-school eatery run by an Italian matriarch. "There was an incredible amount of nostalgia around it," Abby says. "Everyone said, 'You bought Mama's place!'"
The pressed tin ceiling and some of the original red booths remain, but the space and menu have seen significant updates. Lunch is counter-service with offerings such as chicken Parmesan-stuffed calzones, meatball or grilled eggplant subs, and a daily Sicilian-style pizza — perhaps arugula pesto with local tomatoes. Freshly made pastas and sauces are sold to go.
The excellent pastas shine at suppertime. Veal and pork Bolognese tops chunky rigatoni; squid-ink orecchiette is crowned with shrimp and housemade sausage. Secondi include whole grilled branzino over a warm frisée salad with pancetta-sherry vinaigrette.
Tom McNeill
Mama's Hand Made Italian
These handcrafted Italian classics serve the town in more ways than one. "We saw Ludlow as a place that had room to grow," Abby says. "Rogan was always really passionate about job creation. If he was going to come home, he wanted to contribute something to the community."
Sounds like he's still making a living, chasing his dreams and leaving the world a better place.