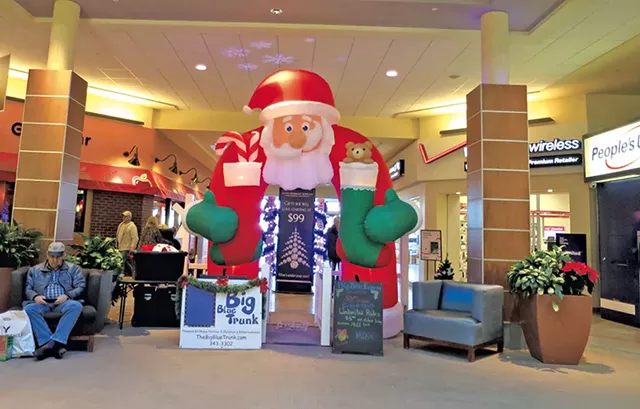 Matthew Thorsen
University Mall
Christopher McKinney dropped by the University Mall on a snowy December evening two weeks before Christmas, but he wasn't there to shop. The University of Vermont senior wanted to say hello to a friend who works there, and he confessed that it was one of the few times he'd been inside the massive retail center — despite living nearby for four years.
The mall isn't at the top of McKinney's list, said the senior from Westport, Conn., adding that he and his friends tend to shop in downtown Burlington, where bars, restaurants, performing arts venues and galleries are sprinkled among the stores.
"The biggest thing about our age group is that we don't shop just for items; we shop for experience," McKinney said.
As he spoke, holiday lights twinkled in the central corridors of the mall off Dorset Street in South Burlington. Wreaths and garlands were suspended everywhere. A red-suited Santa Claus waited for children to share their Christmas wishes.
But there were no tykes in sight. A thin stream of shoppers milled around Kohl's and Express, and clustered at the Sephora cosmetics counter inside JCPenney. Many of the smaller stores, such as Asian Therapy, were customer-free. Outside, snow fell on rows of empty parking spaces.
It wasn't always this way. Vermont's largest mall opened in 1979 and quickly drew people from across the state who wanted to experience what was then a brand-new shopping concept: a climate-controlled, Muzak-filled, indoor public square. Mall traffic quickly clogged surrounding streets, and, during the holiday season, employees had to park off-site at South Burlington High School. The promise of doing a brisk business in the burbs lured some downtown Burlington stores to relocate.
Times have changed.
Today, the 55-acre indoor arcade faces the same challenges that are sinking malls around the country: the surge in online shopping and a perception that enclosed retail complexes are outdated and shabby.
Credit Suisse, a multinational financial services company, issued a report earlier this year that predicted between 20 and 25 percent of America's roughly 1,100 existing malls will go out of business in the next five years. Retail analysts increasingly refer to them as mausoleums.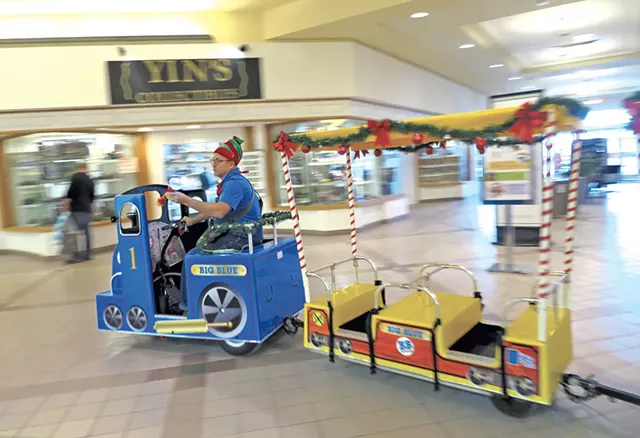 Matthew Thorsen
Elf trolley in the University Mall
Malls do have an image problem, conceded Heather Tremblay, general manager of the U-Mall.
"They are not cool, necessarily," she said.
From the food court outside her office, the smell of McDonald's fries wafted through the air. "I'll Be Home for Christmas" played on the sound system. That combo might still appeal to some shoppers, but their ranks are thinning.
The management of Boston-based Finard Properties, which built the mall and owned it for decades, learned the hard way how much traffic has dropped off. The company defaulted on a $92 million loan it had taken out to support the 610,000-square-foot property, and last year the lenders foreclosed on the mall. It's now in receivership and being managed by Florida-based LNR Property.
Mark Brooks, a local commercial real estate analyst who is a principal at Allen, Brooks & Minor in South Burlington, has a theory about what led to the foreclosure — and why so many malls are half empty. "They couldn't charge the rents that they had in years gone by," said Brooks. "I think that's indicative of malls across the country; they have to lower the rent to keep it occupied."
Today's U-Mall is almost 100 percent full, Tremblay noted, but she declined to discuss current leasing arrangements.
South Burlington has assessed the value of the mall property at $35.5 million. How much it would fetch on the open market remains to be seen, but the lenders hope to sell it next year, according to Tremblay.
Prior to the foreclosure, the Finard family unveiled drawings showing a U-Mall makeover in line with other downtown-style redevelopments. In the images, the 70-something stores in the mostly one-story, flat-roof buildings were broken up, and multistory apartments and offices were built along a new grid of streets through what is now the mall's vast parking area.
"You will see a lot of malls being turned inside out, so they 'de-mall' the mall," explained Tremblay.
But the plans were shelved, and it's unclear whether they will be revived. Tremblay said LNR Property has no plans for redevelopment before it sells the mall. City officials, including South Burlington city manager Kevin Dorn, say the Finard family would like to buy the property back. CEO Todd Finard did not return phone calls for this story.
The city, meanwhile, is pursuing plans across Dorset Street for a new downtown known as the City Center. The $300 million project will be located on what is now mostly open land near Healthy Living Market & Café and Trader Joe's. The goal is to cluster development and give the suburban city more of an identity around Market Street — South Burlington's version of Main. Renderings show multistory buildings close to the street and sidewalks and apartments above first-floor retail shops and restaurants.
Developers broke ground on a senior housing building in the City Center zone this fall. Champlain Housing Trust is proposing a new building that would feature 60 units of affordable housing. Work on the City Center Park is under way, and plans are taking shape for a municipal building to house the city library and, possibly, city offices.
Until then, the South Burlington Community Library has relocated from a cramped space to the U-Mall. It moved there earlier this month and signed a lease to stay three years.
Matthew Thorsen
South Burlington Community Library
Dorn hopes the mall will eventually be redeveloped in a style that fits with the vision for the City Center, giving both sides of Dorset Street a downtown feel. In fact, new city zoning known as form-based code requires that any major renovation or new buildings be alongside streets, versus set back from them, to conform to a more traditional downtown model.
City officials know that the price tag of a major mall update could be daunting and are willing to discuss incentives such as those benefiting the Burlington Town Center project. The City Center zone is in a district where developers can get tax breaks. City officials would consider seeking state approval to expand the district for the right mall proposal, said Dorn — making an urban-style makeover more likely.
But, for now, the U-Mall has the look of classic suburban shopping center in a sea of asphalt. Where it was once hard to find a parking spot — among the 3,100 total spaces — employees now have their pick, and traffic directors are rarely needed.
"It was different," said Tremblay of the mall's heyday. She has worked at the mall for 28 years. "We were the only game in town."
Just as the U-Mall once stole retail shoppers from Burlington, big-box stores built in Williston at Taft Corners and Costco Wholesale in Colchester have drawn traffic from the South Burlington complex.
Williston is now Chittenden County's top retail sales-tax generator, followed by Colchester, South Burlington and Burlington, according to the Vermont Department of Taxes.
Still, at least 10,800 people entered the mall for Black Friday sales that began Thanksgiving evening and continued the next day, Tremblay said. Even on an average day, 4,000 people show up to shop, she said.
Those numbers could get a boost when Target takes up residence in South Burlington next October. The popular retail chain announced two months ago that its first-ever store in Vermont would replace the Bon-Ton department store — which is closing in January — and become one of the U-Mall's anchors.
It's a sign of hope for Dorn, who characterized the mall's foreclosure as a temporary setback. "It has a great value, and I think that there will be a number of bidders for it when it's put on the market. I think it will be a very sought-after property, for the right price," he said.
Brooks, the commercial real estate analyst, agreed.
"It's a prime location. It's right next to the interstate; it's right in the center of Chittenden County. There's a lot of very complementary uses all around it," Brooks said. But the mall must change, he added: "I would think, within 10 years, it would be a different animal."
A turnaround could start sooner. McKinney, the UVM senior, predicted, "I think Target, once it comes, will be a huge pull."