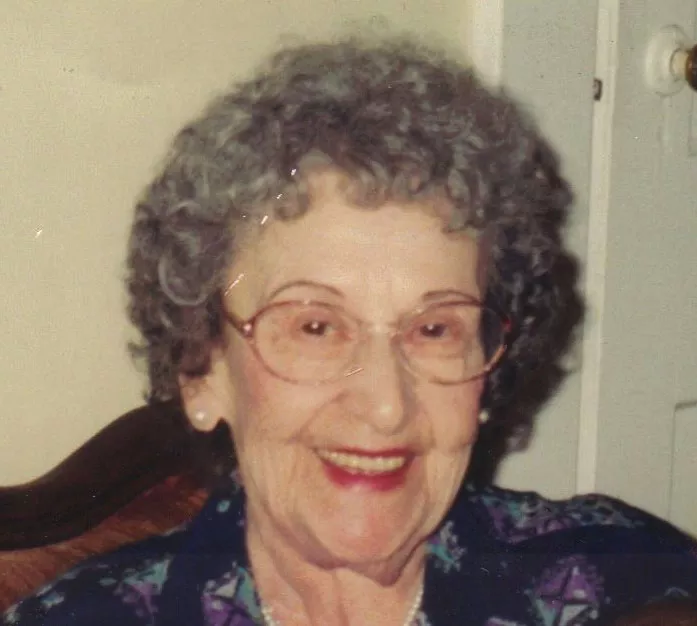 Malberge C. Bessery, 100, died on Friday, August 1, 2014, peacefully at home surrounded by her loving family.
Mae was born on October 23, 1913, the daughter of Joseph and Clara Poirier. She was the last surviving member of her family of seven girls and one boy born into the Joseph Poirier family. She married Edward Bessery and had two children. Her son Raymond, who predeceased her in 1974, and his wife Linda Bessery Larow, and a daughter Katherine Lavallee. She and her husband started Ed's Market on Williston Road in the 1950's. It was the first "supermarket" in the area. After her husband passed, she worked at Fletcher Allen Hospital for a number of years, as well as for the priests at Fairholt. She was very active in the Catholic Church. She was a member of the Catholic Daughters, Lady of Fatima, and the Ladies of Lebanon.
She really loved life. She liked to go out and listen to music, and dance with her friends. She enjoyed traveling. She especially loved to visit with all of her grand children and great grand children.
Her grandchildren - Tod Bessery, and his wife Elaine, Laurel Cobb and her husband Jefferson, Lesley Bessery, Michael Bessette and Raymond Bessette. Her great-grandchildren, Christopher and Eric Bessery; Ella, Ava and Iris Cobb; Emily, Cameron, Kai and Koa Yee; Taylor, Bryce Bessette, Chanelle and Beau Bessette.
She had several nieces and nephews she was extremely close to, especially Laura, Shirley and Marie.
We would like to thank the caregivers at Pillsbury Manor for the loving care she received from them for the past few years.
Visiting hours will be held on Tuesday, August 5, 2014 from 5 - 7pm at the LaVigne Funeral Home and Cremation Service, 132 Main Street in Winooski. A mass of Christian Burial will be celebrated on Wednesday, August 6 at 10 am at St. John Vianney Church in South Burlington. Interment will follow at Resurrection Park Cemetery. Online condolences may be shared with the family at lavignefuneralhome.com.
In lieu of flowers, donations can be made to Camp Ta-Cum-Ta's Swimming Pool Campaign. leisureworldpool.kintera.org/ or Camp Ta-Kum-Ta PO Box 459 South Hero, VT 05486.