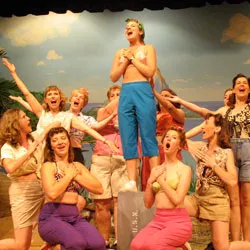 Richard Rodgers and Oscar Hammerstein II invented the modern American musical, a play in which storytelling drives the singing and dancing. Starting with Oklahoma! in 1943, the team collaborated on nearly a dozen shows, until lyricist Hammerstein's death in 1960. Several have remained wildly popular since they debuted. When ownership of the musicals' rights was sold last year, the duo hit number two on Forbes' list of Top-Earning Dead Celebrities. They easily beat the combined 2009 paychecks of Michael Jackson, Elvis Presley, John Lennon and Jimi Hendrix.
South Pacific (1949) embodies why the musicals of Rodgers and Hammerstein continue to appeal to thespians and theatergoers alike. An exotic backdrop frames an accessible story. Catchy songs express universal truths. There is nothing like a dame! And who doesn't wish for an enchanted evening to find your true love? Even if you sometimes later need to wash that man right outta your hair.
At the Hyde Park Opera House, the Lamoille County Players dive exuberantly into South Pacific. On opening night, the lack of air conditioning made it subtropically steamy inside. But the enthusiasm of director Dean Burnell's 30-person cast never wilted. Highlights abound in LCP's production: engaging singing; the live orchestra's smooth, hearty sound; impressive scenic design, lighting and props. And Dan Martin's lusty, laugh-out-loud funny performance as SeaBee Luther Billis makes a long drive from anywhere in Vermont worthwhile.
The show is based on Tales of the South Pacific (1948), a Pulitzer-Prize-winning collection of short stories by U.S. Navy veteran James Michener, who served in the Solomon Islands during World War II. Hammerstein fused three Tales to create the musical's characters and storyline.
On a sleepy isle away from the fighting, nurses and navy men busy themselves with nonmartial pursuits: rehearsing the Thanksgiving show, falling in love. SeaBees and sailors are forbidden to date nurses, who are officers. Also off limits: boating to nearby Bali Hai, where the French have ensconced their mademoiselles.
Naive Nurse Nellie Forbush has fallen hard for Emile de Becque, a mysterious, middle-aged French planter. When Lt. Joseph Cable arrives to recruit Emile for a dangerous reconnaissance mission, the Frenchman initially declines because he's finally found love. While Cable waits for Emile to reconsider, the young officer travels to Bali Hai and stumbles on love, too. Cultural differences and military demands complicate matters of the heart. Is a happy ending possible during wartime?
The 1912 opera house has clarion acoustics, which allows LCP to present South Pacific without using any microphones or amplification. Even the female singers with lighter voices make themselves heard above the 12-piece orchestra. Kudos to music director and conductor Kelly Daige for maintaining perfect balance between her vocal and instrumental forces.
Abby Maurice nicely captures Nellie's fresh-faced innocence. Frank Kehoe's Emile is more shy than suave. The actor's slight awkwardness on stage actually adds to his character's appeal. The romantic leads pair especially well when singing. His rugged bass and her wholesome soprano show how their signature love song, "Some Enchanted Evening," is also a poignant expression of their characters' vulnerability.
James Blanchard supplies plenty of suave and outstanding vocal chops, as Lt. Cable. In "Younger Than Springtime," he beautifully conveys Cable's youthful, giddy passion with a gorgeous, soaring tenor. Blanchard seamlessly blends acting into his vocal performance.
Back on the beach, the randy, ragtag crew of sailors and SeaBees serves up an ocean of comic relief. Director Burnell casts a marvelously motley mix of mariners who sing and dance up a storm. As their burly, bare-chested leader, Luther Billis, Dan Martin uses commanding stage presence and spot-on comic timing to turn two numbers into raucous showstoppers.
In "There Is Nothing Like a Dame," Billis and the boys praise the finer points of the fairer sex using the least politically correct, most uproarious language. Hannah Johnson's choreography for the macho men melds military drilling with Rockette-inspired moves. The hairy kick line is hilarious, surpassed only by Martin's priceless appearance in a blond wig, grass skirt and betassled, shell-encrusted coconut bra for his Act II duet with Nellie. During "Honey Bun," he gleefully shakes his hips — and beer belly — as the SeaBees hoot and harass him from the audience.
The show is rousing entertainment; two hours and 45 minutes pass swiftly, despite the heat. It also represents an amazing community effort. LCP's program credits more than six dozen people in the cast, crew and orchestra, including elementary school kids, English teachers and engineers. Many wear multiple hats. Producer Patricia Jacob also plays percussion, and several actors helped build and paint scenic designer Rick Loya's lovely sets. Designer and recent high school grad Sam Osborn gets credit for the lighting that wonderfully captures the tropical sun's beachy brightness.
The community-theater spirit of "let's put on a show" rescued the opera house from disuse and disrepair back in 1952. The Lamoille County Players, who lease it from the town for a dollar a year, have become its stewards. To celebrate the building's upcoming 100th anniversary, perhaps a capital campaign for air conditioning is in order?