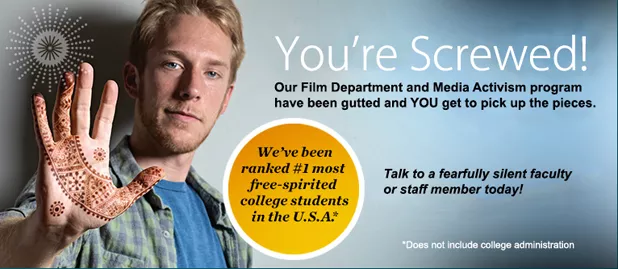 Parody Burlington College ad produced by students
Budget cuts have eliminated three department heads at financially challenged Burlington College and sparked protests by students who say they're worried about the school's viability and credibility.
Anna Blackmer and Emily Schmidt, chairs of the humanities and fine arts programs, respectively, recently resigned after being offered contracts that would have made them half-time employees and terminated their health benefits. Film department head Gordon Glover was not offered a new contract, although he will be teaching courses as an adjunct instructor next semester. Mary Arbuckle, a professor in the film department, had her hours cut in half and her benefits terminated.
The reduction in film studies constricts what former department chair Barry Snyder describes as the school's "flagship program" and "the engine of its renewed growth." Established in 1995, the film department has served as one of the college's main attractions for prospective students.
Senior Ned McEleney says the film and media activism programs were what led him to transfer to Burlington College two years ago. "I feel like I've been sold a false bill of goods," McEleney said. He noted that the film department had two and a half full-time faculty members instructing 40 majors prior to the recent cuts.
In response to those losses and to what they say is a lack of transparency on the part of the administration, students decided last week to dissolve the student government and replace it with a "more democratic" structure. They have also presented college president Christine Plunkett with a statement of values and a list of grievances. Students had planned to stage a protest last week during the college's recruitment event for visiting high schoolers, but Plunkett dissuaded them from taking that action, McEleney said.
Plunkett said she's met twice with concerned students for a total of five hours to explain the school's recent actions and long-term plans. Those plans include tripling enrollment from 250 at present to 750 a decade from now.
In an interview with Seven Days, the president characterized the changes as a "restructuring" designed to ease a budget squeeze and increase teaching loads. Remaining full-time faculty members are now being required to teach four courses a semester; a few years ago, full-timers did not have to teach more than two courses, Plunkett said.
Department chairs will also be required to take part in student-recruitment efforts by visiting high schools — an expectation, Plunkett acknowledged, that makes faculty members "uncomfortable."
The cuts will save the school about $210,000 a year, she noted.
Federal tax returns indicate that Burlington College recorded a $553,000 deficit in fiscal year 2011-2012, which is the most recent period for which the information is available. In the same year, revenues, which are derived almost entirely from student tuition, totaled about $4.5 million."We've been running on an extremely tight budget for quite some time," Plunkett said.
Not so tight, however, that it prevented the college from launching a new school of music. Board of Trustees Chairman Adam Dantzscher says this addition amid several faculty subtractions is "not contradictory." The plan to offer a variety of music courses gives the college "new opportunities" for growth, adds Dantzscher, who heads up a local credit counseling firm.
Plunkett said that the college's decision to winnow its staff of 35 full-time employees has nothing to do with the $10 million debt the school took on two years ago to finance the purchase of 32 acres along Lake Champlain north of downtown. The college has not missed any payments due on the mortgage held by People's United Bank, Plunkett said. "I don't feel we're at risk of missing any," she added.
"We've been working closely with the bank, and they've been very helpful," Plunkett continued, noting that the college has hired a consultant to focus on financial issues.
How is the college going to cover the cost of the property it bought from the Roman Catholic Diocese of Burlington, which includes a 85,000-square-foot building that requires substantial renovation?
In part by selling a portion of the property to real-estate developers. Private builder Eric Farrell, along with two nonprofit housing groups, recently announced plans to develop half of the college's campus. The proposal involves construction of student dorms, 75 units of elder housing, 40 units of subsidized rental apartments for families, 120 market-rate rental units and 30 upscale single-family homes.
The move to shoulder a heavy debt burden was controversial at the college, which has virtually no endowment. Film instructor Snyder says the purchase of the diocese headquarters was a key factor in his resignation as department chair in 2010 after 10 years in that post. "I was unhappy with the direction of Burlington College" under Jane Sanders, who served as its president from 2004 to 2011, Snyder says.
Burlington College alumna Jen Berger finds it hard to believe that her alma mater's $10 million debt burden played no role in the recent faculty reductions. The school is "making some really big mistakes by cutting back or letting go people who have been instrumental to its education style," she adds. Berger particularly mourns the loss of Blackmer, the humanities professor who had been her adviser.
"If it weren't for Anna, I'd have probably taken a very different path in life" since graduating from Burlington College in 2006, says Berger, who works as an artist, educator and community organizer.
Despite chronic instability marked by frequent personnel upheavals, 41-year-old Burlington College has plenty of fans. Its free-spirited education style and emphasis on student-designed curricula tends to attract transfers dissatisfied with the traditional approach of their former schools.
The education provided by Burlington College "far exceeded my expectations," junior Molly Skerry, a psychology and end-of-life-care double major, said in an interview last month. "I can't put a price on experiences I've had and the quality of instructors here," added Skerry, 22, who has since joined the protests against the faculty cuts.
Skerry is one of three students featured in "repurposed" Burlington College ads that are being used as protest posters. The students doctored the originals, for which they had posed, to become expressions of opposition to the school's personnel moves.
Plunkett's reaction? "It's no secret that Burlington College has very creative and passionate students … Our new marketing materials are extraordinary. They were created in-house through the collaborative efforts of faculty, staff and students. Our students' use of these materials to further their message is a reflection of how strongly our brand resonates with them," she says.
How does that brand resonate off campus? Burlington College's development initiative is drawing opposition from some local activists, who could potentially force delays and reductions in the scale of the project. Architect Mannie Lionni, for example, says he is "staggered that a college supposedly committed to environmentalism is developing one of the last green spaces in Burlington." The plan to add more than 200 homes, many for low-income residents, "puts housing advocates, who have seen their budgets cut, in the position of being shills for development in an inappropriate place," Lionni says.
Fundraising is another part of Burlington College's financial salvation strategy. To carry that out, it will likely rely on well-connected board members such as Vermont Tourism Commissioner Megan Smith, local Chamber of Commerce chief Tom Torti, Pomerleau real-estate broker Yves Bradley, outgoing Vermont Education Secretary Armando Vilaseca and physician-psychologist-developer Joel Miller, who is married to former state senator and Jog Bra cofounder Hinda Miller.
Students asked Plunkett whether she and other administrators would cut their own pay as part of the "restructuring" moves. They will not, the president said.
She added that the three top officers at the school are together now carrying out responsibilities that used to be assigned to nine staff positions. Plunkett noted that she has been acting as the college's chief financial officer, as well as its president, for the past four months.
She declined to reveal her salary but said it could be found in the college's most recent federal tax filings. They show that Plunkett made $80,813 while her predecessor, Sanders, was being paid $152,762 that year as part of a deal that eased her out of the presidency.
Plunkett earns a modest wage compared to other Vermont college presidents. Middlebury's Ron Liebowitz, Champlain's David Finney, St. Michael's head John Neuhauser, and University of Vermont chief Tom Sullivan all make at least five times as much as does the Burlington College leader. The most recent reports show Liebowitz made $540,929, Finney earned $563,077, Neuhauser received $434,336 and Sullivan took in $417,000.