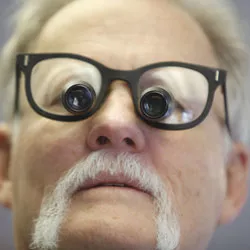 Jordan Silverman
Dr. John Bisson
Dr. John Bisson has a somewhat unenviable job: He looks at balls all day long. And not the kind of balls you throw. Bisson, a board-certified urologist, cuts open scrota and slices the tubes that carry the spunk. He's pretty much the go-to guy in town for vasectomies — these days, the snip-and-seal procedure, and the occasional reversal, are all the 64-year-old doc does.
Last year, his Vas Clinic (its cheeky logo is a male-gender symbol with a piece missing from the circle) saw nearly 300 vasectomy patients. Over Bisson's many years as a surgeon, he has snipped more than 4500 fellas and reattached the tubes of 500 others.
Jocular and laid-back, Bisson is the guy you want slicing at your bits. He's a grandfather, he sports a white horseshoe mustache à la Hulk Hogan, and he thinks vasectomies are "fun stuff." He's also a serious surgeon who trains new docs in the tricks of the trade and is the urologist other physicians visit when they need to prevent baby making.
Seven Days talked with Bisson about the nuts and bolts of, well, nuts.
SEVEN DAYS: How did you end up in urology?
JOHN BISSON: In medical school, my rotations in urology were most entertaining. They have the best jokes.
SD: So you landed in urology because of the jokes?
JB: Well, there are a lot of old guys who can't pee. They've got a lifetime full of great stories. And it's just sort of good fun.
SD: But most of your patients now aren't old guys.
JB: They're mostly in their late twenties to late thirties, and they've got 2.5 kids.
SD: And they clearly don't want any more.
JB: No. Now, the age range can go well beyond that. I've had guys in their fifties and sixties who've got the new trophy wife and don't want to get her pregnant. Then I've got the 20-year-old who has five kids with three different women on Medicaid. Then I say, "Step right up."
SD: Break down the basic vasectomy procedure. What are you doing?
JB: I give them a shot of medicine by vein. It helps me because it relaxes the scrotum and relaxes them, too. They had to have shaved the hairs off the sac of the scrotum. If they haven't done it exactly right, I can fine-tune that. The procedure itself only takes 15 to 20 minutes.
SD: When you go in, are you making an incision?
JB: I use the "no-scalpel" technique. I tell them, "Don't let that fool you — there's still going to be a hole in your scrotum." But instead of two cuts with a scalpel, I make a single puncture wound. The opening is so small that, when I'm done, there's no need to stitch. I just do a little seal thing, like the top of a bag of potato chips. The less I have to do, the less you have to recover from.
SD: Once they're numbed up and you've made the opening, what do you do?
JB: I pull a little loop of the part that I want to work on, [which is] called the vas deferens. I cut out a section and I cauterize what's left.
SD: I was wondering…
JB: …what happens to the sperm? So, the testes produce the sperm. But the sperm are just a tiny drop out of all the fluid that comes out with sexual activity. The bulk of the fluid comes from the prostate gland and the seminal vesicles. And the sperm travel up along the vas deferens and meet up at the last minute with the other fluid. So, the sperm don't know the bridge is out, and they come up to the end and swim around for a while, and then they die. The cells in our body have a special mechanism for dissolving cells when they die. Then the individual components get reabsorbed.
SD: And this procedure is largely successful? Guys don't get their ladies knocked up after?
JB: Depends on how they approach it. My rule is, zero sperm in the sample 10 weeks later. So, they go one week with no sexual activity while they recover. Then they have to use birth control until I see the sample at 10 weeks. I'm particular about having zero sperm. When it gets to zero, in my experience, it stays at zero.
SD: Are there folks who get their vasectomies reversed?
JB: Yeah, I do that, too.
SD: Why do guys want a reversal?
JB: Trophy wife.
SD: Tell me about your license plate.
JB: Well, one of my early license plates said TURP. And anybody who has had the surgical procedure TURP would know exactly what it was. That's a urologic procedure for men who can't pee well. It's sort of a Roto-Rooter on the prostate. Then, when I focused more on vasectomies, I got the plate VASMAN. It's sort of related to the "Seinfeld" episode with ASSMAN [license plates]. And then I wanted to do something different, so I got SNIP. It's short and quick, and most people understand what it is if they've been there.