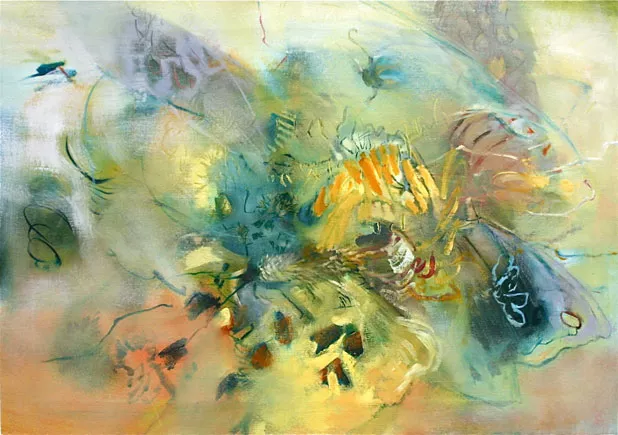 Janet Fredericks' show of new, insect-themed artworks is almost as literary as it is painterly. In addition to the usual artist's statement, visitors to "Minute Particulars" at Shelburne's Furchgott Sourdiffe Gallery can peruse a four-page handout of works by poets such as Dylan Thomas, Rainer Maria Rilke and Gerard Manley Hopkins. The key passage, which gives the show its title, comes from William Blake: "He who wishes to see a Vision, a Perfect Whole, must see it in Minute Particulars."
The English mystic is an especially apt source for this show's epigraph in that Blake was a double threat with pen and brush.
Fredericks applies this kindred spirit's better-known notion of the "world in a grain of sand" to the bugs she sketched outside her home in Lincoln. "The quantity and diversity of winged and walking insects" have clearly demonstrated the concept of interdependency to her, Fredericks writes in the introduction to her exhibit. "Everything is connected."
In two of the larger pieces in the show, bees flit around the heads of children who seem entirely — and oddly — unperturbed. In "Looking," four girls in pinafores stand nonchalantly in a curved row as bugs as big as their noses swarm in a circle; in "Listening," it's the artist's brother, Charlie, as a boy of about 8, who stares expressionlessly despite being haloed by what look like miniature drones. Fredericks dissolves some of these creatures into blurred shapes and thinly inked angles that suggest rapid motion, and perhaps their humming and buzzing, as well.
In "Of the World in Its Becoming" (a title taken from the close of Cormac McCarthy's novel The Road), there's clearly an auditory connotation to the squiggles accompanying three large insects flying up and away from the viewer. Fredericks is trying to paint the noises her subjects make. The artist's intention, as well as her inspiration, is strongly implied through one of the Rilke poems included in the gallery handout: "Everything is blooming most recklessly: if it were voices instead of colors, there would be an unbelievable shrieking into the heart of the night." "Of the World in Its Becoming," like a couple of other paintings at Furchgott Sourdiffe, includes faint scribbles in cursive, furthering the show's verbal dimension.
Despite its fixation on bugs and words, "Minute Particulars" varies in media and modes of composition. Fredericks lays down oil paint in thick splotches on some smaller canvases, and on loosely hung paper creates a summery, gauzy effect with washes and watercolors in images that seem to float. She also veers toward abstraction in two of the show's loveliest works, the biomorphic, Kandinsky-esque "Psyche's Ascent," and "Luminous," which calls to mind Monet's late-era series of water-lily paintings.
A couple of pieces read like aerial maps of switchbacks or rivers. Viewers who have followed the shifts in subjects and styles of this Vermont art-scene doyenne will be reminded of illustrations she made previously in her 30-year career. Other works in "Minute Particulars" reveal resemblances to Fredericks' earlier watercolors of water. Those paintings from 2008 sought to convey what the artist terms "the language of water" — as spoken by the New Haven River near her home in Lincoln.
The current show also features a waxy self-portrait from what Fredericks terms "several years ago." As she suggests in gallery notes, its ghostly aura makes it a fitting addition to this collection of recent works. The show, however, is weakened by its repetitive dreaminess, and viewers of "Minute Particulars" may start craving something more substantive by the time they reach the last of these 20 works.
A modest ink-on-paper piece with the straightforward title "Insect Sketch," at the end of the show, does supply a bit of what's otherwise missing. Its success lies in the congruence between its scale and its ambition. There's no overreaching with "Insect Sketch," no attempt to weight an itty-bitty bug with metaphysical heft. It's just a skillful rendering by a talented artist — which makes for quite an eyeful.
"Minute Particulars," new paintings by Janet Fredericks, Furchgott Sourdiffe Gallery, in Shelburne. Through November 29. fsgallery.com