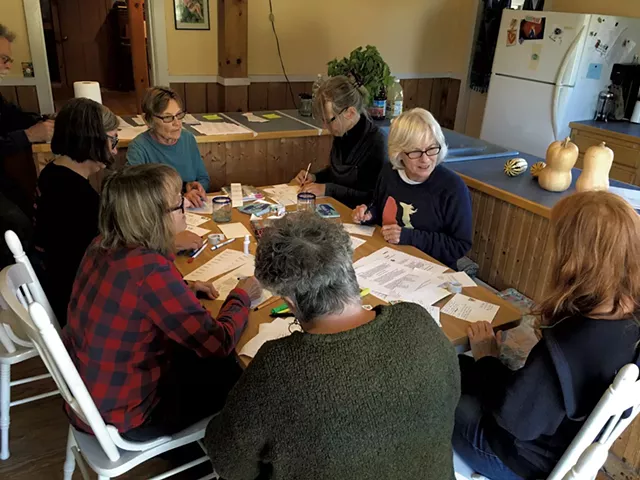 John Walters
Clockwise from left: Ginny Sassaman, Judy Copa, Iris Wechling, Marilyn Bush, Linda Schütz and Karen Bunnewith
It was a crisp, sunny mid-October Sunday, a perfect time for leaf peeping, hitting the trails or putting the garden to bed. But a group of 10 Vermonters, all women, denied themselves the pleasures of foliage season to spend the afternoon writing postcards on behalf of candidates in other states.
The women were members of Indivisible Calais, one of dozens of grassroots groups around the state who are volunteering for state and federal campaigns outside of Vermont. Each consists of a core group of 10 to 30 people and a larger contingent of as many as 300 email followers.
Animated conversation streamed around the table as the women wrote hundreds of postcards for state legislative hopefuls in New York and Pennsylvania, using voter lists provided by the candidates. For these women, the socializing is crucial to the activism. "We're in an emotionally hard time," said Ginny Sassaman, host of the postcarding event and co-facilitator of Indivisible Calais. "A large part of what we do is hold each other up. By the end of a meeting, we all feel better."
Sassaman and the other volunteers were appalled by the election of Donald Trump. They discovered an outlet for their rage during the massive Women's March at the beginning of Trump's presidency. "It was incredible," said Mary Droege, founder of Castleton Indivisible. "I came back saying, 'We've got to keep this movement going.'"
In the wake of the march, Barbara Yerrick of Jericho-Underhill Indivisible said, she and her friends came together to "commiserate, but also figure out what we could do."
The answer varies by group. Many focus entirely on out-of-state races because Vermont's congressional delegation is reliably blue, and they want to make a difference in Congress and in Republican-controlled state legislatures. Some, such as the Castleton group, located in "a red county in a blue state" — split their time and resources, said Droege. They've been working for Democratic candidates based in Rutland County as well as outside of Vermont.
These groups have been part of some notable victories since Trump's election. They contributed to the hotly contested 2017 race for the Virginia House of Delegates, in which Democrats scored a net gain of 15 seats and came achingly close to eliminating the Republican majority, and the 2018 special elections that sent Alabama Democrat Doug Jones to the U.S. Senate and Pennsylvania Democrat Conor Lamb to Congress. Those results have given the activists fresh inspiration to continue the effort.
Some groups hold special events designed to raise spirits as well as money. Indivisible Calais has hosted a series of fundraising concerts, which have netted more than $10,000 for state and congressional candidates in other states. On a recent Saturday night, one such event packed the Whammy Bar in Maple Corner with about 50 people. They donated to candidates in Maine and New Hampshire and reveled in the sounds of Umlaut, a Plainfield-based trio who bill themselves as "Vermont's Premier Polk-Rock Band." Onstage, they present themselves as Fritz, Günther and Jüppchen, the von Umlaut brothers, who play guitar, accordion and plucked cello. Their repertoire includes familiar songs done polka style, often with topical lyrics.
Their version of Jefferson Airplane's "White Rabbit" begins with "One bill makes them richer and one bill makes us poor" and tells the audience to "Go ask Bernie, I think he'll know." They turn the old classic "Love and Marriage" into a celebration of "Trump and Putin, they go together like wheat and gluten." Attendees donated $650 for the designated campaigns.
Indivisible Calais has also participated in phone banking, canvassing and text banking, the new-tech version of phone banking in which volunteers send text messages to voters with smartphones.
The group is notable for producing so much activity in such a small town. But similar organizations have sprung up all over the state. Seven Days reported on this phenomenon in July. Since then, "there's been an uptick after Labor Day and especially in October," said Ann Smith, a Waterbury resident and an organizer of Lean Left Vermont, which coordinates the efforts of grassroots groups with those of national organizations seeking to turn red seats blue. "There's an intensity, a sense of urgency that wasn't here before."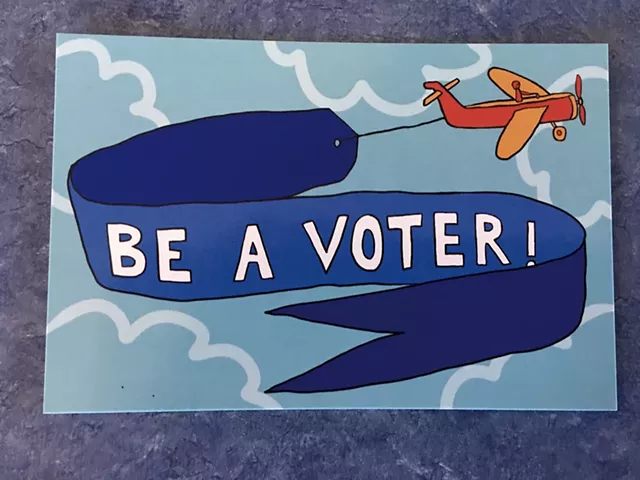 John Walters
A Lean Left postcard
More men are joining these groups, which have been fueled as well by the #MeToo movement. But women still dominate. Six of the seven founders of Lean Left Vermont are women. Jericho-Underhill Indivisible is "entirely women," said Yerrick. In Indivisible Calais, said Sassaman, "the vast majority are women." There are exceptions: A Peacham subgroup of Northeast Vermont On Guard is led by a husband-and-wife team, and its membership is almost evenly split.
Thanks to the internet, working on faraway campaigns has never been easier. Swing Left provides guidance about congressional races. Sister District does the same for state legislatures. Indivisible shares information with its loose network of small groups across the country. Donations can be processed effortlessly through ActBlue, which has become a dominant player in Democratic fundraising. Red to Blue, an organization aimed at taking politics into the digital age, has a text-banking program.
Text banking, said Smith, is "the coming thing, but most campaigns aren't doing it yet."
If you're imagining hours and hours of texting on tiny keyboards, rest easy. It's actually done on computers, not smartphones. Campaigns upload contact lists and message scripts to a "texting platform," which volunteers can access. A volunteer types out text messages on a computer and sends them to voters' smartphones. If a voter responds, the volunteer answers using the campaign's talking points.
Montpelier resident Drea Thew got "hooked" on text banking while volunteering on Virginia's 2017 election. She has sent "tens of thousands of texts" and become a text-banking facilitator and trainer for Red to Blue. Thew is an oncology nurse at the University of Vermont Medical Center; she's cut back on her workload until Election Day so she can spread the gospel of text banking. She said the technology can be daunting at first, but "once you get through it, it's easier than phone banking or going door-to-door."
Almost every activist group around the state engages in phone banking, texting and sending postcards. In fact, Lean Left Vermont held a postcard design contest and printed thousands of copies for local groups to use. It's a pleasant, nonpartisan design that says "BE A VOTER" on a banner being towed by a cartoon airplane across a light blue sky. Most of the effort is aimed at state and congressional contests in nearby states, including New York, New Hampshire, Maine and Pennsylvania.
Some groups add their own ideas to the mix. The Peacham group hosts "20/20 potlucks," said co-facilitator Jim Minichiello. "We each donate $20 at a potluck on the 20th of each month."
A group of women in Middlebury got together for a single mid-October canvassing trip to New York's 19th congressional district in the Hudson Valley, where Democrat Antonio Delgado is in a close contest with U.S. Rep. John Faso, a Republican. "We call ourselves the Flip Trippers," said Amy Mason of Weybridge. "[Sen. Bernie] Sanders [I-Vt.] and [U.S. Rep.] Peter Welch [D-Vt.] seem safe, so where could we make a difference?"
Mason and her friends took a Lean Left Vermont canvassing webinar and spent two days going door-to-door in the district. The Delgado campaign provided messaging information, instructions on where to go and "the mobile app we used to track our progress," said Mason.
Two of the most creative forms of activism come from southeastern Vermont, home of the Putney Huddle, one of the largest grassroots groups, as well as Indivisible Brattleboro and Southern Vermont Sister District.
As Seven Days reported in 2017, the latter group launched a soup subscription program. "Volunteer cooks make a pot of soup, and donors get soup once a month," said Tammy McNamara of Southern Vermont Sister District. "They donate through ActBlue. We've raised almost $15,000 for Sister District races."
The effort was so successful that organizer Peg Alden of Putney decided to branch out. This spring she launched Save Our Nation Vacation, which offers stays at properties around New England. "People donate time at their properties, and people bid on them," Alden explained. Current offerings include a townhouse in Boston, a condo in the Berkshires, a cottage on the Maine coast and several getaways in southeast Vermont.
If this initial round is successful, Alden added, "I plan to go to Democrats Abroad and get them involved," which could add international getaways to the mix.
All this political engagement is laudable, but is there a danger that so much of it is directed outside Vermont? Are local Democratic and Progressive candidates losing out?
Perhaps, but activism is not a transferrable commodity. The contentiousness of national politics is driving this movement. If the battles for Congress and state legislatures were not so consequential, the motivation would be diminished.
Besides, as Thew put it, "I use a neighborhood analogy. Our house needs repairs, but the others are on fire."