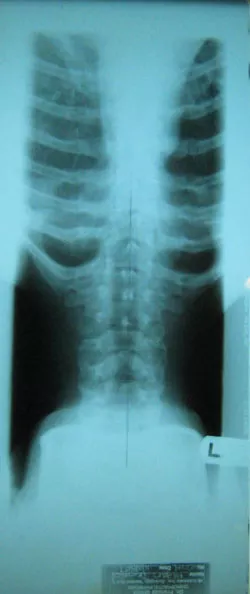 The turkey was titanic: a 28-pounder, the largest I'd ever cooked. After brining it, lifting it out, drying it off, stuffing it, trussing it, and sticking it in the oven, I thought I was done wrestling with mammoth poultry. But I'd miscalculated the number of meat-eaters at our Thanksgiving meal: A projected 25 guests had dwindled to nine, and six were vegetarians. After dinner, I hauled the leftover meat into cold storage. Over the next few days, I moved heavy pots of mashed potatoes, tried to empty the brining container solo, and made about 16 quarts of turkey soup.
Unbeknownst to me, I was also brewing a heck of a back spasm. People talk about the uncomfortable revelations that can arise from a long session of turkey and togetherness. My Thanksgiving revelation was a little different. I've lived 30 years without back problems, but last November I learned I share something with approximately 15 million Americans: I have scoliosis.
The Sunday after Thanksgiving, the muscles of my lower back felt a little tight. Monday it was worse, but I could still function at work with the help of over-the-counter pain meds. On Tuesday night, I had to leave halfway through my dance class. By the time my alarm went off on Wednesday morning, I couldn't move without yelling. Understandably perturbed, my spouse made me call in sick and offered to drive me to a chiropractor, stat.
A chiropractor? I'd never been to one, but I thought, I guess they're the docs to help with back trouble, right? I phoned a conveniently located office recommended by a friend's friend, which offered me a spot in a few hours. Filling out the paperwork, I realized there was more to chiropractic care than I'd thought: The doctors wanted to evaluate everyone in my family if they took me on as a patient. My partner was game, so I signed on the dotted line. I noticed that the waiting area had lots of pamphlets about sciatica, carpal tunnel, colic and fibromyalgia — not ailments I associated with backs.
In the exam room, a doctor asked me exactly where my back was hurting, then picked up a cast-resin model of the human spine. He showed me how the spinal cord, housed within the spine, connects the brain to the rest of the body's nervous system through spaces between the vertebrae. If the vertebrae become twisted or misaligned — that's a "vertebral subluxation" — they press on the nerves, which can compromise the organs connected to that part of the nervous system and result in various diseases and conditions. Now I understood why chiropractic care is meant to treat the whole body, not just one's back.
Next step: a set of X-rays, so the chiropractors could get a look at my spine. I put on a hospital-green cotton gown, leaving on my hot pink legwarmers for moral support, and, as requested, belted a heart-shaped, copper-colored lead plate around my lower waist to shield my ovaries from radiation. By the time the doc came back to shoot the photos, I looked and felt like an extra-special Care Bear.
The profile and posterior shots of my back and neck were printed while I waited, but I had to come back the next day to get an evaluation, and see whether the doctor would take my case. Instructed to try ice and stay away from warm compresses, I went home to lay face down for a few hours and groan.
The next morning, I found my X-rays full of surprises. The chief chiropractor put the films up on a lightbox and told me to look at my lower back. He explained that I had scoliosis; the lumbar vertebrae veered off to the left, then the right, in two 10- to 15-degree curves before continuing up the spine. A few of the fins sticking out of the vertebrae in my lower back were bent at odd angles where they should have been straight, meaning the bone had grown wrong. My right shoulder and hip sat higher than my left, and the vertebrae in my neck curved the wrong way. From the looks of it, these conditions had been present for years — and all, the chiropractor said, were cause for concern.
Scoliosis is a deformity in which the spine curves incorrectly from side to side or front to back — on an X-ray, generally looking like an "S" or a "C" rather than a straight line — and may also be twisted. Contrary to popular belief, you don't get it from bad posture. Rather, scoliosis can be congenital; a symptom of another condition, such as cerebral palsy; or idiopathic — med-speak for "We don't know where the hell it came from." Idiopathic cases are categorized as infantile, juvenile, adolescent or adult, depending on when they pop up.
I didn't have juvenile scoliosis — like most elementary schools, mine screened kids under age 12. I remember our school nurse measuring my spine while I bent over, then giving me a clean bill of health. (I was lucky — about 10 percent of children diagnosed with scoliosis require braces or surgery to correct their growth.) Most high schools don't screen for scoliosis, even though girls aged 10 to 16 are most likely to be affected, and female teens are seven times more likely than their male peers to have a curve that needs treatment. Mild or small curves like mine are more common than severe ones — and harder to detect.
As for the cause, idiopathic was the word of the day. The doctor asked if I had ever had any other ailments in the area — endometriosis, pelvic pain. Nope. Had I suffered a serious fall or car accident? Again, no. Personally, I suspect my spinal curvature has something to do with the 10- to 15-pound book bag I carried all through high school — on one shoulder, 'cause wearing a double-strapped backpack was just so uncool.
But, the doctor went on, the scoliosis in my lumbar area wasn't my only problem. Other things are going on in my neck, namely a wonky curve that, if untreated, could leave me unable to turn my head by the time I'm 55 or 60. If I ever plan to have kids, I was told, I should correct my curve and strengthen my lower back before trying. The idea of throwing my back out while eight months pregnant made me shudder.
The good news? At 30, the doctor said, I'm young enough that my spine will most likely respond well to chiropractic treatment. He said his team could straighten me out — probably — over the course of about 10 months, gradually nudging my spine back into alignment.
I didn't feel crooked, but my back sure did ache. The doctor said that, given how my spine had degenerated, he was surprised it hadn't given me trouble before now.
*************
But enough about the problem — I wanted to get started on the solution. The chiropractic profession takes its name from the Greek words chiros and praktikos, meaning "done by hand," and after several days of feeling sub-par, I was looking forward to having someone finally put their hands on my back.
I lay face down on a table similar to the massage kind, except it was segmented into pieces that could be individually raised and lowered. "I'm going to show you a magic trick," my chiropractor said. He put his hand on my lower back and asked me to raise my right and left legs as high as I could, one after the other. Then he adjusted one of my lumbar vertebrae, raising the table segment underneath it and pressing my back until the piece clunked into place — along with part of my spine. I tried the same stunt again and was surprised to find that, from the exact same position, I could now lift each limb at least a foot higher than before.
The whole area felt more mobile. I walked out feeling a little better — still sore, but not miserable — and decided then and there to commit to the suggested 10-month treatment plan. It was pricey, but less expensive than what I'd pay later in decreased mobility if I ignored the diagnosis.
I've been receiving adjustments to my spine three times a week for the past two months — often by hand, with the associated cracks and pops of joints releasing air as they're moved. Sometimes the chiropractor uses an "impulse gun," a handheld device that delivers variable amounts of pressure to specific spots without tensing up the surrounding muscles. At every appointment, my posture is evaluated, and a chiropractor palpates points where the back muscles attach to my sacrum and my skull. By finding particular muscles that are tense, the doctors figure out which vertebrae to move. I have daily exercises to flex my lower spine and strengthen the muscles on the back of my neck, and I still dance and do yoga — no physical activities are prohibited. Finally, I try to sit up straight and be conscious of how I'm holding my body — which is harder than you'd think at the end of a long work day.
Scoliosis may have put a few curves in my path, but the road to recovery has some interesting scenery: I now know more about my own spine than I would have believed possible. Maybe I'm experiencing a rite of passage of sorts: Seventy percent of adults experience back pain at some point in their lives. Joining them has taught me that I may be strong, but I'm not invulnerable. Next Thanksgiving's main course? A nice, lightweight duck.