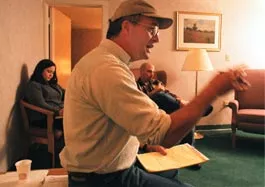 Andy Duback
Jock MacDonald
If it's true that "acting is suffering," as T.S. Eliot once wrote, then woe unto the handful of student thespians assembled in Jock MacDonald's class. On a recent Wednesday evening, the drama coach is requiring them to dig deeper and deeper into the emotional subtext of scenes they're recreating from well-known films. Even ostensible comedies are plumbed for psychological truths that prove elusive at first glance.
So Ramona Godfrey of Waterbury Center and Tara O'Reilly of Stowe encounter some trouble while trying to inhabit the two lead roles in Romy and Michele's High School Reunion, a seemingly lightweight 1997 picture.
For a sequence intended to take place in a moving car, they have memorized their lines and assembled several props Ñ a bag of potato chips, a cell phone, glossy fashion magazines Ñ but something's missing: "It's the stakes," MacDonald tells them after an initial run-through. "You have to make the stakes much higher. The formula that works is asking yourself, 'What is it that I want? Why do I want it now? And what happens if I don't get it?'"
The fictitious Romy and Michele, MacDonald adds, "are both very fragile. They're overenthusiastic to protect themselves from feeling pain about their lack of success in life. I just want you to get in touch with something that makes you feel the same way Ñ fragile underneath."
This is only the first session of the six-week "Acting for Film" class, so Godfrey, O'Reilly and the others have plenty of time left to pinpoint the best individual routes to suffering.
In a state fairly overflowing with cultural riches, a range of educational experiences is available to any "poor player that struts and frets his hour upon the stage," to borrow a phrase from Macbeth. Apparently, the fretting is what really counts in the gestalt of acting.
MacDonald's approach, though geared to on-screen performances, resonates for other instructors in the area who generally concentrate on stage work. People with show business in their hearts and stars in their eyes often turn to Grace Kiley or Vermont Stage Company artistic director Mark Nash. Both of them are currently offering classes in their discipline. They, too, understand the distress inherent in drama and appear to agree that acting must be a process of addressing those burdensome things that keep us from becoming whole. And, like MacDonald, Nash and Kiley probably would subscribe to a twist on the Clinton administration's motto about the economy: It's the stakes, stupid.
"For me, the three pillars of acting are self-awareness, self-acceptance and patience," says Nash, a Charlotte resident who has trained some 800 aspiring actors in 14 years of teaching. "I'm interested in their growth as human beings. Acting happens to have been my vehicle for that."
Are his classes a kind of group therapy? "I don't help them heal," he explains. "I only help them look at ways they might be blocked. Emotion is to acting what sweat is to athletics Ñ a byproduct of pursuing an objective. The emotions will show up on their own, if you're getting your blocks out of the way. Your own life directly plugs into your performance."
Nash eschews the let-it-all-hang-out precepts of Stanislavski, however. "Method acting tries to make the actor cry," he says. "I keep clear boundaries and don't encourage people to have huge emotional outbursts."
As a man whose graduate thesis at the University of California at Irvine was "Zen Buddhism in Relation to Acting," Nash believes that the key is "being present in the moment."
A former student of the legendary Uta Hagen, the Williston-based Kiley says "the goal is for actors to experience the moments of a play in their immediacy Ñ living the moment rather than just representing it. My job is to help students find the inner life of a character… This creative vitality is the essence of good drama and what draws the audience in."
Last spring Kiley was hired by 20th Century Fox to spend more than two months in North Carolina coaching Vermonter Rene Kirby Ñ who had no previous acting experience Ñ for a role as Jack Black's buddy in Shallow Hal. She and MacDonald have also teamed up to teach film acting in the past.
Kiley's theory is that technique can provide an actor with the foundation to tackle any emotion. "If you have to do, say, a depressed character and don't feel you can, why not have a means to walk yourself into it?" she suggests. "That's like a painter knowing how to mix the right colors. You're trying to bring forward a complete human being."
MacDonald, who calls Middlesex home, talks about stripping away the defenses performers use to hide from themselves and their characters. "From working this way, I found I know myself better and it's made me a freer, more self-reliant actor," he notes.
Among other things, MacDonald is able to offer his students a perspective on what it's like to toil in the trenches. His resume reads like a crazy quilt of great opportunities and hard work.
While growing up in Burlington as a seventh-generation Vermonter, MacDonald thought 'hed follow in his physician father's footsteps. But at UVM in the early 1970s, he drifted into a double major of zoology and theater. After graduation, he did summer stock on Cape Cod, then earned a Master's degree in acting at Ohio University.
During an initial stint in New York City, MacDonald worked at a Fifth Avenue ski shop and landed small parts on television soap operas, such as "The Guiding Light" and "Love of Life." "I was always a waiter or a bartender or an ambulance driver or a doctor," he recalls.
Back home in 1978, he and some friends Ñ including Kiley Ñ launched a now-defunct local theatrical troupe. MacDonald's day job as a bartender at the Ice House led to meeting his future wife, Betsy, who was a waitress there. He moved Down East to spend a season at the Portland Stage Company before offering introductory theater classes at the University of Southern Maine. Then it was back to the Big Apple for more soaps, at least one off-Broadway play and small roles in a few big movies: Ishtar, with Warren Beatty and Dustin Hoffman, for instance.
By 1984, the fact that MacDonald and his wife had two kids Ñ Amanda and Colin Ñ convinced them to return to the Green Mountain State. His 1987 gig as a friend of Don Johnson and Jeff Daniels in Sweet Hearts Dance, shot in various Vermont locations, still nets him a $1.50 residual check every other month. "The lowest amount I've ever gotten is 98 cents, from Letter to My Killer, a 1993 film I did for the USA network," he points out.
When the insurance company that employed Betsy opened a California branch in the early 1990s, the couple decided to move the family to Agora Hills, a town near Los Angeles. MacDon-ald found work in commercials, television series and movies, earning enough money to afford "the Vermont dream," as he puts it. "We bought a saltbox on 24 acres in Middlesex that we rented until three years ago."
Before leaving Hollywood, however, he met a man who changed his life. Fellow Agora Hills habitué Cameron Thor is a well-respected acting teacher and coach whose clientele has included Helen Hunt and Sharon Stone. His classes have yearlong waiting lists. MacDonald reports that Thor's technique, described in Movieline magazine as "boundlessly energetic, endlessly inspiring and Ñ news flash! Ñ humane," was an eye-opener for him.
"Most actors, even those with stage experience, are not as emotionally available as they think they are," MacDonald suggests. "It's important to cut away from pre-conceived ideas and training… Before the director says 'Action!' you have to think about what you want and then go after it Ñ almost like an improv, with the words already there. It's a little scary, like jumping off the edge of a cliff, but it's liberating."
After eight years on the West Coast, MacDonald moved back to Vermont again when his daughter was about to attend New York University. With several additional theater and film credits under his belt, earlier this year he formulated a new plan: to teach in Burlington, Montpelier and Rutland under the umbrella of his mentor by unveiling Cameron Thor Studios East.
MacDonald, who will also run a New York City branch of the operation expected to get underway in March, had discovered that production companies shooting here in the past often complained the state has a deficit of camera-trained actors. "When Hollywood comes calling next time," he pledges, "we'll have people prepared to be cast as extras and in speaking parts."
Monica Farrington of South Burlington wants to be ready for that Hollywood call. She's enrolled in MacDonald's class, the latest in a substantial history of moves to sharpen her acting skills. She did graduate work in theater at St. Michael's College during the 1970s, took a by-invitation-only workshop with the late Hugh Cronister for four years in the 1990s, and immersed herself in an intensive weeklong workshop last summer with filmmaker Nora Jacobson.
A former middle-school drama teacher and a veteran of several Lyric Theatre musicals, Farrington even spent the month of October in L.A. last year. She signed with an extras casting agency. "I was a patient on 'ER,' a lawyer on 'Judging Amy' and a taxi driver on 'Jack and Jill,'" she says. "It was so much fun, I may do it again."
Meanwhile, Farrington will continue working nights as a production assistant at WCAX, writing movie scripts she hopes to direct some day and learning more about film technique from MacDonald. "An actor is subservient to the character on stage but, for film, you turn that around," she observes. "I find that very hard."
With classmate Alissa Juvan of Essex, Farrington delivers a short scene from Jerry Maguire, the 1996 Tom Cruise-Renee Zellweger romantic "dramedy." The two women portray sisters discussing the pitfalls for one of them getting involved with a man. Afterwards, MacDonald analyzes what's really taking place.
"This is two friends saying goodbye Ñ that's ultimately what it's about," he says. "That's sort of what was missing. Both of you have the stage ethic. You go to the script, which is the worst place to be, because then you're just saying a line."
MacDonald again proposes that the stakes were not nearly high enough.
The stakes for Alicia Russo of Burlington are nothing short of self-fulfillment. "The arts are where my happiness lies," says the 26-year-old. A health information specialist at Howard Community Services, she has just wrapped up six weeks in Mark Nash's "Acting Essentials" class.
Initially going for a Ph.D. in molecular biology at UVM, Russo suddenly yearned for an alternate persona. "I rediscovered my creative side," she says of the prelude to singing roles with Lyric Theatre, Northern Stage in White River Junction and Lost Nation Theater in Montpelier. She's currently rehearsing for The Eight: Reindeer Monologues, a Theatre on a Shoestring production at 135 Pearl.
Russo likes the idea of absorbing different styles. "I don't believe there's necessarily any one way of doing things. Taking various classes gives you more to work with. I like options."
Her experience with Nash's Zen approach in the recently concluded class was complicated. "I love a challenge, but, with Mark, it was hard for me emotionally," Russo concedes. "A lot of what happens in classes is an exploration of yourself. You have to be willing to open up. It helps you look inward and figure out where your walls are."
There was some light at the end of the tunnel as Russo struggled with the rigorous demands of a technique that requires so much self-scrutiny and self-revelation. "I was fighting those blocks, so I got angry and frustrated. I thought, 'You're paying for this?' But I want to be able to go on stage and just give."