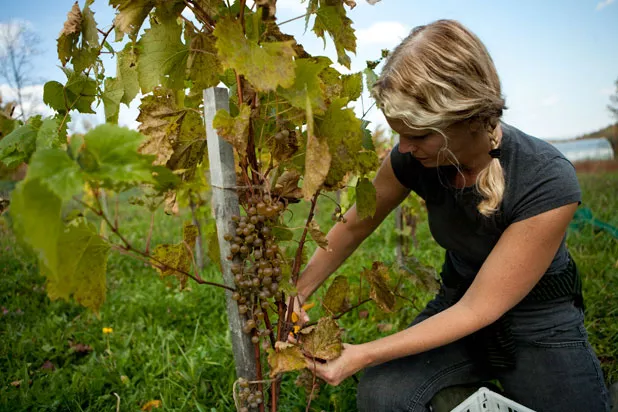 The young vines growing at la garagista vineyard may seem incongruous in the forested hills above Barnard, with its long winters, copious snow and wild turkeys that like to nibble the fruit as they graze each fall. Yet that is precisely the terroir that winemaker Deirdre Heekin is hoping to capture in her first wines from the grapes she nurtures there.
This week, the first fruit ever culled from these four-year-old vines was plucked, destemmed and crushed. The juice will soon begin gurgling inside teardrop-shaped demijohns as wild yeasts coax their sugars into alcohol. Heekin will eventually decant them to old oak barrels, and, within a year, she'll get to see what the vines produce. The second vintage of the la garagista label will be the first to use solely her own grapes.
Though she's relatively new to wine making, Heekin, 44, is no stranger to libations. As the wine director at osteria pane e salute, the tiny Italian restaurant in Woodstock she owns with her husband, Caleb Barber, she's finely tuned her palate. The interplay of the unusual Italian wines that Heekin pairs with her husband's dishes since 1996 has earned them, and their restaurant, national acclaim.
As Heekin's passion for wine grew, so did her interest in spirits and liqueurs. She tried her hand at making amaro, the herb- and flower-infused Italian digestif; and rosalio, a rose-infused grain alcohol for which she used petals from her own beds. Five years ago, Heekin began experimenting with making wine, too, if only to understand the process better. She ordered Nebbiolo grape juice from Italy's Piedmont and Sangiovese juice from California, then fermented them in 6-gallon buckets positioned inside a claw-foot tub. But Heekin, a petite woman with striking blue eyes and blond-streaked hair, found herself wanting to control what went into that juice. "I became a believer that what happens in the vineyard matters the most," she says.
So, after exhaustive research, soil sampling and planning, Heekin began planting neat rows of vines beside the Barnard home she and Barber share, a place they call "the Châteauguay" for the high ridge that lies west of their land. She acquired an array of equipment, from pruning shears and hydrometers to demijohns, barrels and bottles. She bottled her first winemaking efforts from the purchased juice — and later ones from Vermont grapes grown in Vergennes — under the label la garagista, named for the artisanal wine "garages" of France. And she waited for her own grapes to mature.
"Wine and food go together naturally and culturally. It's a natural evolution of our agriculture," says Heekin. "I think one thing about Vermont, we're never going to have large-scale winemaking. The landscape dictates that it's going to be very small and artisanal."
When Heekin and Barber purchased their home 13 years ago, they noticed that wild grapes thrived on their land — the first hint that wine grapes might be grown there. They eventually learned that their loamy soils were full of schist, limestone and clay. "Our soil is very much like Austrian soil," says Heekin, with an Alpine climate to match. "In order to understand these wines, people need to drink Austrian and German wines."
Heekin's first plants were the cold-hardy Vitis riparia hybrids pioneered at the University of Minnesota in the 1990s — Frontenac and its white counterpart, Frontenac Gris; Marquette, a cultivar partially derived from Pinot Noir; St. Croix, a mildew-resistant red; and the fragrant white grape La Crescent. "I think everyone is still figuring out how [these plants] behave and how they thrive. I decided to learn as I go along," she says.
Grape plants require patience; Heekin would have to wait at least three years for the new vines to bear fruit. Meanwhile, she and Barber also planted rows of more common Vitis vinifera varieties such as Riesling, Blaufränkisch and Melon de Bourgogne, using denser plantings — about four feet between each vine — in the manner of European vineyards. She enlisted Barber to design a barn — aka "cantina," or winemaking area — where she could age, bottle and eventually offer tastings of her wines. And she kept busy: She wrote the memoir Libation: A Bitter Alchemy and collaborated with Eleanor and Albert Leger of Eden Ice Cider to develop and release an aperitif cider, Orleans.
In 2009, Heekin was awarded a grant by the Vermont Farm Women's Fund, which she used to travel to Burgundy for seminars on biodynamic wine making and botany. She learned there are no simple answers in grape cultivation, whether in France, Napa or central Vermont. "You need to respond to your own parcel," she recalls realizing.
The grandfather of biodynamic wine making is Nicolas Joly, a charismatic Frenchman who has pioneered its practices in his Loire Valley vineyard and written about his efforts. Though some of the practices can seem esoteric — synching various vineyard tasks to sun and moon phases, for instance — Joly insists that allowing grapes to express themselves fully, with minimal manipulation, should be the aim of any winemaker. European winemakers are backing away from the overmanipulation of grapes, both in the vineyard and in the cellar.
In soggy, mold- and pest-prone Vermont, though, such practices can be difficult. As a consequence, Heekin is not dogmatic about natural wine-making practices, but she tries to adhere to them as closely as she can. She avoids commercial pesticides and fertilizers. In her cellar, she begins fermentation with wild yeasts — those that occur naturally on the grapes' skin — and eschews filtering. "I'm trying to learn biodynamics, but there's not a lot of information out there on how to do this on a day-to-day-basis," says Heekin. "Much of it is what you observe in the vineyard."
She has noted, for instance, that vines have their own personalities and proclivities — starting with the way they grow. Marquette shoots like to "splay," Heekin says, while La Crescent tends to put forth one vigorous shoot among many smaller ones. Responding to that growth is key to pruning — the vital winter task that ushers the plants into the growing season — as well as to trellising the vines.
"I was so excited when I saw the first clusters this spring. I said, 'Wow, we pruned well,'" Heekin says. Until she grew her own grapes, she hadn't fully appreciated the smell that those Vitis riparia blossoms give off in the vineyard — the spicy, floral scent of La Crescent, for instance, or the notes of gardenia in Marquette's aroma.
Without chemical sprays, wine making requires constant vigilance. During this rainy summer, Heekin kept ailments and mildew at bay with a succession of teas sprayed on or fed to the plants — chamomile, nettle, horsetail, yarrow and dandelion. She tried milk spray against Japanese beetles, which she calls "the bane of my existence." And Heekin sprayed ground quartz — or silica — to help support photosynthesis. She took comfort in knowing that her grapes shared a varied farm where she and Barber also grow vegetables and herbs for their restaurant and cultivate apples for cider. "If you have a healthy, diversified parcel, [biodynamic wine making] can work," she says.
Last year, Heekin, Barber and friends harvested 1000 pounds of Marquette and La Crescent grapes from Vergennes (whose owners are not currently making wine) and carted them home to Barnard for crushing and pressing, fermentation and aging. Heekin sampled the wines once a week as they changed from grape juice to punchy, effervescent early wine and, finally, to a wine she considered finished and ready for bottling. The entire process took just shy of a year.
Late this past summer, Heekin and Barber hauled grapes from Vergennes to Barnard for the second time. They were poised to decant their 2010 vintage into half-bottles and waiting for the first Châteauguay grapes to ripen. With the help of friends, they destemmed the fruit by hand on a mesh rack that Barber had built, separating out the squishy blue-black Marquette orbs that had been damaged by a summer hailstorm.
Then they crushed the grapes with bare feet in low half-barrels — the gentlest way to extract the juice, Heekin and Barber believe. "I think these varietals are much more sensitive to being handled roughly," says Heekin.
That juice is now fermenting in demijohns and tubs inside Heekin's cantina, gently bubbling as the sugars are consumed by yeast and turned to alcohol. She presses the Marquette caps, or pulp from the grapes, down into the juice twice a day, once in the morning and again when she returns from the restaurant at 2 a.m. Every day, the aromas and flavors continue to evolve.
Meanwhile, Heekin and Barber have just bottled their 2010 vintage from the Vergennes plot: a few cases each of their first truly local wines.
Biodynamic wines can sometimes taste crude, as if the winemaker's reluctance to intervene put the elements of a wine — fruit, tannin, acid — out of balance. At its best, however, such wine glimmers in the glass, its terroir and varietal character expressed in elegant ways.
La garagista's wines fall into the latter group.
The flowery nose of the straw-colored "Vergennes Blanc" La Crescent opens into muscular but herbaceous flavors. When Heekin suggests notes of olive, it's impossible not to taste them, alongside hints of apricot. The deep-purple Marquette — the "Vergennes Rouge" — is almost opaque in the glass, and smells and tastes of black fruit, leather and violets. It's powerful, deeper and more intense than many of its Vermont-grown cousins.
These wines are unlike the Cabernets and Chardonnays that many American wine consumers seem to prefer, but Heekin and Barber are optimistic that tastes are drifting toward wines that express a particular place. Understanding them will require drinkers to "shift their palate," suggests Heekin.
As for her first vintage from the Châteauguay, Heekin expects more delicacy. "I think the textures will be different," she says, though she can't know for certain until next year. For now, Heekin will pour the la garagista 2010 vintage at osteria pane e salute, and in her tasting room.
"I started out wanting to learn for my own edification, and then it became a vocation," she says. "I love making wine. I love the process from vineyard to glass."