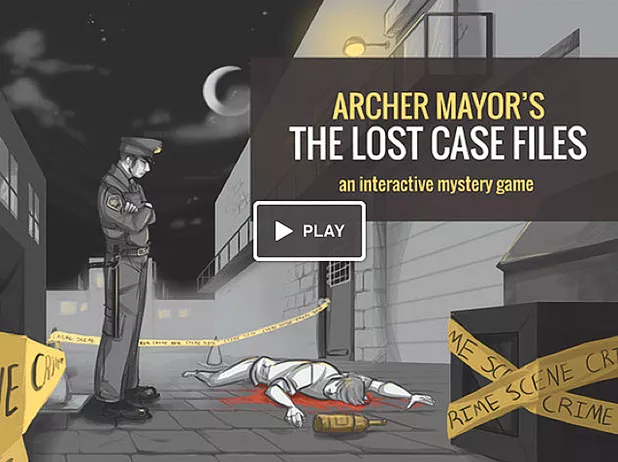 Archer Mayor's The Lost Case Files
A team of graduate students from Champlain College's not-for-profit Emergent Media Center (EMC) is working with Newfane author Archer Mayor/MarchMedia LLC to create Archer Mayor's The Lost Case Files, an "interactive mystery game" based on his popular, Vermont-based detective series. The group is currently trying to fund the project through Kickstarter, with a $100,000 development goal; the campaign concludes this weekend.
The team's goal is to create an innovative series of murder-mystery episodes that would make up Case Files, using techniques that go beyond simple puzzle solving and hidden-item finding and are based on the realistic, police-procedural style of Mayor's books. Players would put together a case, compile evidence and track down clues as if they were rookies working with detective Joe Gunther, who in the novels is the head of the fictional Vermont Bureau of Investigation. As the game's description on Kickstarter puts it, "Players must solve the case quickly and efficiently to gain an understanding of what it takes to really solve a crime."
Based on the size of their pledges, donors can receive rewards ranging from a free copy of the first episode to a day with Mayor himself, scouting a site for a new book. That is, if the fundraising campaign is successful. The EMC created a compelling video pitch — including an interview with the personable author — but, as of press time, it has gathered only a fraction of pledges needed to meet its ambitious goal. How will the group track down eager donors? That's still a mystery.
Archer Mayor's The Lost Case Files: On Kickstarter through Sunday, December 2. lostcasefiles.archermayor.com