The butter from Mountain Home Farm in Tunbridge changes from rich gold in the spring — when the tender young grasses and legumes are bursting with nutrients — to a paler but still vibrant yellow in the winter. Made from the cream of Guernsey cows that graze on those grasses, it's gently heated to comply with regulations and then cultured overnight. The resulting product is rich and flavorful, as well as beautiful to behold.
According to farm owner Lindsay Harris, 42, it's also good for you. "I eat two to three ounces of butter a day," she says.
As she started growing her own food and shifted her diet toward "high-quality fats" and away from carbohydrates and sugar, Harris recalls, her health improved. "I'm really active and an athlete, so it's really important that my body work well," she says. "Eating a lot of high-quality fat made me feel so much better."
The change in her health came as a surprise to Harris. After all, she'd been consuming the kind of diet recommended by doctors and by the U.S. Department of Agriculture's food guide pyramids.
Harris isn't the only one to have stumbled on empirical evidence that fat increases satiety, is packed with nutrients that are critical to health and "does a body good." Her follow-up research revealed that those propositions are slowly but steadily trickling into the mainstream, despite resistance from a nation of doctors and nutritionists trained to believe the opposite.
Most of us have spent our lives being told that saturated fat is the dietary devil. Fatty steaks and chops, puddles of melted butter dripping down mashed-potato mountains, and airy clouds of whipped cream entice us with deliciousness — then elevate our cholesterol levels and lead to heart attacks, diabetes and, ultimately, our untimely demise. We're pitted in a battle to the death against our culinary desires, against our bodies, against pleasure.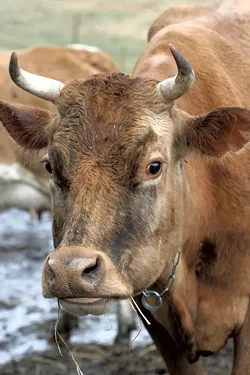 Suzanne Podhaizer
Guernsey cow at Mountain Home Farm in Tunbridge
The website of the American Heart Association recommends consuming no more than 120 calories per day of saturated fats. That's the amount in one glass of whole milk, a small piece of lean beef and a teaspoon of butter, combined. The Mayo Clinic, despite its lipid-evoking name, has similar recommendations.
Iconoclasts such as Harris hold a different view. They believe that animals raised roaming and feeding on pasture yield meat and milk that are more nourishing than those of their sedentary counterparts munching grain in a feedlot. Many studies, such as "A Review of Fatty Acid Profiles and Antioxidant Content in Grass-Fed and Grain-Fed Beef," published in Nutrition Journal in 2010, bear out such assertions. The study revealed that the fat from grass-fed animals contains higher levels of conjugated linoleic acid, omega-3 fatty acids and beta-carotene — all important nutrients for human health. The same is true of dairy products from grazing animals.
Doug Flack, owner of the organic and biodynamic Flack Family Farm in Enosburg Falls, is another local advocate of saturated fat. A member of the Weston A. Price Foundation, which espouses the consumption of fermented foods and grass-fed meats, he and his wife, Barbara, produce beef, raw milk, fermented veggies and medicinal herbal products.
The way Flack tells it, as the grain industry developed over the late 19th and 20th centuries, it benefited from encouraging consumers to use plant-based rather than animal fats. Trans-fat-laden hydrogenated vegetable oil was dyed yellow to give it an appealing glow.
In the 1940s, a researcher named Ancel Keys posited that reducing saturated fat consumption would lower the risk for cardiovascular disease. Over the ensuing decades, doctors and nutritionists came to treat Keys' "lipid hypothesis" as gospel. Americans were ordered to eat margarine instead of butter, on pain of death.
We now know that advice was patently harmful. A 2014 meta-analysis of studies on fat, published in the Annals of Internal Medicine, found no connection between high consumption of saturated fats and heart disease. While that study remains disputed, it's clear that the plant-versus-animal fat distinction is far from the sole determinant of harm. Researchers agree on the dangers of trans fats, such as those in margarine.
In Flack's view, the truth is incredibly simple. Vegetables grown in healthy soils are good vegetables. Animals that are raised eating "the diets they evolved to eat" are healthy animals. We should consume both. If we don't, he says, we deprive ourselves of nutrients and "cofactors" that, while not yet well understood, are crucial for good health and the maintenance of body tissues.
Furthermore, Flack suggests, the processes required to break down plant products such as canola seeds and corn into cooking oils — known as refining — are themselves damaging to those foods. So, by eating highly processed vegetable oils, we are not only robbing ourselves of things we need but poisoning ourselves at the same time.
Harris goes so far as to say that the dairy industry, in its quest for profits, has helped create a public health crisis. How? By touting skim milk — a by-product of making butter, ice cream and some cheeses — as a healthy alternative to whole milk. "The promotion of low-fat dairy is such a fucking scam," she says. "They're shoveling their industrial waste product through our children as a way to dump it."
Harris' dim view of skim reflects a belief that the simplest way to get all the nutrition from a food is to eat it as close to its whole state as possible. Whole milk contains fat-soluble vitamins; raw milk has bacteria that feed on lactose and help create healthy gut flora. By contrast, says Harris, skim milk lacks essential nutrients and doesn't satisfy the appetite. Then, she says, "When you're 'hangry' at the end of the day, they can sell you that pint of ice cream, too."
The positions espoused by Harris and Flack may sound a bit shocking, but mounting evidence supports them. In "The Case Against Low-Fat Milk Is Stronger Than Ever," published in Time magazine in April 2016, author Alice Park notes that, in a study of 18,436 women, "those who consumed the most high-fat dairy products lowered their risk of being overweight or obese by 8%."
University of Vermont nutrition and food sciences professor Catherine Donnelly, an expert on artisan cheese and editor-in-chief of The Oxford Companion to Cheese, believes, like Harris and Flack, that an animal's health impacts the quality of its fat.
Donnelly points out that Sardinians, who are some of the longest-lived people in the world, get a large number of their calories from sheep-milk cheese. "The beneficial components of fat have some extremely important properties," she says.
Donnelly also believes that money and influence have skewed the available data. One reason the food industry has vilified fat, she suggests, is to take the spotlight away from the dangers of added sugar. Europeans, Donnelly says, understand that there are links among healthy pastures, healthy animals and healthy humans, and they are doing research to demonstrate as much. "In the States, that's a nonstarter," she says. "The only research that's funded is the type of research that promotes what the [food industry] wants to see."
The proof of the pudding is in the eating, according to proverb, so how much cheese does Donnelly down? "I love artisan cheese," she says. "Average Americans consume about seven pounds of cheese a year, versus the Greeks, who have the highest level of consumption ... I think it's around 30 pounds per year. I think I'm closer to a Greek."
The growing body of scientific research into pastured animal fats could have deep ramifications in a state renowned for its dairy products, and where much of the farmed land is more suitable for growing grass than for propagating vegetables. If consumers became convinced of the health benefits of butter, cheese and the fatty bits of meat — rather than treating such things as guilty indulgences — the shift could help improve the economics of Vermont agriculture.
And if, indeed, we've been getting this nutrition thing all wrong, correcting the mistakes of many decades could lead to longer, happier, more vibrant lives.
Harris believes the increased fat in her diet yielded benefits as visible as the seasonal shifts in her farm's butter. Not only did she see her own health improve, but she paid it forward to her children. "When I was breastfeeding my kids and I was making milk, it was a total trip for me," she says. "I made a ton, almost a quart a day; it was off the hook. It had a lot of fat in it; it was even kind of golden. I felt like that was a direct result of my good, rich diet."