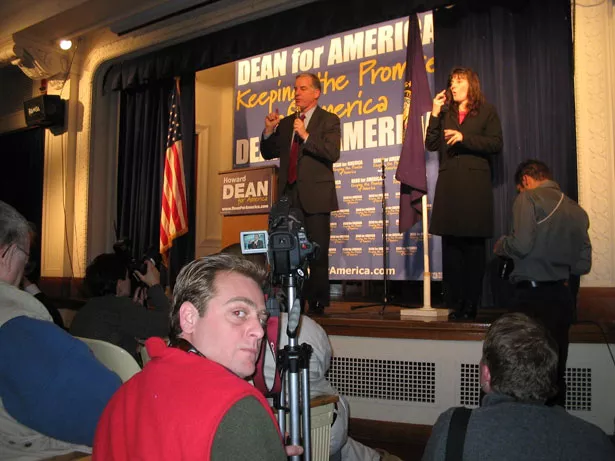 A handful of Vermont filmmakers reaped the fruits of their labors last weekend. On Saturday evening, out west in Park City, Utah, the Sundance Festival's grand-jury prize went to Frozen River, a gritty drama about a border-town human smuggling operation that was shot in Plattsburgh last March.
Nate Beaman of Burlington remembers that shoot. "We shot for somewhere in the area of 24 days, almost all night exteriors with no place to get warm - often in freezing rain or a storm of some sort," he writes in an email. "Always near Lake Champlain and often in super-sub-zero temperatures; one day the camera even froze, it was so cold."
An indie filmmaker who also serves as a hired gun on other people's projects - Frozen River was written and directed by New Yorker Courtney Hunt - Beaman worked as Best Boy Grip on the film. He was joined on its lighting crew by two of his old classmates from Burlington College, Adam Lukens and Justin "Rusty" Bennett. Beaman notes, "We all also worked on Sugar, which was also a huge festival hit."
Meanwhile, the documentary Fields of Fuel, in which eco-activist director Josh Tickell takes a cross-country road trip in his biofueled veggie van, won a Sundance audience award. Vermonters had a sneak peek at the doc at two Roxy screenings last December, thanks to Tickell's fiancée Rebecca Harrell, a Hinesburg native and L.A. actress.
Back on home turf, Stowe filmmaker Heath Eiden was taking a likely future festival entrant for a test drive. Dean and Me: Roadshow of an American Primary is a documentary chronicling Howard Dean's 2004 presidential campaign through the eyes of Eiden, a guy with a camera who created his own "media empire," DeanTV.org, so he could get a press pass as crowds around the candidate thickened.
On Saturday at 11 a.m., "about 50" people showed up for a screening of his rough cut at Montpelier's Savoy Theater, Eiden says. So did a WCAX reporter. The next day, at Merrill's Roxy Cinemas in Burlington, Roadshow's audience swelled to about 100, and Wilson Ring of the Associated Press wrote a story about the movie that landed in Monday's Boston Globe.
In a phone interview, 39-year-old Eiden says he arranged the screenings partially as a local fundraiser ($10 donations were suggested) but primarily to catch the interest of a distributor. "I'm looking for a partner to help with finishing costs," he explains. "We just need bells and whistles at this point."
Did the tactic work? "There's nothing definitive, but meetings are set up," says Eiden. When he was starting out on his film, he explains, "I was able to make connections and bang on doors. I find that my phone calls are being returned now, because they remember what I was working on."
Eiden spent about two years on and off the road with Dean, taking day trips from Vermont to hit all the major stump spots - including the site of the infamous Iowa "scream." Along the way, he captured footage of more famous members of the media, such as Al Franken, Sean Hannity and Tucker Carlson. "I focused on the media characters that make up the hoops potential presidential candidates have to jump through to get their issues out," he says.
Eiden ended up with nearly 250 hours of footage, which he boiled down to 88 minutes over the course of five years of nearly full-time labor. "I didn't have the resources to make the film right after Dean's run. So I timed it for this election," says the Minnesota native, who left a job as a New York sales exec to move to Vermont with his wife 10 years ago. To fund the film, "We literally sold the farm," he says - 16 acres of land behind the family's home. "Since Howard Dean wouldn't quit, I wouldn't quit, either."
Like a candidate, Eiden has a knack for soundbites, such as this one: "I picked up a camera because I wanted to take pictures of my kids being born, and I found myself at the center of the American theater."
That said, he's no novice filmmaker: The history-oriented film projects he did in high school won him awards and a scholarship to George Washington University, where he earned a journalism degree.
Eiden hopes that, as people follow the current primary "roadshow," they'll take time to look back. "We have all these candidates who are singing Howard Dean's song four years later," he says. "That's a real tribute to the folks who made up that movement."