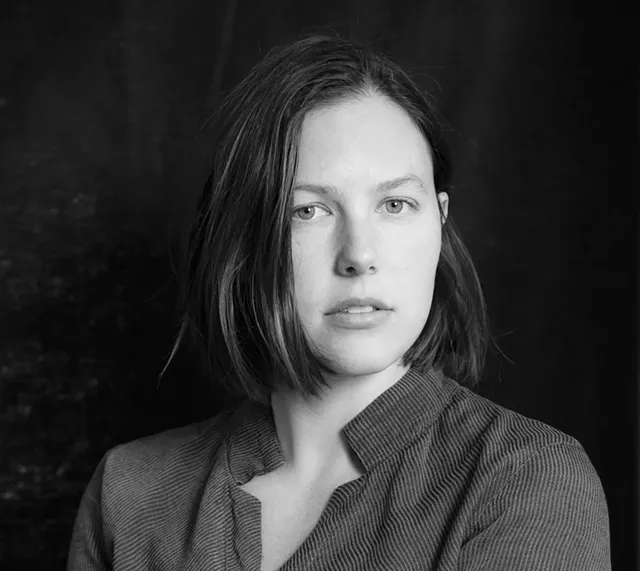 Courtesy
Makenna Goodman
Near the beginning of Makenna Goodman's new novel, The Shame, a young mother drives through the night, fleeing her husband and children and their home in the woods. Alma loves her family but struggles with the duties of marriage and parenting. And she resists the expectation that adulthood means taming your freedom and creativity.
Goodman's brief novel is like a mosaic of compressed interludes, with jumpy tonal shifts and swivels in time. Embedded in the narrative are miniature essays, akin to journal entries or blog posts, on topics such as house cleaning, dinner parties and online shopping.
Seven Days spoke by phone with Goodman from her home in Vershire, a town she first came to know as a teenager while attending the Mountain School.
Explaining her novel's unusual texture and pacing, she said, "I'm interested in patterns in nature, and how they're not linear — mostly not — but episodic and meandering and fractal. I also think that's the way the mind works, and the way memory and time work."
Alma's voice roams among questions, never coming to rest. These ponderings and recollections reverberate as flashbacks in the mind of that solitary woman driving through the night.
The Shame is Goodman's first novel, but she's no newcomer to publishing. She has worked in New York City for Grand Central Publishing and an international literary agency. After moving to Vermont in 2009, she worked for 10 years as an editor at White River Junction-based Chelsea Green Publishing, specializing in books about agriculture, food and health.
Alma and her husband, Asa, are hyper-enthusiastic do-it-yourselfers: They grow, bake and preserve their own food; tap their maples; and raise animals. Asked whether her aim was to bring to the page a kind of person she's known in Vermont, Goodman responded, "I didn't set out to write a story about something or someone, but when I realized I was writing about this woman, I did draw on what I'm engaged in and passionate about.
"I do a lot of those things with my husband on our land," she continued. "I live in a community where a lot of our neighbors do these things. And, as an editor, my job was to sniff out the interesting people who are developing the shape-shifting, edge-pushing agricultural techniques that are going to change farming."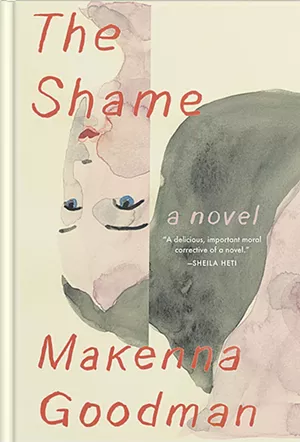 Courtesy
The Shame by Makenna Goodman, Milkweed Editions, 160 pages. $15.
In recent years, Goodman has witnessed big changes in land ownership and farming practices as an older generation gives way to newcomers. "I'd watched the dwindling of these old family farms, which had been here since the turn of the previous century, supporting families with their 30 head of cattle and their vegetable gardens and their haymaking," she said. "And I saw the number of young, upwardly mobile, progressive, agrarian, environmentalist, utopian-thinking people moving to Vermont and starting their own businesses that were branded as green."
Her fictional back-to-the-landers are novice farmers, and Goodman acknowledged complicated feelings about the relationships among labor, land and money.
"What is work? What is 'honest work,' and what is needed for survival?" Goodman asked. "If you don't need to make much money, or you're like me, with a day job so I could make decent Vermont money and homestead on the side, is that farming?"
Along with the couple's many homesteading ventures, Alma works part time as a textbook indexer while painting and writing when there's an unclaimed half hour. She wonders whether the art she expected to be pivotal in her life has become merely a hobby.
As she wrote The Shame, Goodman said, she thought about "the performance of ethical living." Similarly, her novel's narrator grapples with questions of right livelihood.
On an impulse, Alma applies for a job writing and illustrating an ecological storybook to be used as a giveaway by a toy company. Offered $40,000 for the work, she's halted by ambivalence, wondering whether it's legitimate to make money so easily.
"Alma is offered an easy-breezy $40K to do something that she thinks is stupid but that would give her something she needs," Goodman said. "She is thinking, I choose to live outside the structures of commodity! I choose not to write the toy book, to choose art over advertising! I choose what's real, what's authentic, what's close to the land! And yet, does life have to be hard to be meaningful?"
Instead of doing the mercenary eco-kids book, Alma decides to write a novel. While searching online for a model for her protagonist, she begins following a Brooklyn artist she calls Celeste. This person has created an elaborate, all-encompassing digital "presence" with constant postings and a webcam that allows viewers to see what she is doing, saying, wearing, eating. Alma becomes obsessed, and she presents herself to Celeste as a fascinating stranger and prospective employee.
"When can we meet?" Celeste responds. That's when Alma gets in her car and heads for the city, bewitched by make-believe. There's a fairy tale quality to the novel's "runaway mom" premise, Alma's impetuous escape from the exhausting predictability of home. But who hasn't wondered what might have been?
Goodman compared the connection between Alma and Celeste to the myth of Eros and Psyche. She said she used Alma's car trip as a way of framing and "tying the story together, but also to show the moment when someone makes a snap decision. You're suspended in an ether. The whole universe and all possible universes exist in that moment."
For her, Goodman said, reading and writing are inseparable. "I've always been constantly reading," she said. When reading for her work as an editor, "I was consumed with learning about the passing of the seasons, and growing things and making things ... the philosophy behind agriculture and social movements. I was so fascinated by microorganisms and the concepts of regenerative agriculture. When I think about art, I think about soil."
The loveliest passages in the book are pastoral, precise and lyrical evocations of the family's unfolding days on the land:
There is no end to the abundance of the garden. The kids wander through the hay-mulched pathways, helping themselves to cherry tomatoes and snap peas, eating the leaves off baby kale, pulling out a carrot half-covered in beautiful black dirt. They are mud-stained. They shit on the edges of the lawn and flick it into the woods with sticks. They are exhausted by nightfall, sweating, splayed out on their beds like drunk cherubs.
Why call her novel The Shame?
"I was talking on the phone with a writer friend about social media, describing that feeling you have when you're scrolling through image after image after image of lives you could have led, people you could have been," Goodman said. "Children who seem happier than your children, or vacations you can't afford. And I said, 'It's just the shame! The shame, the shame!' And she said, 'There's your title.'"
Alma is entranced by a beguiling on-screen chimera, and in the vertigo of fascination she's willing to cast away her actual home and family for what looks wilder and freer and more complete. She tumbles into the web's vortex, only to come to her senses in the nick of time.
"With social media, so much mental and creative energy is going into the creation of public personas interacting with other public personas," Goodman continued. "Think of the weight that's been put on this universe of the internet. I've found, because I've engaged in it here and there, that it's really sapping creatively, and really alienating. I wanted to write a book about that."
From The Shame
How did I get here? Who registered my car? Who scrambled my eggs, took me to the dentist, made corn on the cob, refrigerated the butter? I dive into the pond but emerge the same person. I push around the shopping cart, and another woman's hands grab the granola. I am Asa's wife. I want to go to a party, he doesn't. So I stay home. I want to go to a town meeting, he doesn't; I go but then come up with an excuse to leave early and drive home fast on icy roads. He turns over in bed snoring the second the light goes out, I lie there staring at the dark air above my head ... Maybe if I were fifty-two, had a miniature poodle, were a famous painter with a yellow sports car and a rubber plant in a giant pot and a coffee table covered with elaborate silver teaware. Not in this life, Asa says. You married the wrong person. Oh, but what the fuck does he know, with his elbow patches? I can reupholster the couch, I can adopt a puppy, I can wear whatever I want, do whatever I want to do with whomever I want to do it. Maybe if I wrote a successful novel, I would go to Paris to celebrate, dance on tables and smoke a pipe.