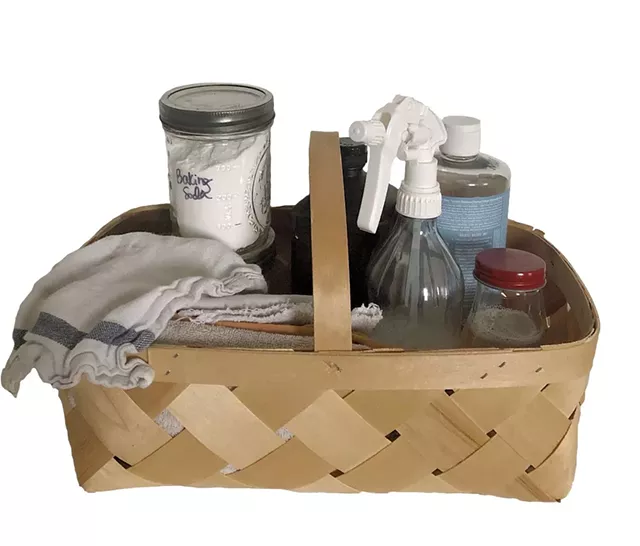 Meredith bay-tyack
DIY cleaning supplies
The things we do to live in a more Earth-friendly way can be both big and small. Buying energy-efficient light bulbs, doing a home energy audit, and driving a hybrid or electric car are out of reach for kids. But even small changes give young people the opportunity to learn that leading a greener lifestyle is a choice — and that little things can add up to make a big difference.
Making do-it-yourself household supplies with simple ingredients is an easy way to create a more eco-friendly home. Not only does it save money and time, but kids can help every step of the way. Simple cleaners are nontoxic and, therefore, safe for kids to be around. And using reusable cloths and wipes helps cut back on waste. Below, find a few simple products you can make that will put you on the path to a greener lifestyle.
DIY All-Purpose Cleaners
Making your own all-purpose spray cleaner is more eco-friendly than purchasing plastic bottles of cleaner from the store. I try to buy ingredients in the largest containers I can afford and store them so that the overall product-to-packaging ratio is lower. Another benefit: When you make your own cleaners, you can customize them to meet your needs.
When cleaning most things, I start with water. Pouring water on a carpet stain and dabbing with a cloth works a surprising amount of the time. If you spill berries on a white shirt, pour hot water through it and watch the stain disappear — no specialty stain remover needed.
In all of my cleaning recipes, I start with distilled water or water that has been boiled and cooled. Tap water can contain tiny microbes that make your mixes murky if left in the bottle too long.
My basic all-purpose cleaner starts with two multiuse superstars:
pH neutral dish soap (I like Sal Suds by Dr. Bronner's, but Dawn or other classic soaps also work.)
White vinegar
For extra cleaning power, and to make the smell more appealing, add citrus peels to the vinegar, then let it sit in a jar in the fridge for one to two weeks before straining the mixture. If I have rosemary, sage or lavender on hand, I also add a sprig of one of those herbs to the vinegar. So fancy — but also so simple.
My favorite containers to reuse for household cleaners are glass apple-cider vinegar bottles. Most spray triggers screw perfectly onto the top. The first time I discovered this, my mind was blown. You can reuse spray tops from other cleaners or buy tops new. If you reuse, make sure you clean them well so you're not accidentally mixing things that shouldn't go together.
Meredith bay-tyack
DIY all-purpose cleaner in a recycled bottle
I typically add equal parts vinegar and distilled water and a tablespoon or less of soap. Give it a gentle shake, and you're done! Experiment with your own ratios.
Lots of great DIY cleaning supply recipes have few ingredients. Castile soap is a great multiuse ingredient, but don't mix with vinegar or it will curdle. Castile soap is gentle on the Earth and in your home. We use it for cleaning everything from toys to sticky hands. I also include baking soda, borax, hydrogen peroxide and rubbing alcohol in my cleaning arsenal. A sprinkle of baking soda followed by a spray of all-purpose cleaner is an amazing combination for cleaning tubs and sinks. Two teaspoons of borax and four cups of water also makes a simple all-purpose cleaner.
Reusable Towels
After I spray down counters, stove tops, floors or whatever needs to be cleaned, it all gets wiped up with a reusable cloth. Stash a large bag or bin in your kitchen or bathroom to collect used cleaning cloths.
Before tossing used cloths in the bag, hang them to dry over the oven door, or on a hook or nail. This will prevent mold and mildew.
Several years ago, I made a set of "un-paper towels" from a torn flannel sheet. I cut the sheet into imperfect squares, then sewed a quick hem. It was an experiment, but my family ended up never buying paper towels again. I have found that cloth is more absorbent and effective at tackling messes than paper. T-shirts can also be cut up to make cleaning cloths. A pair of sharp scissors is all you need; no sewing required.
Reusable Wipes
For many parents, wipes are a necessity for cleaning hands, faces or messes on surfaces — even when you're past the diapering stage. It's actually pretty easy to make your own. Cut cotton or flannel cloth into 8-by-8-inch squares, and stash in a tissue box for at-home use. They can be used dry, or wet them with a simple mixture of distilled water and a small squeeze of castile soap. When you're on the go, pack the cloth squares along with a small spray bottle filled with the soap-water mixture in a small bag. K
Learn more
Read Six Weeks to Zero Waste by Kate Arnell, a step-by-step introduction to reducing your waste, including a chapter on home cleaning.

Read A Zero Waste Life by Anita Vandyke, a resource book with DIY recipes for everything from house cleaner to face wash and deodorant.

Visit the website goingzerowaste.com, which has a section devoted to all-natural cleaning.