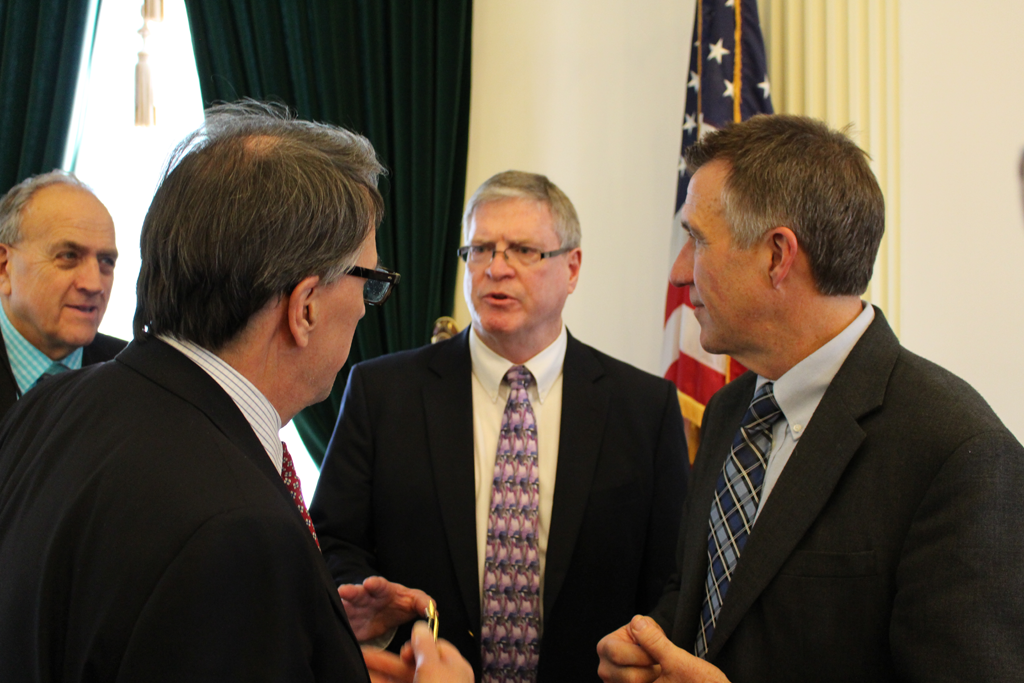 File: Paul Heintz
Sen. Dick Mazza, Sen. Peter Galbraith, Sen. John Campbell, Lt. Gov. Phil Scott
The race to represent Franklin County in the Vermont Senate appears so close, says Republican candidate Dustin Degree, "I wouldn't be surprised if we had to count the votes more than once."
It wouldn't be the first time.
Two years ago, Degree trailed second-place finisher Don Collins — then a Democratic former senator seeking to reclaim his seat — by a mere 25 votes on election night. After a recount, that margin widened to a whopping 35 votes out of 39,160 cast, and Collins joined Republican Norm McAllister, the first-place finisher, in representing the two-member district.
"When you lose a race by that much, everybody asks, 'What was the one thing you could've done differently?'" Degree says. "Well, when you lose by 35 votes, I think there are a lot of things you could've done differently."
This time around, the 29-year-old former House member and aide to former governor Jim Douglas is trying to learn from his mistakes. He's focused more on absentee ballots and direct mail, raised twice as much money and is campaigning harder in the towns in which he struggled two years ago.
Whether Degree wins or loses next Tuesday, it's unlikely to tip the balance of power in the Statehouse. Republicans currently control just seven seats in the Senate, with Democrats and Progressives holding the remaining 23. In the House, Democrats outrank Republicans 95 to 45; Progressives hold five seats and independents, four.
But when it comes to Gov. Peter Shumlin's signature policy priority — instituting a single-payer health care system in 2017 — Democratic hegemony only goes so far.
A number of Senate Democrats are already distancing themselves from next year's expected vote to finance the roughly $2 billion system. The governor certainly can't count on the chamber's sizable bloc of moderate Dems, which includes senators Dick Mazza (D-Grand Isle), Alice Nitka (D-Windsor), John Rodgers (D-Essex/Orleans), Bobby Starr (D-Essex/Orleans), Chris Bray (D-Addison) and even John Campbell (D-Windsor), the president pro tem.
So Shumlin will need every "yay" he can get. And that's where next week's otherwise dull election could get interesting.
In at least four districts — those centered around Franklin, Rutland, Washington and Orange counties — Republican challengers who oppose single-payer appear to have a plausible chance of defeating Democrats open to supporting it.
"If we get one seat, that means the party is moving in the right direction," says Senate Minority Leader Joe Benning (R-Caledonia). "If we get [a total of] 10 seats or better, that's a game-changer."
Nowhere is the contrast between candidates brighter than in Degree's northwestern neck of the woods, one of Vermont's few true swing districts.
After Collins decided to retire in June, former senator Sara Kittell — a Democrat who spent 17 years in the Statehouse — decided to step back into the ring. The substitute school nurse says she was inspired, in part, by the looming battle over single-payer.
"All the sudden I was seeing that health care was happening," she says. "I feel so strongly about that."
Also running are Democratic doctor Bill Roberts and independent video editor Michael Malone, but most observers think it's a three-way race between McAllister, Degree and Kittell. And Democrats are optimistic Kittell can hold on to Collins' seat.
"We were incredibly lucky with recruiting," says House Majority Leader Phil Baruth (D-Chittenden). "Sara Kittell is a beloved figure up there."
Baruth is equally sanguine about his party's chances in Rutland County, where Democrats control just one of three seats. But even if they preserve that ratio, it's quite possible that the party's sole incumbent, Sen. Eldred French (D-Rutland), will be replaced by another Democrat.
By all accounts, French, who was appointed to fill retiring senator Bill Carris' seat in January 2013, hasn't been a fixture on the campaign trail this fall. But a guy who happens to share Carris' name — the former senator's son, William Tracy Carris — has.
"The name recognition is an asset, but that comes from my grandfather, who started Carris Reels," says Carris the younger, a Poultney attorney. "I'm basically doing everything I can to make sure the Democrats hold at least one seat down here in Rutland County."
To do that, Carris, French or fellow Democrat Anissa Delauri will have to defeat a strong slate of Republicans. They include incumbent senators Peg Flory (R-Rutland) and Kevin Mullin (R-Rutland), who have both served in the Statehouse since 1999. Another R in the running is Brian Collamore of Rutland Town.
Though he's never run for office before, Collamore is a formidable candidate. He's served as a radio host in town since 1972, coached high school hockey for decades and continues to referee college games. Collamore gave up his gig as morning show host for WSYB-AM in June to run for office, but he remains the station's general sales manager — and, win or lose, he plans to return to the air after the campaign season ends.
Like most legislative candidates, Collamore says he's most focused on addressing rising property taxes, but he also counts himself as an opponent of single-payer.
"We still don't have a plan from the administration, if indeed we're going to go forward with it: What's it going to cost? Who's going to pay for it?" he says. "As you know, the most unsettling thing if you're running a business is uncertainty."
Flory, the most conservative member of the delegation, voted in 2011 against Act 48, the law that set the state down the path toward single-payer. Mullin, a moderate, was the sole Republican to vote for it.
That may explain why he was excluded, at first, from a $336,000 advertising campaign conducted by the Republican State Leadership Committee. The Washington, D.C., organization, which is funded by tobacco, health insurance and energy interests, has spent heavily on Vermont's four competitive Senate races and another 25 House campaigns.
Mullin says he still supports "the concept" of Act 48, but counts himself among what he calls "a majority" in the Senate "that's concerned we haven't done enough to be ready for single-payer in 2017 and haven't demonstrated to the public that the government has the competence to deliver it."
Perhaps the biggest crapshoot is Washington County, which hosts one of the state's most diverse Senate delegations. It includes veteran Republican Bill Doyle, Democrat Ann Cummings and Progressive/Democrat Anthony Pollina, all of whom are running for reelection.
Challenging them are Republicans Pat McDonald and Dexter LeFavour, as well as Progressive/Democrat Sandy Gaffney. Of that crowd, McDonald is generally seen as the most likely to pull an upset. A longtime state government official, she served as a commissioner or secretary in three administrations, spent two terms in the Vermont House and chaired the state GOP.
McDonald says she wants to expand access to health insurance by making it more affordable, but she worries about Vermont leading the way on single-payer.
"With first comes a lot of mistakes and a lot of do-overs," she says. "We've put all our eggs in one basket, and I don't think that's the right thing to do for the size of our state."
Even if McDonald wins, it's unclear whether she's more likely to defeat Cummings or Pollina, both of whom supported Act 48, or Doyle, who opposed it.
In Orange County, a single-member district, the choice is clearer: incumbent Sen. Mark MacDonald (D-Orange) supports Shumlin's health care reforms. Republican challenger Bob Frenier doesn't.
"My opponent is opposed to single-payer before he's even seen it," says MacDonald, a retired teacher from Williamstown who was first elected in 1996. In 2000, he was thrown out of office for two years after supporting civil unions.
McDonald says he's knocked on more than 4,000 doors this election season — a new record. Frenier, too, has been campaigning hard since he entered the race in January. He's become a fixture along the county's rural intersections, clicking a tally counter as he waves to passing cars. He claims he's reached 31,000.
Frenier has also drawn notice for his idiosyncratic lawn signs, which display a sequential series of political messages in the style of the famous Burma-Shave advertising campaign. While opponents have questioned their accuracy, Frenier says they've been highly effective.
"An absolute minimum of a thousand cars a day go by these signs. There's 24 signs, five days a week," says Frenier, who runs a business rehabbing and selling used airport crash trucks. "Do the arithmetic, and you start to get some serious numbers. Which is why I call it 'rural mass media.'"
Given the dearth of polling at the state legislative level, it's impossible to know how competitive any of these races really are. That's especially true in a year in which no presidential or U.S. Senate candidates will top the Vermont ballot and motivate voters to go the polls.
Flory says she's thankful that at least one popular Republican, Lt. Gov. Phil Scott, faces a challenge from Progressive/Democrat Dean Corren, because she thinks it may drive turnout among Republicans. But Mullin, her seatmate, disagrees. He thinks Scott may boost McDonald's chances in the lieutenant governor's native Washington County, "But other than that, I don't know if anyone gets a great deal of help from the statewide candidates."
Even if the party split remains the same, the composition of the Senate will be different next year — and it's possible that could actually help single-payer supporters.
Two southern Democrats who expressed skepticism over Shumlin's plan, Sens. Bob Hartwell (D-Bennington) and Peter Galbraith (D-Windham), are retiring. They're expected to be replaced by two Dems more supportive of it: Rep. Brian Campion (D-Bennington) and Brattleboro educator Becca Balint.
If things really come down to the wire, it's possible the lieutenant governor could cast a tie-breaking vote. In that case, the race between Scott, a single-payer "skeptic," and Corren, a true-blue believer, may be more important than it appears.
Media Notes
Burlington Free Press reporter Lynn Monty became the first local casualty last week in the latest round of layoffs orchestrated by corporate owner Gannett Company, Inc.
Like their peers around the country, Freeps reporters were required to interview for new jobs at the newspaper last week — but Monty refused.
"The facts are that I opted out of the interview process and they laid me off," Monty said Monday. "I loved my job, but I don't love Gannett. I will make a new way for myself that doesn't compromise my integrity."
After six years covering community news for the Free Press, she says, "Interviewing for a job I already held was degrading and demoralizing ... It compromised my integrity. And for the first time I couldn't see a future there for me."
It's unclear when Monty's former colleagues will learn their fate, nor how many more positions will be eliminated. Executive editor Mike Townsend did not reply to requests for comment.
"I will miss my colleagues and I wish them all the best," Monty says. "It's been an honor to learn and work alongside them."
The original print version of this article was headlined "Majority Rules"